Fiber arts are resonating in our new gallery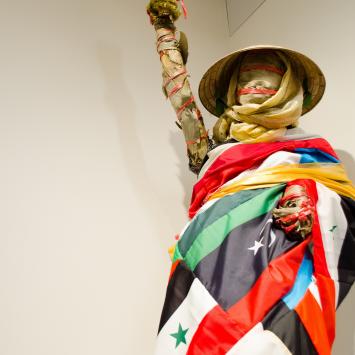 Fiber arts are resonating.
This summer we were enthralled by Donna Rhae Marder's exhibition at The Society of Arts & Crafts and The Isabella Stewart Gardener's Common Threads: Weaving Stories Across Time engaged us in redefinitions of textile art. Shortly after confirming the details of Migration, our current exhibition, our friends at The Arlington Center for the Arts announced their opening exhibition, I'm New Here, Perspectives on Migration. In this social, political and environmental now we find ourselves in, we are excited to be resonating with our peers.
Currently also on view in the region:
Sheila Pepe - Hot Mess Formalism
DeCordova Sculpture Park & Museum
Oct 19, 2018 - Mar 10, 2019
Pepe's work has truly taken over the museum. Every inch of the DeCordova's expansive and wandering open spaces was considered in the installation of this mid-career survey of Pepe's work. There are wonderful opportunities to be in conversation with Sheila, as well as hands-on workshops, including with participating Migration artist Adrienne Sloane. We are also happy to join DeCordova as one of the organizations supporting Concord Academy graduate Audrey Lin's Matting Change project. Register here for the next workshop!
Fuller Craft Museum
November 17, 2018 - May 12, 2019
Curated by Noelle Foye, the Fuller Craft Museum hosts an exhibition of fiber art in Felt: Fiber Explored. From the museum's description, "The artists in Felt: Fiber Transformed each begin with one of these basic methods to create the diverse contemporary works in this exhibition."
 
Migration, now on view through February 28 in The Umbrella's Main Gallery at 40 Stow Street in Concord, threads together a collection of objects that store and carry, those that inscribe personal and family histories and traditions of place and new narratives on migration as journey. We are proud that our newly renovated gallery can be a platform for social practice and public engagement with craft, identity and story. Gallery hours are Mondays - Fridays 9:00 am - 5:00 pm and Saturdays and Sundays 12:00 pm - 4:00 pm and is free and open to the public.
We have a number of upcoming public programs to engage you with the work and the artists, including a roundtable discussion, an ArtTalk, drop-in workshops and a potluck. These programs are offered free to the public thanks to the generous sponsorship of First Rugs. Cynthia First "was moved by the thread of profound expression and wanted to help promote access to this exhibit, as well as a supportive platform for the artists' messages to be heard. My world of textiles was influenced hundreds of years ago by the Silk Road Route, and cultural shifts, and alas, MIGRATION!"
Be sure to register to save your spot!
A portion of funds from artwork purchases and donations to the exhibition will directly support Dignity in Asylum, a local non-profit with the mission to provide safe transitional housing and support for asylum seekers, refugees, people who have been granted asylum and unaccompanied minors at risk of homelessness on this exhibition.
What gallery attendees are saying...
"An inspiring exhibition of great talent, deeply meaningful"
"Incredibly textured, layered nuances of courage and beauty"
"I have been recommending it up and down the east coast. It is wonderful!"
"There was a pleasing simplicity and peacefulness that I need during these disturbing times."


Photos by Timothea Pham © 2019.