Director's Note: About The Regional Premiere of Hundred Days
January 23, 2020 by Anonymous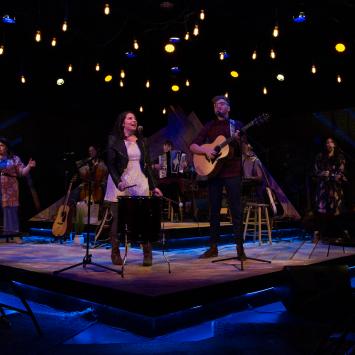 Welcome!
The weather may be colder and the days may be shorter, but as we turn the page on a new year and head towards the back half of our inaugural season in our new home, I am excited to bring something truly unique and inspiring to the stage here at The Umbrella. 
Hundred Days, with anthemic folk music by The Bengsons and a book by Sarah Gancher, stands out unlike anything else in our season. A theatrical concert of sorts, it defies conventions to embrace a more lyrical, raw, and honest approach to storytelling. At times drawing on performance art or spoken word poetry, the play dives deep to examine what falling in love really means – not just the excitement of something new, but the fear, anxiety, and sometimes messy baggage that often comes with it. How do we overcome ourselves to be whole with another person? How can we prevent the pains of our past from influencing the joy that lies ahead?
Though the piece saw its first iteration several years ago in NYC, what you are about to see is a premiere, of sorts. The Bengsons created Hundred Days as a biographical song cycle – yes, everything you are about to see is true and really happened – performing it themselves and sharing their remarkable story with eager audiences. Through several workshops and revisions, the play found its way to festivals, Joes Pub at the Public, and eventually out to La Jolla Playhouse. We stage it here now in its latest incarnation as the first theater in the country to take on The Bengsons' story and carry it forward as a theatrical concert.
Coming soon after Hundred Days is a truly profound production of Martin Sherman's Bent followed by the much anticipated War Paint starring Shana Dirik and Leigh Barrett. Though the season may be winding down, there's still so much to see AND we are busy planning our lineup for the 2020-2021 season. More information on all the surprises in store for next year will be coming soon, but for now, thank you once again for all your support and, as always, enjoy the show! 
Brian Boruta, Producing Artistic Director of The Umbrella Stage Company
More about Hundred Days