ArtWeek 2020
May 1, 2020 by Rachel Olson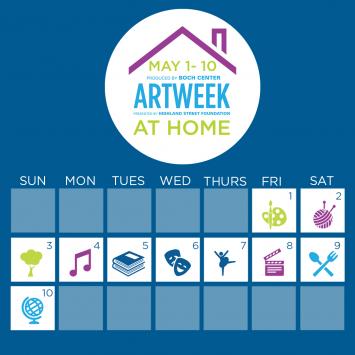 Due to COVID-19, ArtWeek 2020 has been reconceptualized as a virtual festival, #ArtWeekAtHome, running from Friday, May 1 - Sunday, May 10.
The Umbrella Arts Center encourages people staying at home to get keep creative and share what you're doing through social media with us by tagging #DiscoverYourArts and #ArtweekAtHome. We will also be hosting multiple online activities, where possible, consistent with what we had planned for ArtWeek. 
To kick things off: One of The Umbrella Studio Artists who had originally proposed to open up his studio for a behind-the-scenes ArtWeek tour is Mark Sutherland. In this video, we get an up-close look at the workshop where he crafts fine ship models, as seen through the eyes of his daughter Juliette Sutherland, a filmmaker based in Portland, ME.
Mark Sutherland Ship Models from Juliette Sutherland on Vimeo.

---
PREVIOUSLY SCHEDULED ARTWEEK ACTIVITIES
The Umbrella Arts Center is partnering with ArtWeek to spread the word about this award-winning statewide festival dedicated to making the arts affordable and accessible to everyone. 
This year, between Friday, May 1 – Sunday, May 10, individual artists, cultural organizations, and businesses alike are invited to open their doors to share hands-on, interactive or behind-the-scenes creative experiences to neighbors of all walks. Now in its 7th year, ArtWeek is also engaging those outside the arts sector -- such as restaurants and lodging businesses -- who want to partner with artists to offer creative experiences, from Hotel-and-a-Show packages to Art-Inspired Menus.
The Umbrella is pleased to be hosting a number of different partner events for this year's ArtWeek!
Free Family Day | Studio Visits | Collage Workshop | War Paint Matinee and Talkback | #ArtofFood2020 | #DestinationArtWeek2020
---
Saturday, May 9, 2-5pm
Room 222
Free with RSVP
Creativity has no age limit!
Free Family Days are a great opportunity for families to be creative together and want to enjoy art in a fun and affordable way.  In this program, families will engage in art making activities designed and taught by our talented art instructors.  The projects will use a variety of art materials, professional artist tools, and mediums, and may incorporate seasonal considerations such as holidays and events throughout the year.  By design, projects should take between 30-45 minutes. 
The free family day schedule runs throughout the year on Saturday afternoons and occasional Monday holidays. It is a great way to come see the new Umbrella building and to learn about all of the wonderful programs we have to offer. 
We encourage families of any age and size to attend.  However, please keep the following guidelines in mind. 
An adult must accompany children under 5 years old at all times. 
If the room reaches capacity at the time of your arrival, you may have to wait until space opens up. 
Families that arrive less than 30mins before closing time may not have time to finish a project.  Typically, if this is the case, art materials can be taken home to finish. 
We will end promptly at the scheduled time. 
Come out to the Umbrella for free family fun!
Availability in Free Family Day is contingent upon room capacity. RSVP in advance is required. 
---
Studio Visits with The Umbrella Studio Artists
Saturday, May 9, 2-5pm
Free
The Umbrella Arts Center is home to more than 50 working artists representing a variety of art forms, from painting and ceramics to fiber arts and metalwork. This afternoon, some will open their studios in the historic and newly renovated Emerson School building in the Concord Center Cultural District, to share their techniques and inspirations.
---

Saturday, May 2, 1-2:30pm
Musketaquid Room 109
$10/person, $20/family
What if you could see yourself the way you see the natural world? You might behold yourself with acceptance, respect and even admiration but no judgment.  In this class, we will borrow some of that compassion for nature and direct it toward ourselves.  Using an assortment of papers and natural materials, each participant will create a collage based on a message of self acceptance.  You will leave class with a ready-to-hang 6x6 inch collage. 
---
War Paint Matinee and Post-Show Behind the Scenes Talkback


Sunday, May 3, 3:00pm
The Umbrella Main Stage Theater
Talkback Included with Ticket Purchase
Post-matinee Theater Talkback with the cast of The Umbrella Stage Company's War Paint, the stage musical about the lives and rivalry of pioneering cosmetics giants Elizabeth Arden and Helena Rubenstein. Meet stars Leigh Barrett and Shana Dirik, and filmmaker Ann Carol Grossman, co-creator of The Powder & the Glory, which partly inspired the development of the Broadway musical. Learn how this hit musical came to life.
---

May 1-10
Come visit Concord Market and The Trail's End Cafe and join us in supporting and celebrating The Umbrella Arts Center's production of War Paint! Recently on Broadway, this spectacular musical commemorates the lives, careers and rivalries of pioneering cosmetics entrepreneurs, Elizabeth Arden and Helena Rubenstein. During #ArtWeek2020, we'll serve special cupcakes and cocktails inspired by the production, and offer dinner-and-a-show discounts for those who want to dine with us and see the show, which runs Thursdays-Sundays until May 16! 
#ArtofFood2020 #DestinationArtWeek2020
---
April 30-May 10
Rate Code: ARTWEEK
Concord's Colonial Inn is pleased to partner with The Umbrella Arts Center to create a delightful theater escape weekend in classic lodgings right in the heart of the historic Concord Center Cultural District. To celebrate #ArtWeek2020 and the town's celebration of "revolutionary women," the Inn will offer a special overnight stay rate with free tickets ($49 value each) to see the musical, War Paint, a fascinating bio-musical about the lives, careers, and 50-year rivalry of pioneering cosmetics entrepreneurs, Elizabeth Arden & Helena Rubenstein. The show stars Leigh Barrett and Shana Dirik, presented by The Umbrella Stage Company, Greater Boston's newest professional theater, at 40 Stow Street, just a two-minute drive or a ten-minute walk through Concord Center.
Pricing:
-Prescott Wing $169 one guest/$199 two guests, +$30 for each additional guest
-Historic Wing $199 one guest/$229 two guests, +$30 for each additional guest
-Cottage $259 one guest/$289 two guests, +$30 for each additional guest
 @artweekma #LodgingOffer2020 #DestinationArtWeek2020 #DiscoverYourArts
---
Presented by Highland Street Foundation and produced by the Boch Center, ArtWeek has offered 1,000+ unique experiences to adults and children of all ages and backgrounds since 2013. This year, ArtWeek is being supported by hundreds of Community Partners, Media Sponsors, and Lead Champions: Massachusetts Cultural Council, Massachusetts Office of Travel & Tourism, and the Commonwealth of Massachusetts.