Belmont World Film Family Festival, Workshops 2021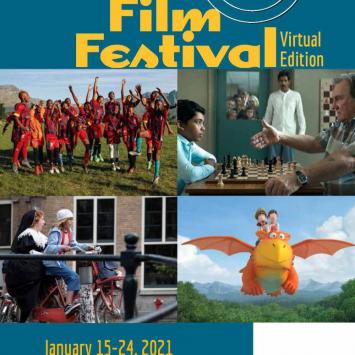 Umbrella Co-presents Programs for 18th Annual Family Festival, Virtual Edition
January 15-24
www.belmontworldfilm.org
Belmont World Film's Family Festival provides children age 3-12 the opportunity to see some of the world's most remarkable films—films that provide a window into the lives of kids in other cultures, races, and ethnicities—as well as several educational workshops and opportunities to meet filmmakers from around the world.
This year, The Umbrella is pleased to co-present creative workshops led by famed claymation studio Aardman's (Wallace & Gromit, Chicken Run, Shaun the Sheep) Senior Model Maker, Jim Parkyn, making beloved characters Gromit or Shaun the Sheep. If you've taken The Umbrella's popular @Home Digital Animation classes -- or just love claymation -- you won't want to miss the opportunity to learn from this modeling master! Space is limited, and Umbrella families receive a special 10% discount, so it is recommended that you sign up early and leave time to collect clay materials you'll need. See the workshop options below.
The Umbrella is also pleased to co-present Jackie & Oopjen, a charming and hilarious new feature set in Amsterdam, where one of the subjects of a famous Rembrandt painting comes to life and sets out from the Rijksmuseum with a young girl on a modern adventure.
And, adults and kids alike may be interested in joining a two-day workshop on film criticism led by friend-of-The Umbrella Joyce Kulhawik and Boston Globe film critics Ty Burr and Peter Keough, on January 16 & 17. 
Most films will be available for streaming for the full 10 days, from Friday, January 15 @ 10 AM to Sunday, January 24 at 7 PM. Once you start a film, you will have 48 hours in which to finish it. Film and Workshop Only Tickets, Multi-Film Passes, and a Full Festival Passes (providing RSVP admission to all films and workshops) are available.
Umbrella Arts Families Special: Use Umbrella code OVINTT4FVU4O6D0-UMB for 10% discount on films, passes, and workshops (subject to availability). 
A Note on Clay Supplies
Due to the pandemic (and thanks to a note from a participant), some of the clay supplies that were suggested for the Gromit modeling workshop through the link are on back order and will not be available until after the workshop. We suggest that you try to source the clay elsewhere. It does not have to be FIMO clay--it can be any modeling clay, such as Play-Doh or Plasticine. Again, there are also recipes online where you can make your own clay out of household ingredients, if you are feeling particularly creative!

As a reminder, below are the quantities that you will need of each color:
Stone clay: 200g (7.06 oz)
Brown clay: 20g (.71 oz)
White clay: 10g (.35 oz)
Black clay: 10g (.35 oz)
Popsicle sticks: 5
Baby wipes or a towel (to clean hands with when switching between clay colors)
Jan. 23 Clay Modeling Workshops