Winter Solstice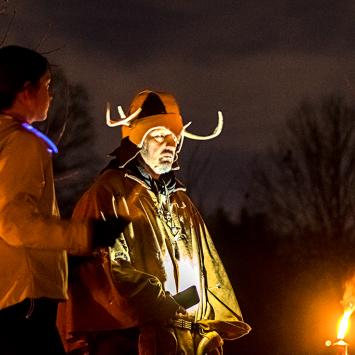 TUESDAY DECEMBER 21, 2021 6-7:30PM
The Umbrella Arts & Environment Program is thrilled to announce the return of the traditional Musketaquid Winter Solstice celebration!
With some COVID modifications, we will once again gather outdoors on the side lawn at The Old Manse (269 Monument Street, Concord, MA) to celebrate the longest night of the year and welcome the return of the light!  Due to COVID, we'll forego food and singing in favor of festive highlights including:
Bonfire
Drumming by the Drum Nomads
Solstice Ceremony at 6:30pm 
This event is free but registration is required. THIS EVENT IS SOLD OUT.
Limited parking at The Old Manse and the Old North Bridge/Robbins House lot for those who pre-registered ONLY. Please carpool or walk if at all possible. PARKING PASSES ARE SOLD OUT.
VOLUNTEERS NEEDED! Volunteer to help out at the event! Click here to sign up.