Ceramics @Home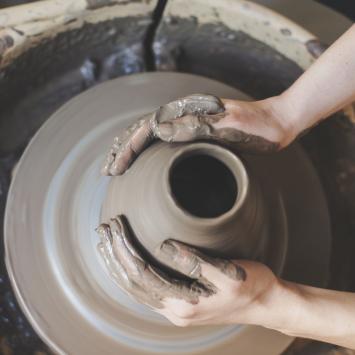 Ceramics Monthly Studio Program (Beginning September 1)
Our monthly program fee of $15 per month will give you access to our curb-side firing program, as well as provide an indoor storage shelf to those wishing to keep items inside of the main studio*. Only students enrolled in our monthly program will be permitted to use our curbside service program, as well as sign up for any additional drop in work sessions.
*(Please note you will only get access to your cubby on days where you sign up for a drop in work session). If you are enrolled in virtual ceramics courses, your monthly fee will be waived for all months your course is in session.
To register for the Ceramics Monthly Studio Program, please use the following link:
Clay Purchase
The Umbrella is offering clay purchases through our FamilyID class registration system. To purchase clay which can be fired at The Umbrella, use the following link:
The Umbrella is offering the following clays for purchase:
White Stoneware 20231
Porcelain 92700
Sculpture Clay S-14
Speckled Clay T-360 M
"Black Clay" Standard 266
Brooklyn Red Standard 266
For more information on how to pick up clay purchases and on how to drop off clay for firing, see our Curbside Ceramics Services document.
---
Curbside Ceramics Services
The Umbrella will begin firing services and clay sales on Tuesdays and Thursdays, weekly until we are able to re-open. A comprehensive list of services as well as curbside policies are available here: Curbside Ceramics Services.
This document contains information on Purchasing Clay, Clay Pick-up, dropping off Greenware and Bisque-ware, as well as Glazing services. Please read this document carefully to help us maintain social distancing while offering these services 
---
Ceramics @Home Class Policies
You can find more information about our Ceramics @Home class polices on our Online Ceramics Policy page.