Steve Klein: Breaking the Mold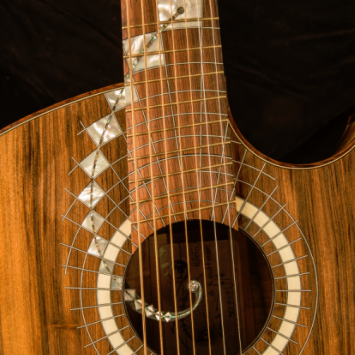 STEVE KLEIN: BREAKING THE MOLD
50 Years of Innovation in the Art of Guitar Building
September 21 – October 22, 2017
Exhibit Hours:
Monday through Friday 10am to 6pm
Saturday 11am to 6pm
Sunday 1pm to 5pm
Luthier Steve Klein broke through the guitar building scene in 1967 with the first major leap forward in the design of the steel string guitar in more than a generation. Considered a pioneer, a genius, and sometimes a radical by his peers, Klein fundamentally shifted the way that players, builders, and collectors view the guitar.
Klein's major accomplishments, on display in this highly unusual exhibit, focus on three major areas: design innovation of the steel string guitar, including his famous "flying brace"; ergonomically balancing the instrument with the human body to create harmony while playing; and insistence on creating the instrument as art – leveraging industrial design, world-renowned inlay and marquetry, and even jewelry making arts in the creation of his masterpieces.
As Klein celebrates his 50th anniversary as a guitar maker, the Concord-based Klein Community has assembled an incredible exhibit of pivotal instruments from collectors across the country. Together with original tools, molds, bracings, prototypes, and photographs, this special exhibit shares a glimpse of the inner workings of the genius mind of Steve Klein.
For those coming in from out of town, Concord's Colonial Inn is offering 10% off room rates for all guests attending the Steve Klein Gallery Exhibit, based on availability, some blackout dates apply. You must mention the Steve Klein Gallery Exhibit to receive the discount.
Join us for:
BREAKING THE MOLD: A symposium on contemporary and traditional craftsmanship
Sunday, October 22, 2017.
Tickets on sale now!
This exhibition is generously sponsored by the following businesses: