Points of Return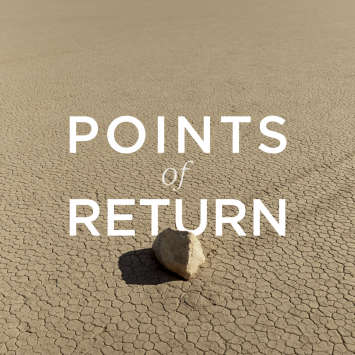 May 1 - June 25, 2023
Curated by Al La Luz
Twenty-seven international artists explore wide ranging aspects of the climate emergency, offering commentary and creative nature-based strategies.
The Umbrella Visual Arts program, in collaboration with A La Luz, presents the revolutionary, multimedia exhibition, Points of Return. Featuring the work of 27 international artists, Points of Return is the first physical exhibition of the acclaimed online exhibition of the same name. 
This environmental art exhibition will see The Umbrella split into themed spaces. A journey has been mapped out by curators A La Luz, plotted to allow visitors fresh and engaging insights into wide-ranging aspects of the climate crisis, its end destination that of resolute optimism. For, while it may seem that we are racing toward a closing act, as our planet's average temperature rises year-on-year, solutions remain within sight. We have not yet reached that dreaded "point of no return" and artists are in the unique position of being able to offer scientific data in new ways. Through dynamic display and crossing several artistic disciplines, this international 27-artist show provides commentary, reflection, and creative restorative strategies.
The exhibition will be on display May 1 - June 25, over two floors of The Umbrella and in The Umbrella Black Box Theater, supported by the following special events (events are free but RSVPs Required):
UPCOMING EVENTS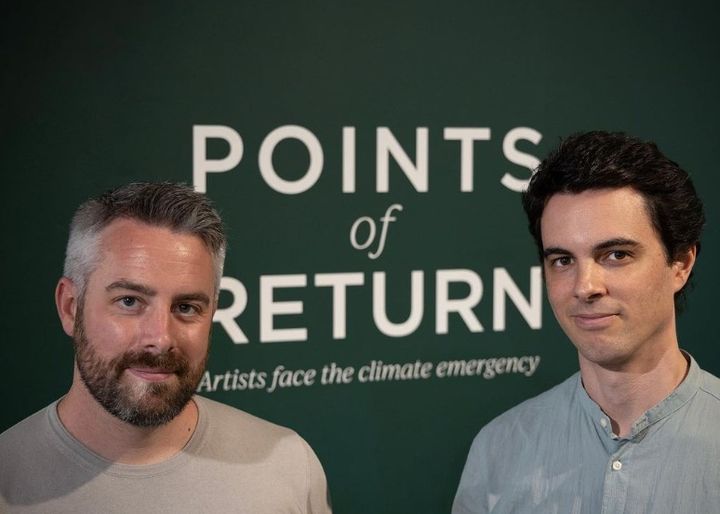 Sunday, June 25, 3pm - Guided Tour of the Exhibition with the Curators A La Luz RSVP. 
The Umbrella Arts Center will host a final tour of the expansive Points of Return multimedia climate art exhibition led by environmental artists and curators Gonzaga Gómez-Cortázar Romero and David Cass. Collectively known as A La Luz, they will be in Concord for the final weekend to provide a personalized narrative of the exhibition's journey from an pandemic-era online exhibition to this first-ever large-scale physical exhibition, the biggest in The Umbrella's history.
Sunday, June 25, 4pm - Documentary screening of Call of the Orcas RSVP.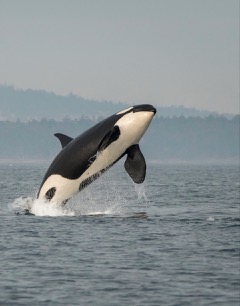 Call of the Orcas explores the urgent effort to recover endangered Southern Resident Killer Whales of the Pacific Northwest, through the eyes of one of their human champions, researcher Ken Balcomb, who passed away in late 2022. Balcomb's determined survey work over nearly fifty years helped people see these orcas as individuals, in family groups, and led to a subspecies listing under the US Endangered Species Act. The story encompasses many perspectives on the unique orca culture of the Pacific Northwest, from an indigenous experience of orcas as family, to the lifelong commitment of Canadian researcher Dr. John Ford, who dedicated his career to documenting orca calls. 
 
Southern Resident orcas are distinctive for many reasons, among them their long, close proximity to human populations. They continue to visit the Seattle waterfront, following their preferred prey, Chinook salmon. Despite an aggressive capture program five decades ago, mutual curiosity between the people of Puget Sound and Southern Resident Killer Whales continues, raising an urgent question for human residents of the Salish Sea. Can we learn to live in a way that sustains the orcas among us? This story profiles a researcher running out of time, while 73 remaining whales depend our action for survival. (Photo shown by Katy Foster for NOAA)
PREVIOUS EVENTS
Saturday, May 6, 5-8pm - Opening reception. Curator remarks and introduction to artists at 6pm.
Sunday, May 7, 12pm - Guided tour followed by Return to Resonance: Restoring Our Connection to Earth Through Sound, an immersive sound bath experience to reconnect with our environment with Amy Duncan.
Saturday, May 13, 3-4pm - Guided Tour of the Exhibition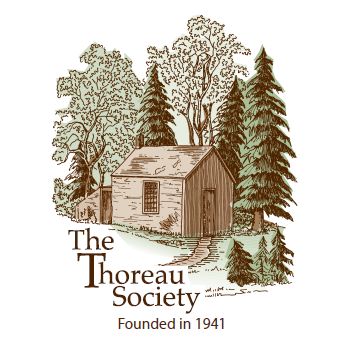 Saturday, May 13, 4-5pm - "American Literature Before, Through and After the Climate Emergency". Talk by Dr. Joseph Donica (CUNY) and presented in partnership with The Thoreau Society.
Saturday, June 10, 4:30pm - Guided Tour of the Exhibition. RSVP
Saturday, June 10, 6:30-9pm - Into the Oceanic: Double screening event by artist-filmmakers Elizabeth Ogilvie and Robert Page, focusing on underwater habitats and the importance of educational entry points in environmental artwork. Documentary screening and pre-recorded talk by Dr Gary Husband from 7:30pm in the main theater, preceded by a creative oceanic projection in the Black Box and exhibition viewing. Free with RSVP. Refreshments available for purchase. OPTIONAL: Pre-screening boxed dinner from Saltbox Catering may be pre-ordered by noon the day before. 
VIEW THE POINTS OF RETURN 360 VR GALLERY
ABOUT THE EXHIBITION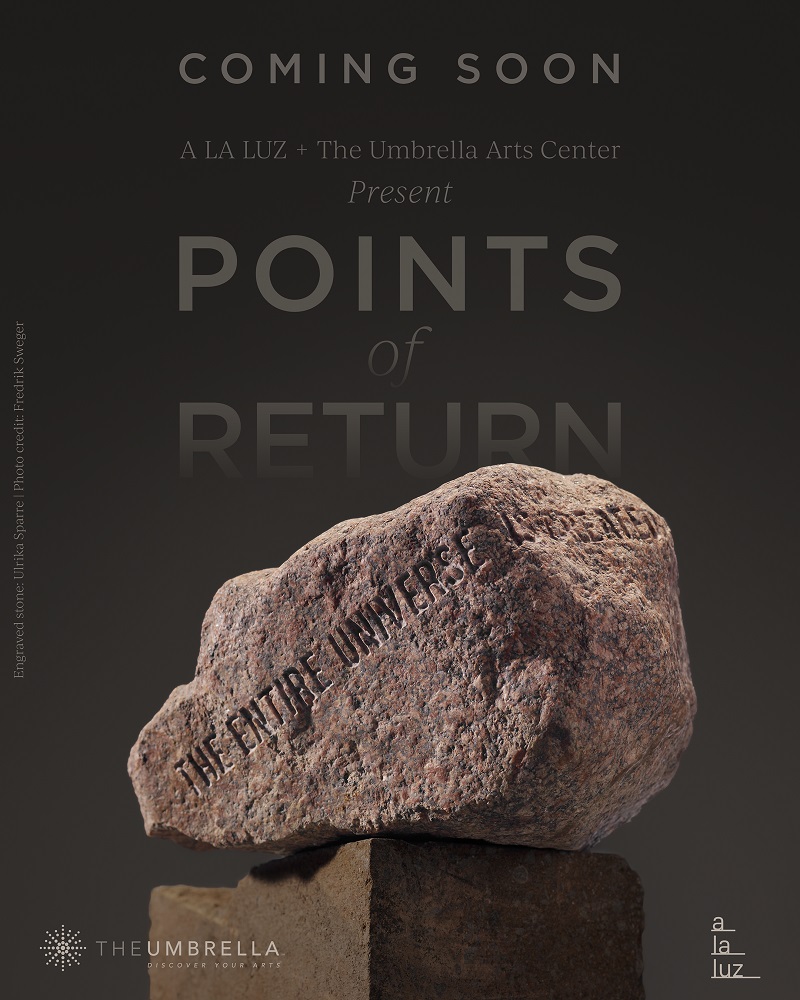 Points of Return, curated by A La Luz, began life during lockdown as an online exhibition, featuring artists from around the world. This year—in collaboration with The Umbrella Arts Center—a large-scale exhibition will present thought-provoking projects by twenty-seven artists who examine wide ranging aspects of the climate emergency, offering commentary and imagining ways humankind can restore its natural bond with the environment.
The first physical manifestation of this project will take place right here in Concord, where in the 19th century the naturalist movement—which would evolve into the contemporary environmental movement in America—was born, thanks to writers and philosophers such as Ralph Waldo Emerson and Henry David Thoreau. We are now at a time in history where the environment is, and must be, at the centre of the issues that humanity must address, and it makes sense to continue the conversation with this exhibition in a place, where over two-hundred years ago, great creative minds started discussing the importance of the natural world—for our souls, and for our very survival.
This immersive exhibition includes works that illustrate some of the key scenes we face as we approach what many describe as a "point of no return." From projects responding to the increasing wildfires in California, to the rapid decrease of kelp forests in that same region. From the important role played by marshlands in protecting the East Midlands of England to the deforestation of the Congo Basin rainforest. From disappearing ice at our poles, to the rapid spread of plastics into landscapes and waterways around the world.
In just one century, we have fast-forwarded through warming which should have taken thousands of years. We have nearly doubled the volume of carbon in our atmosphere, increased methane levels two and a half times over, pushed up average sea-levels by 20 to 23 centimetres, and killed off over half our coral reefs. And yet, while it might seem that we are racing through a closing act, solutions remain within sight. The artists in this exhibition offer commentary, reflection, and creative restorative strategies.
The exhibition brings to the surface the problematic relationship the human species has toward planet Earth and highlights how human activity, particularly since the beginning of the Industrial Revolution, has induced climate breakdown. Yet, we firmly believe there are reasons for optimism. These art projects show that there are multiple paths and approaches that can be taken, in order to restore the environmental balance that we have destabilised. A La Luz (a platform and curatorial project founded by artists Gonzaga Gómez-Cortázar and David Cass) believes that creative practitioners play a pivotal role. Through their work, they bring to light overlooked realities and nuances of the climate crisis, reminding us that, as Greta Thunberg puts it, 'our house is on fire' and urgent action must be taken.
Nature writer Barry Lopez wrote that 'the mind, full of curiosity and analysis, disassembles a landscape and then reassembles the pieces.' In this case, we could write that 'the artist', or 'the creative mind, full of curiosity and analysis, disassembles a landscape and then reassembles the pieces.' For, this is what each one of the artists in this exhibition achieves,  focussing on one element or another of our dismantling planet and using their creativity to provide us with a way inside the data. This is climate breakdown of another sort, where providing entry points and accessible narratives is key. Author Michael Pollan said recently on BBC Radio 4 that "people enjoy learning with you, rather than being lectured at." Often, it is a missing emotional element which inhibits our ability to connect with climate science. For this reason, the curators have designed Points of Return so as to describe a journey, through which the visitor might feel and hear something of the Earth itself, and from those affected by recent climatic shifts.
These artists have immersed themselves in jungles, marshlands, deserts, oceans, and forests. They have researched and captured how even the most remote and inaccessible environments have the fingerprints of human activity. Through their immersion, they've become vessels for telling; for raising awareness and understanding. These thorough processes, explorations and reflections take on various formats—including video art, installation, sculpture, and photography. Ulrika Sparre asks us to place our Ear to the Ground. Quite simply, to listen to our Earth's non-human actors. Tanja Geis and Fiona Carruthers urge us to pay attention to our natural resources. Erin Woodbrey and Bethany Johnson promote the importance of sustainability through use of recycled, reclaimed, repurposed materials. Miguel Jeronimo's stunningly effective project carries what could be considered the strongest strategy at our disposal in tackling the climate emergency—a shift in perspective.
Artists are in a unique position, able to creatively present scientific findings in an accessible manner—raising awareness, inspiring collaboration and communal action. After all, if we are to solve the climate conundrum, we must all contribute. Collaboration is key.
Curator's Statement | David Cass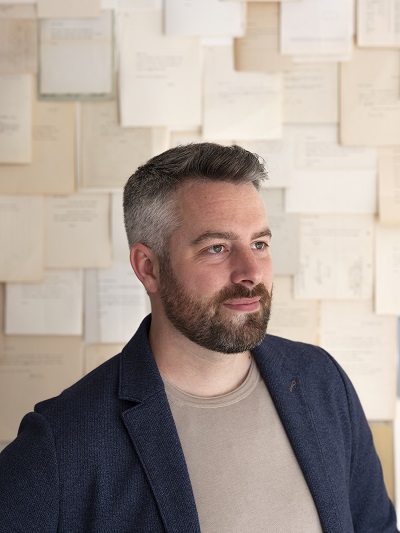 David Cass (b. Edinburgh, 1988) is an artist best known for his water-themed works created using reclaimed materials. Artworks by Cass have received numerous awards and are held in collections worldwide. In recent years he has exhibited at Venice Art Biennale, COP26, COP27, the Royal Academy of Art and Royal Scottish Academy. He considers his curatorial work as an extension of his studio practice, anchored by environmental concern. Since graduating from Edinburgh College of Art in 2010 Cass has regularly designed solo installations for galleries around Europe and contributed to the production of various group presentations, but it wasn't until the lockdown of 2020 that he made the conscious decision to focus earnestly on climate-themed curatorial endeavours. Art is a vital tool in exploring and conveying such issues and the artist believes deeply in the potential for change that works in this field possess.
The Sea from Here featured seascape photographs taken by people around the world, accompanied by texts from oceanographer John Englander. Ongoing project Where Once the Waters also invites public participation, offering personalised readings on the issue of sea-level rise. Points of Return—curated in collaboration with artist Gonzaga Gómez-Cortázar—aims determinedly toward hopeful near-future scenarios, in which creative strategies pull us back from the worst effects of the climate crisis. Cass and Gómez-Cortázar co-run the platform A La Luz, which—like Points of Return—embraces all media formats. These projects invite engagement, allowing clear entry points that open discussion on issues which will inevitably touch us all.
Curator's Statement | Gonzaga Gómez-Cortázar Romero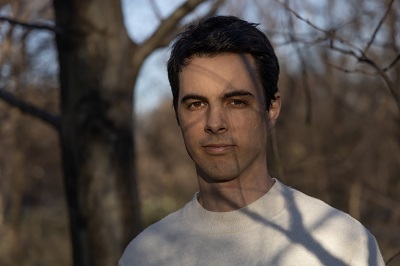 Gonzaga Gómez-Cortázar Romero (b. Bilbao, 1985) is an artist based in New York City whose practice focuses on the ephemerality of the environment and its connection to the passage of time. His work highlights our world's transient nature and presents the familiar as unique and transcendent. He examines details and features of the landscape as a means to honor and restore our innate and intimate connection with Earth and its elements. Video and photography are the building blocks in his art practice, which over the years has expanded towards other disciplines including installation and performance.
Gonzaga's works have been exhibited in numerous galleries and festivals worldwide. Recently, his works have been exhibited in COP26 and COP27.  In 2015, with his colleague David Cass, he created A La Luz, an online platform and curatorial project dedicated to artists whose work focuses on the environment. Points of Return was their first major joint curatorial project, transforming from an online presentation to a large-scale multimedia exhibition.
Featured Artists
Artists on Site
Planetary Intimacies
Felipe de Ávila Franco
David Cass
David Ellingsen
Tanja Geis
Gonzaga Gómez-Cortázar
Miguel Jeronimo
Bethany Johnson
Luke Myers
Miguel Sbastida
Adam Sébire
Ulrika Sparre
Erin Woodbrey
Artists on Screen
Collin Bradford
Fiona Carruthers
Pieter Colyn & Emilie Miller
Emilio Fuentes Traverso
Tamara Garcia
Angela Gilmour
Michael Krondl
Justin Levesque
Fae Logie
Tom Rice
Jacinda Russell
Anne-Katrin Spiess
Evalie Wagner
Virginia Woods-Jack

Main Images this Page: Banner Image Top: Video artist Adam Sébire floating atop an Arctic Greenland sea ice floe in Baffin Bay in the Arctic spring, for his art work 'Adrift (∆Asea-ice)' (2019) touching on global warming and climate change event attribution. Page Rock Thumbnail: Engraved stone sculpture 'The entire universe is created by me' by artist Ulrika Sparre (2019). Photography by Fredrik Sweger.