Into the Oceanic: Double-Screening Event
June 1, 2023 by Stewart Ikeda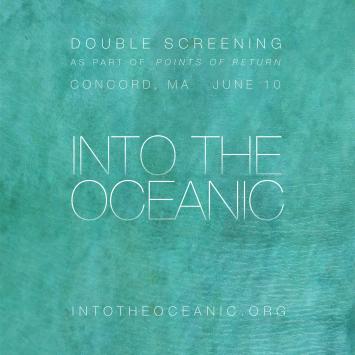 On Saturday, June 10, The Umbrella Visual Arts Program and A La Luz will present Into the Oceanic: A Documentary Film and Creative Projection, a companion dual-screening to accompany the current exhibition in the Main Gallery, Points of Return.
Focusing on restoring underwater habitats, the documentary examines how artists and scientists can apply their skills to provide foresight and clarity in regard to the climate emergency, our relationship with the environment and our historical responsibility for what occurs in it. Documentary screening and pre-recorded remarks by Dr Gary Husband—focusing on the educational entry points of Points of Return—will be screened at 7:30pm in the main theater. This event is free but requires RSVP.
PRE-SCREENING ACTIVITIES
Free Family Drop-In Art, with instructor-guided craftsmaking on the theme of Underwater Habitats. RSVP here
A guided tour of the exhibition led by the curators will start at 4:30pm. RSVP here
Optional boxed dinners from Saltbox Kitchen may be pre-purchased (through Noon on Friday June 9) while RSVPing for the screening, to be served at 5:30pm .
Option 1: Grilled Chicken Satay with baby shanghai bok choi, cilantro, peanuts, mint, lime; Seasonal Fruit Salad ($21)
Option 2: Saltbox Summer Mezze with roasted garlic hummus, marinated tomatoes, dolmas, olives, marinated beets, medjool dates; Seasonal Fruit Salad ($21)
Or, guests are invited to arrive by 6:30pm to view the creative oceanic projection installation in the Black Box Theater first, take in the exhibition on their own, purchase light refreshments from concessions, meet the curators and chat with other guests. RSVP for the pre-screening options here.