Volunteer Spotlight: Jordan Waterworth
June 17, 2020 by Stewart Ikeda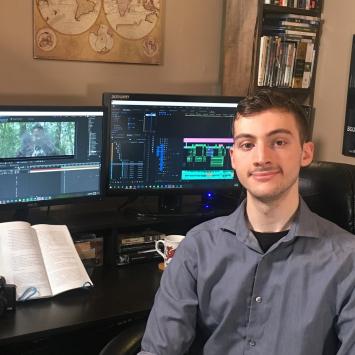 Article by Diana Kennedy
"Follow the action" seems to be the unofficial mantra that Jordan Waterworth has adopted in his approach to filmmaking and in life. His combination of ambition and curiosity have led him to both his undergraduate studies at Suffolk University as well as his position as vital member of The Umbrella's volunteer staff, taking on a multitude of roles in video projects in multiple platforms.
Jordan recently spearheaded the preparation of Zoom packages for the Arts Education program as an alternative to in-person classes and events during the pandemic. He also threw himself into a Metrowest Foundation grant proposal video featuring the "Ninjas in Nature" summer program for Arts & Environment. 
"I just went out on a day where the Ninjas in Nature class was going on, just followed the action, followed the class around with the camera for a couple of hours," Jordan recalls. "Nancy Lippe was in charge and provided the script, added that as narration, had various B-roll playing under that, and I basically did the editing magic to get over the line. Then about a couple of weeks later they got the grant, so that was pretty cool."
Volunteering with The Umbrella has given back to Jordan as well, he claims: He is expanding his skill set on top of the narrative storytelling filmwork that he does at school and with the Lorian Film Collective in Boston to include more documentary-style projects. He sees The Umbrella as a compatible fit for him, saying, "I consider video/film as an art form, and here was an organization that's completely dedicated to that: Helping people discover their arts, discovering their creativity."
When he is not working on his films, Jordan might be spending time with his family in Methuen or following other pursuits such as linguistics, cartography, or mythology. The latter has proved to have a profound effect on the narrative of his films. He lists Stanley Kubrick as his primary influence in filmmaking ("It's a vanilla answer… but he really defined what the cinematic language could be on a whole other level."), and George Lucas as an influential force (pardon the pun) in his storytelling based on his breakdown of the mythological hero.
When his tenure at Suffolk comes to an end, Jordan hopes to continue to work with The Umbrella to build up both the organization's video portfolio and his own as a "preditor" -- an industry term for the hyphenate producer/director/editor.
"I would definitely like to take those skills wider and see in the wider world who else can use my help (obviously once everything comes back to normal, whenever that is)," Jordan says. "Basically go where the action is." And follow it all with lights and a camera, one would presume.
See Jordan's portfolio site here 
This article was contributed by writer Diana Kennedy, whose work can be seen at www.genuinearticleblog.com