Umbrella Volunteers Craft Artful Masks for Community
April 22, 2020 by Anonymous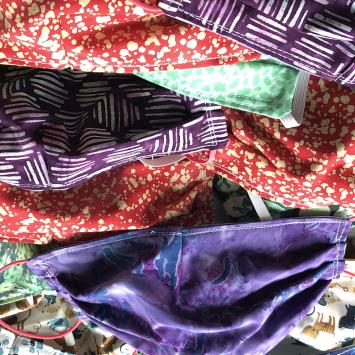 Since the start of the Covid-19 lockdown, Kathy Warren, Volunteer Coordinator for The Umbrella, has been working with a team of volunteers throughout the region to create artfully crafted masks to share with The Umbrella staff and wider community.
Over the course of the first week, the volunteers – including skilled quilters and fiber artists -- crafted approximately 70 masks, many in richly decorated fabrics.
Also a student in The Umbrella's advanced quilting arts classes, Ms. Warren was encouraged by reports in The New York Times that "Tests performed at the Wake Forest Institute for Regenerative Medicine in Winston-Salem, N.C., showed good results for homemade masks using quilting fabric. Dr. Segal, of Wake Forest Baptist Health, who led the study, noted that quilters tend to use high-quality, high-thread count cotton. The best homemade masks in his study were as good as surgical masks or slightly better, testing in the range of 70 to 79 percent filtration."
The masks were distributed at Concord Park, Assisted Living Facility in West Concord, accompanied by instructions for handling and disinfecting them, and for safe ongoing use.
Participating in The Umbrella effort were:
Janet Spillert
Leslie Lowe
Eileen Kahan
Shayna Loeffler
Mary O'Connell
Sylvia Sawyer
Umme Habiba
Jorun Jones
Lorraine Sousa