The Umbrella Delighted to Host State, MCC Delegation
March 8, 2019 by Stewart Ikeda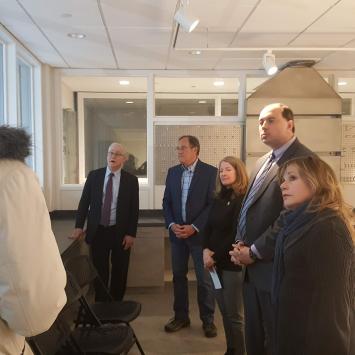 Community Uses, Wider Regional Cultural Impact Discussed
CONCORD, MA—A delegation representing Concord's state elected officials and the Massachusetts Cultural Council was treated to a detailed, inside look at the ambitious ongoing renovation and expansion of The Umbrella Community Arts Center in the former Emerson School building at 40 Stow Street.
Senators Jamie Eldridge and Michael Barrett, Representative Tami Gouveia, legislative aides Emily Odgers and Audrey Horst, and MCC Executive Director Anita Walker observed highlights of life at The Umbrella, from the hanging of a new gallery exhibition by its 50+ Studio Artists to an active adult ceramics class to the rustic Musketquid Arts & Environment room.
Discussion among the delegation and staff emphasized the many improvements in accessibility and sustainability; technological advances ranging from advanced soda kilns to 3D printing and digital labs; and increased capacity for future community uses in several new spaces, including a new makerspace to be outfitted, in part, with a $85K MassDevelopment collaborative workspace grant.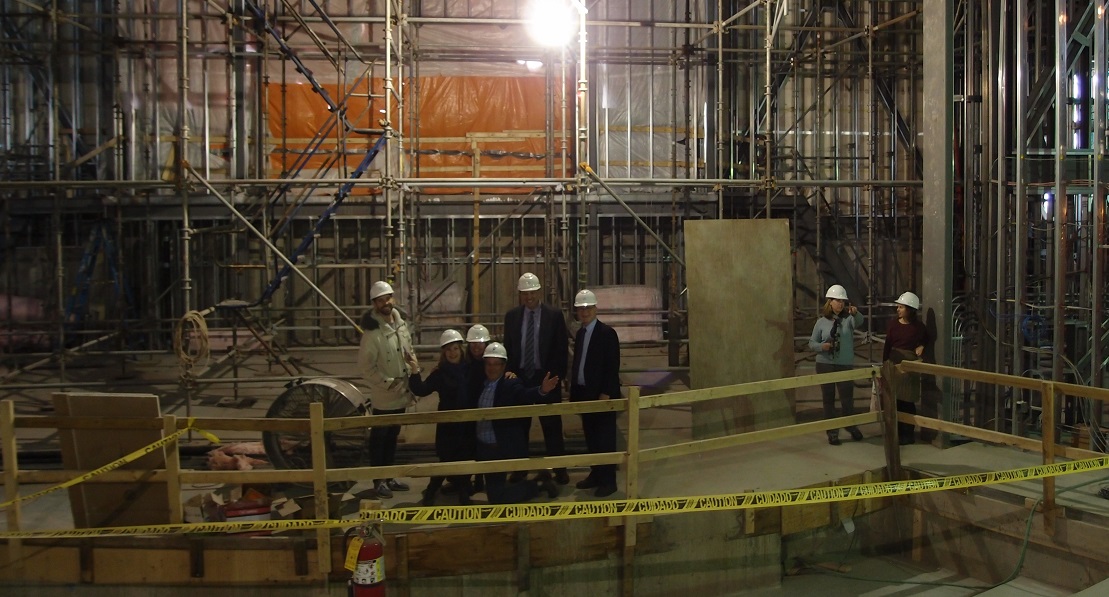 Another visit highlight was a hard-hat tour and congenial photo-op in The Umbrella's expansive new, multi-theater Performing Arts Wing, now nearing the end of a 18-month construction project. Performing Arts Program Director Brian Boruta shared the background of the project, spurred and paralleled by the Program's evolution from an award-winning community theater into the professional equity Umbrella Stage Company, newly announced just last month.
The delegation discussed key needs the upgraded facility might fill for audiences and cultural producers broadly throughout the Greater Boston. Its 350-seat mainstage and 100-seat blackbox, along with its state-of-the-art tech facilities and such innovative features as a hidden, back-of-house orchestra room, place it among a very few, much sought-after mid-sized professional theater spaces in the region.
The tour concluded as The Umbrella's Executive Director Jerry Wedge and staff expressed gratitude for state and MCC support that, along with the generosity of private and business donors through the region, have allowed its transformation. The staff expects to begin moving into its space in June, and its expanded, six-show theater season and wide array of art classes to resume there in the fall.