Take 5 with Director and Choreographer Ilyse Robbins
September 8, 2023 by Sarah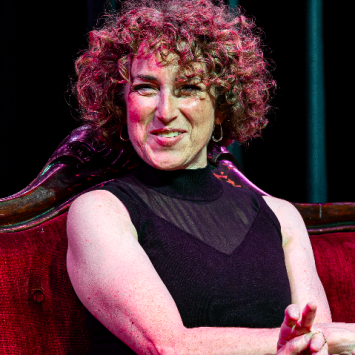 Ilyse Robbins is an Elliot Norton Award-winning Director and Choreographer who is making her Umbrella Stage Company debut later this month at the helm of LIZZIE, the musical. 
We were able to "take 5" with Ilyse earlier this week during a rehearsal break to talk about all things LIZZIE.
TUA: How would you describe LIZZIE?
IR: It's this incredible meeting of ghost story and rock concert, beautiful story-telling and hard-hitting music. Some people compare it to SIX -- the all-female cast, the rock-band vibe. But this story feels so current, like it still has something to say to us today. And so squarely New England-centered. Plus, in SIX they all get off'd while in LIZZIE they do the off'ing. It's wicked and empowering with these great moments of pure fun…I love it for that!
TUA: Tell us about this "hard-hitting" music.
IR: The soundscape is so familiar and fun. Think 70's to early 90's, Linda Ronstadt to Alanis Morrissette with some touches of Heart, The Cranberries, and Alice Cooper in the mix. A great rock ballad or two. It sounds a bit like the soundtrack of my life. 
TUA: The entire cast is just four women taking on this story?
IR: Yes, the piece is historical fiction, emphasis on the "fiction". It tells the story of four women taking matters into their own hands -- literally. We don't know whether this version is true. We'll never really be certain of the exact truth. But LIZZIE is about women who defy the oppression of their era. They support each other and lift each other up. And they make NOISE.
TUA: What's something audiences might not expect?
IR: Imagine the technology, the visuals you have at a rock concert, and then lay them on top of what you expect from a musical… and it's more than that. 
TUA: Who will love LIZZIE?
IR: Oh, anyone who likes a good ghost story…a good story. Anyone who likes great music, loves a good rock concert and a good rock anthem. And anyone who enjoys a great musical that sweeps you away.
TUA: Final question… do you believe in ghosts?
IR: I'm terrified of ghost stories! Seriously…But there's something about this piece, this rock musical, that keeps me coming back. I don't know if ghosts exist. But these women are amazing.