Scenic Backgrounds by Artcubator Artist Melissa Mariano
April 26, 2020 by Anonymous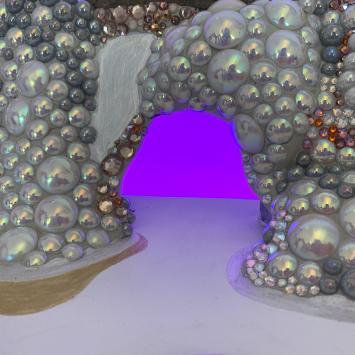 The Umbrella's Artcubator program awards studio space to visual artists for short-term projects throughout the year. Established and emerging artists alike benefit from the input of a creative community of more than 50 artists in the iteration and innovation of their ideas. Visiting artists can belong, experiment and establish leveraging Umbrella studio space, shared workshops and exhibition space.
We invited current Artcubator artist, Melissa Mariano, to share what she's been working on at The Umbrella between February and April.
---
Artist Statement
Through the combination of multiple media, I hope to guide my audience in finding their sense of self-worth. Art is a journey that is closely related to the realities of humanity—the ability to turn suffering into a greater capacity to love. I allow my intuition to guide my work to show a spirit and a voice that cannot be captured in one medium alone. By observing the world around me, I am able to create paintings, sculptures, and various music productions that show how we, as humans, can grow and learn. As my own views have grown, so has my art to reflect upon my own experiences and careful observations of the world.
My paintings and sculptures often focus on a perception of the world as viewed through fantasy settings. I want to provide my audience with a sense of solitude in viewing the world through my eyes. I create music video sets as well as produce music in hopes that my passion will become my career. My work is eclectic  and reflective, which gives it a unique quality that I hope my audience will be able to take an interest in and relate to. The main purpose of creating art is to allow viewers and listeners to not only see or hear my art, but to be immersed in a new version of the world they are surrounded by every day.
What I'm Doing at The Umbrella
During my time so far at The Umbrella Arts Center, I have been developing sets to film videos for the music I have been producing. Over the past year I have been experimenting with small scale set building, and exploring a wide range of colors and textures to make original landscapes. To finish off my time at The Umbrella, I will be filming myself on a green screen in order to place myself into the miniature landscapes.