Printmaking Demo with Lonnie Harvey
May 4, 2020 by Rachel Olson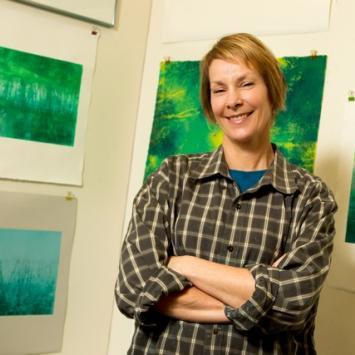 On Tuesday April 23, 2020, while on Covid-19 shutdown, Umbrella Studio Artist Lonnie Harvey gave a special, detailed demo of water-based ink on rice paper print technique from her temporary studio on the Cape.
Hosted by Umbrella Volunteer Coordinator Kathy Warren, this Zoom appreciation event for Umbrella volunteers was recorded to share in lieu of a planned behind-the-scenes #Artweek open studio event at The Umbrella. Harvey currently has work on display in the "Impressions V" 360 printmaking exhibition at Lexington's Gallery Twist. Video produced by Jordan Waterworth.
ARTIST NOTES
Working remotely, outside of The Umbrella, has forced me to work differently. I don't have access to my etching press, and I'm unable to use my oil inks. Instead, I'm using water based inks called Aquawash Etching Inks from Charbonnel and I'm printing with a pin press, which looks like a large rolling pin. This has been new experience for me, a time of experimentation and learning, and there are pros and cons to both ways of working. Although I prefer working with oil inks due to their richness and luminosity, the water based inks clean up easily. Instead of printing on dampened heavy-weight paper, I'm printing on dry rice paper. Therefore, my work is small, usually around 6"x8", which allows me to work quickly. I've been experimenting with stencils using Frisket film, a masking film that I cut into different shapes and adhere to the plexi plates. I roll each plexi plate with a different color ink; I've been using three different plates with a different color ink for each one. I then carefully peel off the stencils before I print. I print each plate separately, layering each one on top of the other, which results in a unique and colorful print.
TRY IT YOURSELF
For those who would like try following along at home, here are the materials that Lonnie used to set up her temporary studio at home for this demo. Some have easily accessible, less expensive substitutes for beginners. If you like, you can order online with a portion of proceeds going to support The Umbrella Arts Center programs. Click on the links to order DickBlick.com art supplies; or through Smile.Amazon.com (please add "The Umbrella Community Arts Center" as your Smile Amazon charity before checkout to support us).