A pre-Winter Market peek into our renovated studios
November 26, 2018 by Jess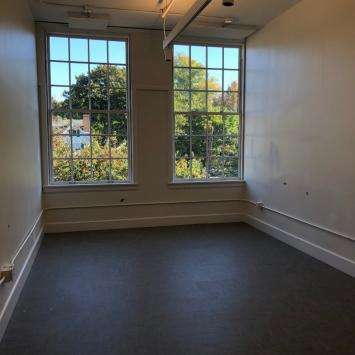 Written by Priyadersini Eramath-Murali
It has been two weeks since The Umbrella Community Arts Center welcomed its artists back to a newly renovated building with renovated modern studios. The project was made possible by generous donations from the community and other well-wishers. I took the pleasure of visiting two artists at their new studios to talk to them about their first impressions. Read on and see for yourself at this weekend's Winter Market November 30 - December 2!
Barbara Willis - Studio 210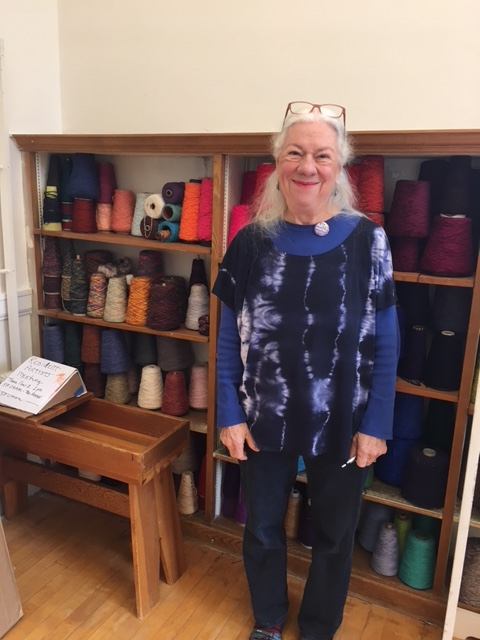 Barbara Willis, a weaver and one of the very first artists to join The Umbrella community, recalled when the founders worked towards acquiring the building for an arts education center more than three decades ago. The building was an old school in shambles. There were other interests in converting the building into a commercial space. She remembers her husband saying, "You will never get to move in."  But the with the support of the community, the building was successfully acquired for the purpose of developing a center for arts. And 35 years later here she is, in the same space, which looks entirely new with contemporary state of the art facilities.
Barbara had to go to the library to sign her name for a space on a cold day in December 1983, as they had no heat or electricity in the building. Now, her studio has its thermostat to adjust the temperature. She moved to the windows and said, "They have done such a wonderful job with the windows. Earlier, I could stand here and feel the cold air. The new ones are so well insulated." "This light goes on when you walk in the room!", she said pointing at the newly installed motion sensor lights. "It's amazing to see how far we've come. The new building is wonderful. The hallways are wider and brighter too."
She took pride in walking me around the building and showing me gathering spaces where the artists come together to support each other. She also showed me how the new building is incorporating works from the Umbrella community. The tiles in bathrooms, for instance, are designed by Umbrella's very own artists (names). Admiring the hallways she said, "The building has come out so beautifully. They have put in so much thought and effort into it to making it accessible and self-sufficient."
Lois Andersen - Studio 303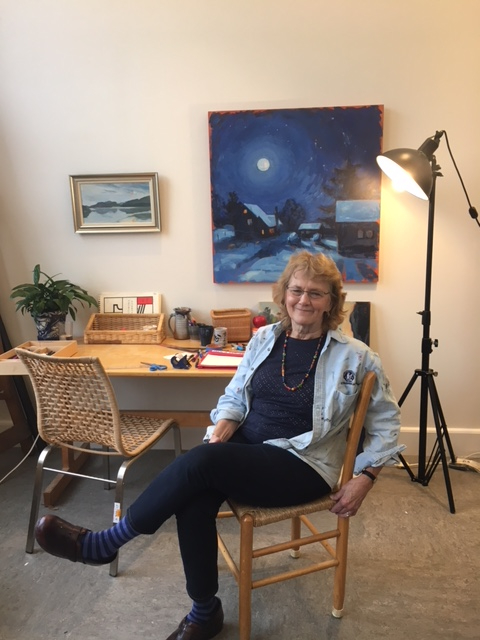 Lois Andersen, a painter, and teacher, occupies the studio at room 303. When I entered the studio, I was amazed at the colors on the paintings decorating the walls and the views outside the windows. The expansive windows in the studio let in natural light along with beautiful views of the historic town of Concord. "The view is amazing. I can look across the town, and once the leaves are all gone, I will see all the steeples and rooftops along with the sky."
The abundance of light delights Lois. She walked over to the light controls saying, "I used to have many many lamps in my old studio," and showed me all the different types of options, "we can dim it, or increase it. We have so many options. You can decide on what kind of light you want on any given day."  
It took a very long time for Lois to find a space that was suitable for her. Most studios that she saw were impersonal. But The Umbrella is just right for her. It's the community of artists at The Umbrella that makes it so unique. "It's a welcoming and enriching environment. It's also an exciting place to be a part of. There is a variety of artists - sculptors, painters, weavers, ceramic artists - and everyone appreciates each other."
Lois considers herself lucky to be in her new studio. She is amazed by the new building and all its facilities. "We are all so grateful for all the work that has gone into making this possible. At first, when they told us about the idea, we thought it was overly ambitious. They are never going to raise that money. But it has come out so well. Everything is so beautiful and much more accessible. I consider myself very fortunate to be here, and a part of this wonderful community."