Musketaquid: How did this get started?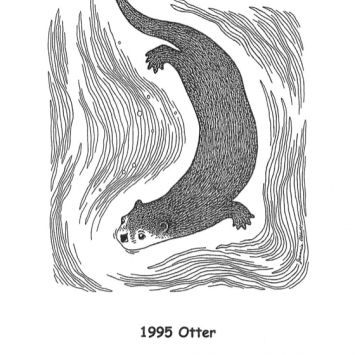 Musketaquid Arts And Environment: 25 Years of Celebrating the Confluence of Art and Nature
Blog 1 of 5
Twenty-five years ago, Umbrella artists Ellie Bemis, CC King, and Deb Richardson, merged their artistic talents and with their passion for the environment. As artists, they understood the power of art to nurture a sense of connection to place.  What better way to promote the environment, then, than through the arts.  Thus began the Musketaquid Arts & Environment program.
Now, 25 years later, with signs of climate change more evident every day and arts funding in schools and communities at an all time low, their mission remains just as vital, if not more so. Our 25th Anniversary is a natural time to pause and reflect – where we have been and where we are going.   Over the course of the next few weeks, we will feature stories about and images of Musketaquid and its evolving journey.  Enjoy!  
Hope to see you Saturday, April 25, 10am - 2pm!
Nancy Lippe, Program Director
To support Musketaquid's next 25 years, click below!
---
Musketaquid: How did this get started?
by CC King
In 1990 we were 25 years younger then we are now.  The 20th anniversary of Earth Day was approaching – it felt important, but how to mark it, to honor it in some way that felt personal and local.   There were surely others who ignited programs and words, but here in Concord three of us set out, from two different angles to make something of honoring the Earth.  
On the night following my birthday in late February I dreamed of a circular raft floating on the Concord River. The image woke me and I spent the rest of the night sketching.  With dawn came the recognition of something crafted from natural materials, made without glue or nails but with physics and compromise.    Days passing led to experiments, discovering the buoyancy of dry white pine, linking up with groups to build these floating sculptures.  A plan to set them adrift on the river, one at a time – 13 to reflect the number of lunar months in a year.   Children, elders, inmates, church goers, theater makers and others built, and Earth Floats had their launch on April 22, one an hour throughout the day.  Little beacons to arouse curiosity, to send forth cares and concerns for the planet and to acknowledge that we are all essential to making this round home livable for all creatures.
One the bridge under which the sculptures slipped stood Ellie Bemis.  She and Deb Richardson had taken their Earth Day calling to gather children at Emerson Umbrella and spend days learning about habitat and habits of local critters.  Children gathered each day and explored this local place.  A medicine man was invited to share wisdom of the four directions, and a small parade circled the lawn in front of the old Emerson building.    The children were young and inspired, and they produced twelve bunnies – not a wide ranging view of the food chain, but personal to each of the participants.  
This was a humble quiet day of celebration.  We each felt something stir; something was possible here, a creature had been roused into being, and we began to imagine that maybe, just perhaps, we could do this again next year... and again…more people could gather, we could combine our gatherings and add more… something had stirred.
Next Week: Deb Richardson