"Go Out Doors" Public Art Exhibit Encourages Culture and Exercise During Pandemic
August 31, 2020 by Anonymous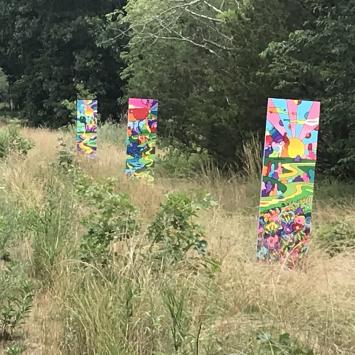 Article by Diana Kennedy
Along the recently opened 2C section of the Bruce Freeman Rail Trail in Concord, one can enjoy views of the charming downtown area, sunflowers, and cornfields. Now, a public art exhibit sponsored by The Umbrella Arts Center titled "Go Out Doors" further enhances the already beautiful pathway, encouraging people to walk, bike, or run the 2.5 mile stretch of public land and interact with the art. 
The name is a clever one, as it both describes the medium of the exhibit and inspires people to visit the trail as a safe and enjoyable outing during the current pandemic.
On either end of the trail, visitors will encounter 10 painted doors created by local artists that encourage closer inspection. "The doors are a colorful, whimsical, and beautiful addition to an accessible outdoor space," says Nancy Lippe, the Director of the Arts and Environment program at The Umbrella. 
She hopes that the exhibit will "will reinforce the joy of discovery -- the colors, smells, patterns, sounds, and experiences found when we open our doors and step outside." 
"Trying to Make Somebody Smile"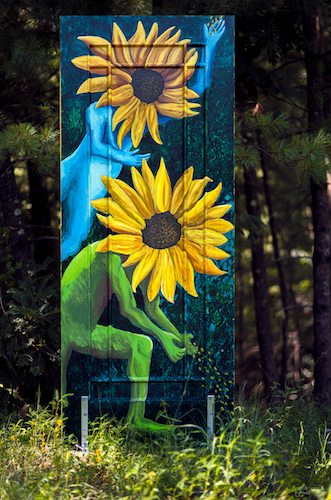 The Powder Mill Road end of the trail features works such as the cheerful and anthropomorphic "Sunflowers" by Caroline Provost, and the delightfully familiar "Walkies" and "Through the Outdoors" both by Kayo Burman. 
"Sunflowers" fulfills a creative vision for Provost that has followed her since high school. "It was based on a sketch that I did as a freshman," she admits, but she never found an opportunity to bring the idea to life until now. 
She feels that "plants are very rich characters in and of themselves" and that presenting the flowers with human elements demonstrates that vitality. Surrounded by wildflowers and greenery, the door lives in harmony with its natural setting.
Trail-goers will be delighted by the recognizable simplicity of seeing an overeager dog leaping in anticipation of going outside, or a runner whose strength and tunnel vision creates a cartoonish human-shaped hole in the door. 
"The idea of trying to make somebody smile, and working on something that seemed more 'normal' was very appealing to me," says Burman when asked about her minimalistic style. 
"A Three-Dimensional World"
The concept for "Go Out Doors" was inspired by the exhibit "En Plein Air", which was displayed at the High Line in New York City beginning in Spring 2019 and ending this March. Interestingly, the "Go Out Doors" exhibit was being planned well before the current pandemic, but all involved agree that public art is now more important than ever when indoor activities are not an option. 
"I think people have been craving a three-dimensional world. So much time at home on a computer can only go so far. So new ideas that surprise and stretch our bodies and minds are very welcome," says Lippe.
The creators hope that not only will viewers take notice of the art along the trail, but that people will also take pause and absorb all of their surroundings on the trail as a method of de-stressing. 
Burman ultimately believes that artists that create public installations like "Go Out Doors" not only provide a welcome distraction in this unstable COVID19 world, but send a message of hope. "Art is really important, and no matter what's going on out there, [art is] still happening. We can get through this."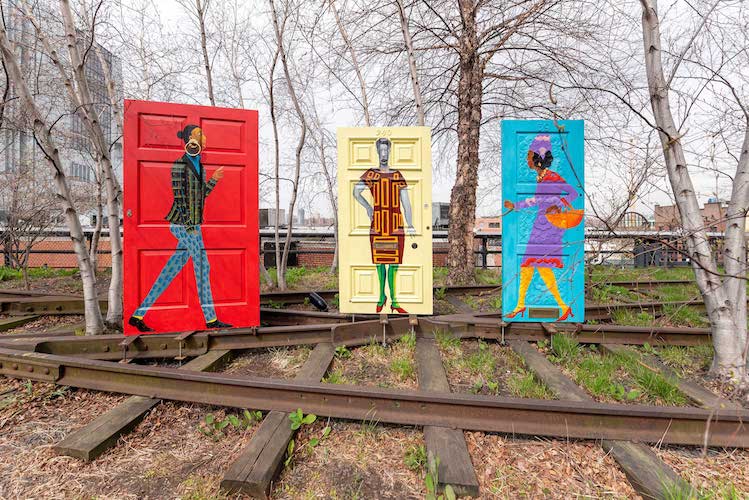 For more information about the "Go Out Doors" exhibit, see TheUmbrellaArts.org/Go-Out-Doors. 
For more information about the Bruce Freeman Rail Trail, visit the Bruce Freeman Rail Trail website.