Globe Features Joe Wallace's Explorations of Dementia
May 23, 2019 by Stewart Ikeda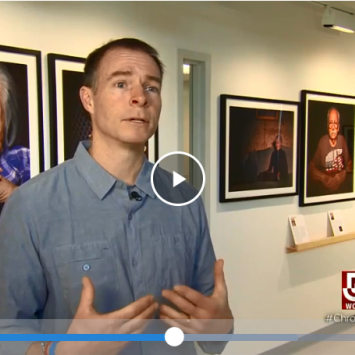 Boston Globe writer Nancy Shohet West went behind the scenes to explore the root inspirations and stories that drove writer/photographer Joe Wallace to tackle the topic of dementia in his project "Beginning at the End: Portraits of Dementia," on display during an extended run through July 7, 2019 at The Umbrella Gallery.
In the article, Wallace shares recollections not only of his own early encounters with dementia, but his experiences with some subjects of the portraits, including Phyllis Newell Kirkpatrick, whose portrait is featured as the main image repersenting The Umbrella's exhibition:
"Born in Queens, N.Y., in 1934, chafed at her loss of independence after she was diagnosed with Alzheimer's. Yet she relished telling stories from her past, including her days of modeling and how she met her husband.
"'We met under a tablecloth at a party,' she told Wallace. 'He was not my date. He saw me crawl under there and a few minutes later he joined me. And that's how it all started!'
"'My hope is that each one of their stories will be an opportunity for someone to see themselves or their own struggle reflected back at them,' Wallace said. 'I'm trying to use empathy to build connection and to start a conversation.'"
The full article can be read here.