Beginning at the End: Portraits of Dementia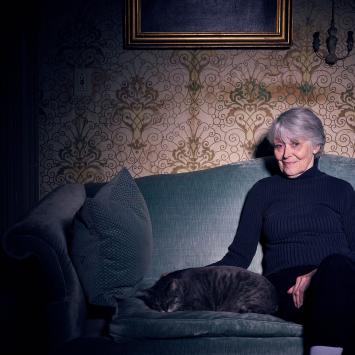 Beginning at the End: Portraits of Dementia
Photographs by Joe Wallace
May 17 - July 7 2019
Opening Reception: Friday May 17, 5:30-7:30pm
An Evening of Art & Science, June 5, 2019, 5 to 7pm, Alzheimer's Research Presentation at 5:30. Hosted by Cure Alzheimer's Fund.
On view during gallery hours: M-F 9am-5pm and S-Su 12-4pm
View these portraits and read the stories online.
The exhibit is a photographic portrait project humanizing people affected by Alzheimer's and Dementia by challenging the viewer to consider the entire subject and their lifetime of experience even if the subject can no longer access or share their memories.
Subjects were photographed and interviewed individually or with a carepartner. Depending on the subject's circumstances, portraits were made in an institutional setting or in their home. Each portrait is paired with a second photograph from the subject's youth and presented with anecdotes or a story. Each interview offers important life lessons through stories of love, change, hardship or perseverance.
Joe Wallace is trained as a writer and spent ten years selling stories in adverting. For the last twelve years he has been telling stories through photographs. His approach to photography applies a fine arts sensibility to the journalist's eye for storytelling.  Wallace loves crafting an arresting visual narrative and feeds off the spark of collaboration. Whether with his subject, client, or other artists – he finds projects are richer and more rewarding when each person can express their own unique viewpoint. 
Contact Jess Muise, Visual Arts Curator to coordinate a group visit.
Related Interest
As Memories Fade, Their Stories are Remembered, Nancy Shohet West, Boston Globe
Joe Wallace interviewed in special segment exploring concepts of time and aging for WCVB Channel 5.