Family Activities Celebrate Global Publisher's 30th Anniversary
September 8, 2022 by Stewart Ikeda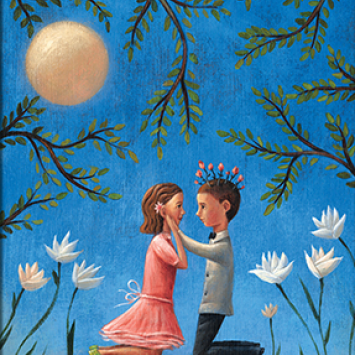 From September 9-24, 2022, The Umbrella Arts Center is proud to host a series of immersive, family friendly arts experiences celebrating the 30th anniversary of Barefoot Books, the Concord-based, global multicultural children's book publisher.
On display over two floors, the Barefoot Books: 30 Years, 30 Artists exhibition is a free, interactive art exhibition incorporating a scavenger hunt through a fancifully illustrated timeline of the company history artwork, a books display, and artwork by many of the award-winning international illustrators Barefoot has published over the decades. Enhancing the exhibition, Barefoot and The Umbrella have partnered to offer free family arts & crafts activities, a delightful outdoor storywalk, author talks, storytelling sessions, and three live stage performances of Barefoot's award-winning story, The Boy Who Grew Flowers, a heartwarming story about empathy and kindness by Manhattan-based dance and theater company, The Treehouse Shakers. Performances are September 22, 23 and 24 in The Umbrella's new, state-of-the-art Main Stage Theater 144. Tickets are on sale now, with proceeds going to support the nonprofit Umbrella Arts Center.
Other free activities associated with the exhibition include:
Saturday, September 10 - 10:00-11:30 am - The Boy Who Grew Flowers Craft Session
Explore the art exhibition, enjoy a self-guided scavenger hunt and make a whimsical flower headpiece inspired by the bestselling book. Free!
Saturday, September 17 - 3:00-4:00 pm - A Conversation with best-selling author of Wicked, Gregory Maguire and Barefoot Books CEO and Co-founder, Nancy Traversy
A family-friendly discussion about children's publishing and the Barefoot Books journey, followed by The Boy Who Grew Flowers craft session. Free!
Saturday, September 24 - 10:00-11:30am - Storytelling Performance with Xanthe Gresham Knight
Attend a storytime with acclaimed writer and storyteller Xanthe Gresham Knight, , followed by The Boy Who Grew Flowers craft session. Free!
Learn more about the exhibition and activities at BarefootBooks.com/30
Buy tickets to The Boy Who Grew Flowers 
Browse the Barefoot Books Online Art Store, with proceeds benefitting The Umbrella