The Boy Who Grew Flowers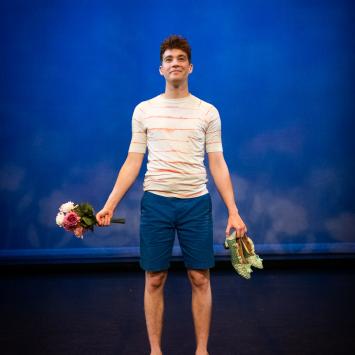 Treehouse Shakers' The Boy Who Grew Flowers
Based on the Barefoot Books' Picture Book By Jen Wojtowicz
Play Adaptation by Mara McEwin
September 22, 23 & 24, 2022
Have a School Group? Underwriting is available for school groups to attend the September 23 10:30AM matinee for free. Inquire about Group Tickets and Study Guides here!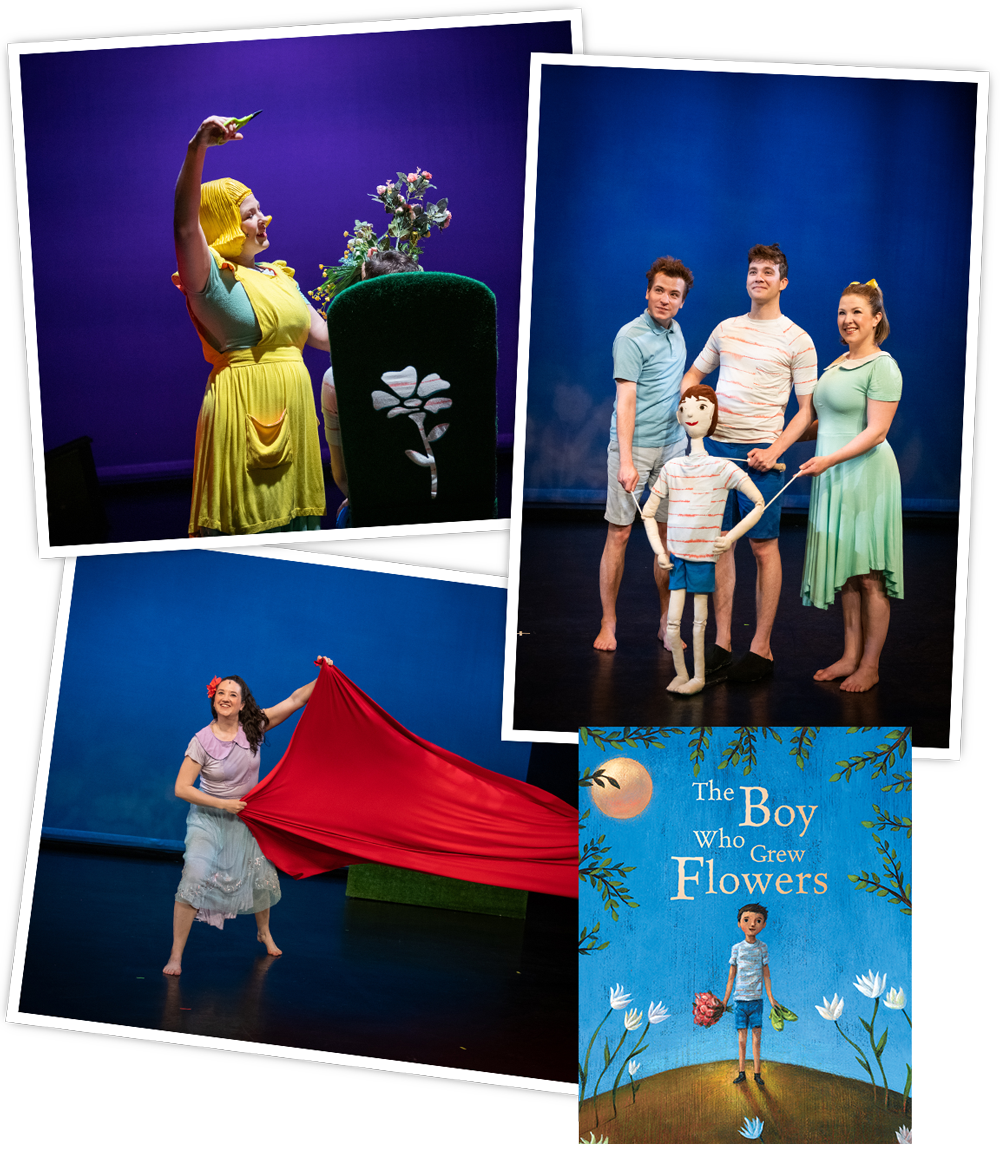 The Boy Who Grew Flowers is a stunning visual performance for audiences for ages 5-10 and their families. Adapted from Barefoot Books' bestselling picture book by Jen Wojtowicz, play adaption by Mara McEwin and choreographed by Emily Bunning, it is the story of a young boy, Rink Bowagon, who lives on top of Lonesome Mountain with his unusual family of rattlesnake tamers and shape-shifters. The townspeople agree that Rink's family are quite strange, but they are unaware of Rink's spectacular gifts. Whenever the moon is full, Rink sprouts beautiful flowers from his head. When a new girl, Angelina, moves to town, Rink's life truly begins to grow. Incorporating puppetry, original music, and movement, The Boy Who Grew Flowers is a thoughtful and magical story that lends itself to themes of diversity, creating empathy & celebrating individualism.
PERFORMANCE DATES & TIMES
Thursday Exclusive Opening Night Reception with Cast
September 22nd at 6:30 pm
Join us for a family-friendly evening at The Umbrella! Watch the performance, meet the Treehouse Shakers cast and enjoy light refreshments.

Friday Matinee Performance for Families and School Groups
September 23rd at 10:30 am
Bring your child or your school group to enjoy the 45 minute production and also enjoy the immersive Barefoot Books exhibition of global art, creativity and storytelling at The Umbrella.

Saturday Matinee
September 24th at 1:00 pm
Preceded by a storytime with acclaimed writer and storyteller Xanthe Gresham Knight, and The Boy Who Grew Flowers Craft Session from 10-11:30AM.
The play is presented in The Umbrella Arts Center's newly constructed, state-of-the-art new mainstage Theater144 as part of the 30th anniversary celebrations for Concord-based global multicultural children's publisher, Barefoot Books. A concurrent visual arts exhibition, Barefoot Books: 30 Years, 30 Artists, will be on display over two floors of The Umbrella Arts Gallery from September 9-25, 2022.
This program was originally commissioned by and developed at The Performing Arts Center at Purchase College, Purchase, New York, Director Seth Soloway is supported, in part, by public funds from the New York City Department of Cultural Affairs in partnership with the City Council, New York State Council on the Arts with the support of Governor Andrew Cuomo and the New York Legislature, and Individual Contributions to Treehouse Shakers. Flushing Town Hall provided a 2018 Space Grant for the initial creation of this piece.
This event is presented by Treehouse Shakers.
Staff
Play Adaption By Mara McEwin
Choreographed By Emily Bunning
Costumes & Puppetry By Patti Gilstrap
Set Design & Lighting By Cody Grey
Original Music By Martyn Axe