Behind the Scenes: Rehearsal for Hedwig and the Angry Inch
January 16, 2019 by Guest Contributor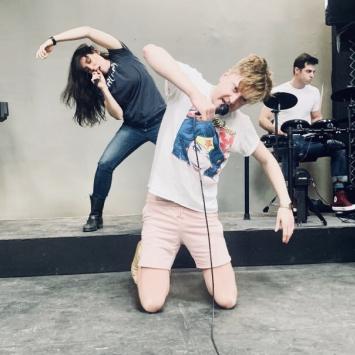 By Molly Cohen 
Open the door to the theater at The Umbrella Annex and you'll see a stage, center view. Expand your focus, and you'll see the crew scattered around the black box theater, reading lines and trying on outfits.
Maureen Festa, costume designer, reaches into a blue IKEA bag full of denim jackets. She pulls one out, has a crew member try it on – it fits him perfectly on the first try. "I'm going to turn it into a vest and rip off the sleeves," Festa thinks aloud…
The crew of Hedwig and the Angry Inch are in full-swing, rehearsing for The Umbrella's first theater production of 2019. With opening night right around the corner on Friday, the cast is hard at work getting every detail right.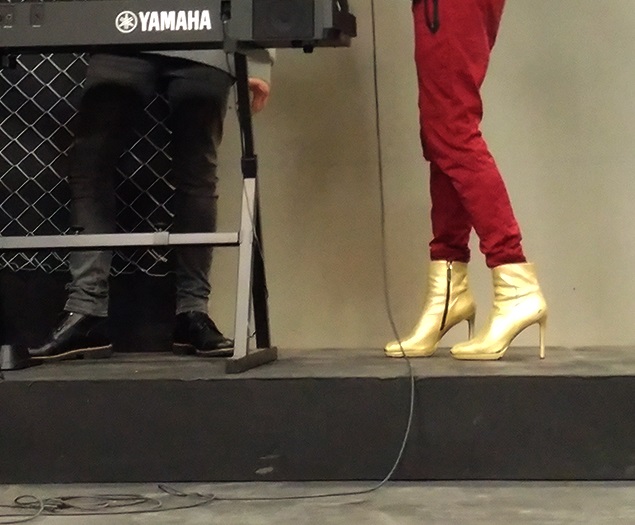 In the other corner of the room, Kirk Vanda slides on the iconic, metallic gold stiletto boots of Hedwig, getting into character.
The show centers around an "internationally ignored" rock 'n' roll goddess from East Berlin, Hedwig, who is the victim of a botched sex-change operation. Hedwig tells her story alongside husband and roadie Yitzhak.
"I hope folks come along for the ride," says Vanda. "It's not a character you get to hear much of. I want to see more queer characters."
Vanda shows off his heels before making his way onstage with music director David Wright. Also onstage is Vanessa Calantropo, who will be alternating in playing the role of Yitzhak along with Shani Farrell.  The trio begin warming up with the classic "brr" sounds, marking vocal exercises you've probably heard if you've ever watched the television show Glee.
Vanda belts out his first song, with Calantropo close behind on vocals. Backing them up right on cue is Wright, on keyboard.
In the audience sits director Julia Deter, taking notes on her copy of the script. She leans forward as Vanda cracks a joke.
"The show's been on my bucket list," she says. "The timing was right socio-politically."
For Deter and producer Brian Boruta, an important part of the show has been making the Concord production unique.
"Concord's never seen anything like it. And that's kind of my mission in life," says Boruta.
"We've thrown our own elements into it," adds Deter. "It's not a musical in any construct we've seen before. It's its own animal."
Hedwig & the Angry Inch runs January 18 – February 9, 2019 at The Umbrella Annex, 57 Old Road to Nine Acre Corner (ORNAC) in Concord, MA.