Become an Artfest Sponsor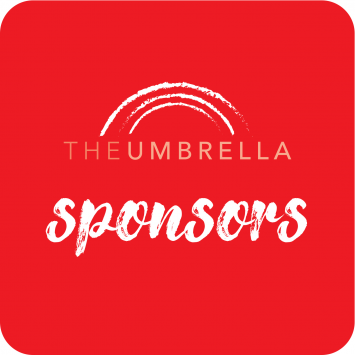 Artfest Sponsorship Guide 
The Umbrella has envisioned Artfest as a celebration for our entire community! 
Sponsorship provides important support to The Umbrella and helps to provide access to Artfest's broad scope of both virtual and safe, in-person events. We invite you to join us in celebrating all the members of our community: the essential workers, the artists, the teachers – the heroes – who have kept us all going.
How do I become an Artfest Sponsor? 
How is Artfest this year's Umbrella Gala?
Sponsors and their guests will receive exclusive VIP benefits including early registration for festival events as well as access to exclusive Sponsor events and resources. 

What does my sponsorship support?
The Gala has always been The Umbrella's single largest fundraising event of the year. This year, your Artfest Sponsorship is more important than ever and provides crucial support and enables The Umbrella to continue to provide arts experiences to our entire community. 

What are the benefits of Sponsorship?
The Umbrella is happy to provide our sponsors with VIP registration to Artfest events as well as access to exclusive gala events and special benefits, and the ability to name an Artfest Hero. 

What is an Artfest Hero?
Sponsors at some levels have the ability to name an Artfest Hero, someone in the community they would like to recognize for their impact and contribution over the past year. Each Hero identified by a sponsor will be provided with an Artfest package that includes the following: 
A Hero Pass providing the holder with access to partner discounts and special offers 
A Dedication Dove to contribute to the "Here Comes the Sun" Art Installation 
An official Artfest t-shirt 
VIP access to Artfest events, the Art Auction, and VIP login for Opening Night of The Umbrella Stage Company's virtual musical production
How do I sign up for Artfest events?
We encourage you to download The Umbrella Artfest App (for iPhone/iPad and Android) for up-to-date festival news and events. All Sponsors will be provided with a login and instructions for using the Artfest App. 

What is a sponsorship "household"?
We understand that in these extraordinary times we are, more than ever, sharing experiences together as families. For the purpose of ticketed events or benefits, a household will consist of two adults. Virtual events can be enjoyed by the whole family. It is our pleasure to additionally provide our Artfest Gala patrons with a Kidstrack guide including access to educational resources.