EM3050 Activity: Paper Bag Journals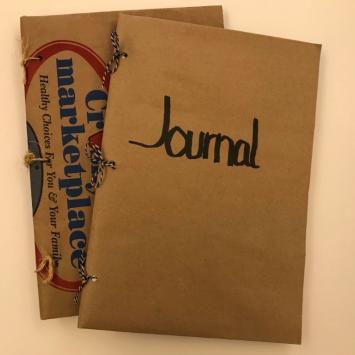 As we navigate the waters of living with COVID-19 we're re-imagining Earth Day. Our theme remains WATER, but in place of our April 25 River Ceremony, Parade, and Festival gatherings, we're returning to our most basic belief that being with Nature is healing and wholesome, imaginative and fun.

Part of the silver lining to this whole situation is the opportunity to slow down, simplify, sharpen our senses, and find solace especially outside as so many of us naturally seek to do.
We encourage you to keep a nature journal during this time! What is nature journaling? Nature journaling is anything you chose to capture with pencil, pen, marker, mud, bark, charcoal, or anything that will leave a mark. 
The most fun journaling comes in response to a prompt. Starting in early April, we invite you to navigate our WATER theme virtually with us.  Via our website and social media, we will provide 30 events/activities to celebrate, learn, and create with and around water. Some will be things to do in your house, while others will involve getting outside. Explore the water theme with us. Dive into our activities -- make a glass harmonica or a rain stick; canoe the Sudbury River, or launch an Earth Float.  Activities will be revealed daily. These are GREAT prompts for journaling! 
Anyway, you may already have a nature journal. If so, great. If not, make one!  Here's how.
OBJECTIVES 
Promote nature journaling as creative, healthy outlet for processing and sharing our experiences. Provide instructions to make your own nature journal.
MATERIALS
Paper bag
Sheets of paper trimmed to fit size of bag. 
Hole Punch
String/yarn/twine for binding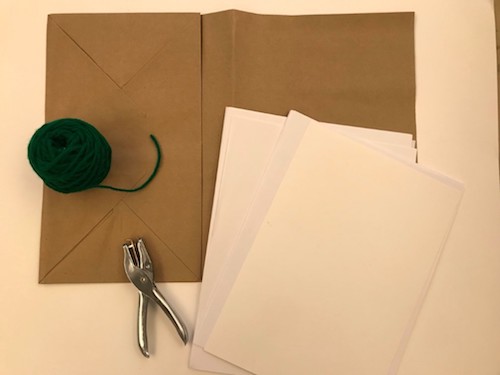 STEPS
Find a paper grocery bag. Or if you want a smaller journal, a paper lunch bag.

Fold bag in half, with bag top as front cover of journal, and folded bag bottom as the back cover.
              
Figure out where you want to punch holes for your binding – both on the bag, and on the papers you want inside. Make sure they align!
Punch holes, assemble, and tie bindings.

Decorate your cover! Make it yours.

The coolest thing about a paper bag journal is that you have some built in storage space! 

Your font cover can hold activity sheets or special papers, cards, etc that you collect.
The back cover has a secret compartment. Trim the edge of the bottom of the bag closest to the binding to create an opening into that space.
Then use that space to store art materials or to collect things!

Now you're ready to have some fun and write or draw in your paper bag journal!
Share your photos, journal pages, thoughts, experiences, and/or feedback with us! Post on social media with hashtags:
#umbrellaarts #musketaquid #concordearthday #musketaquidearthday #earthday3050
Or email Caroline at caroline@theumbrellaarts.org
Special thanks to our Earth Month sponsors