World of Wonders Book Club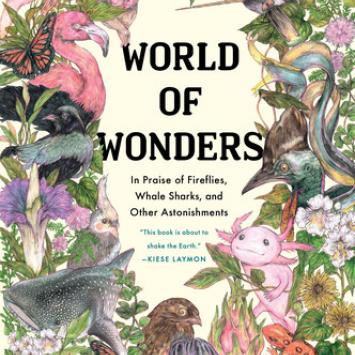 World of Wonders Book Club
Barnes and Noble Book of the Year
New York Times Bestseller
Kirkus Prize Finalist for Nonfiction
An NPR Best Book of 2020
Wednesday, September 28, 2022
7:00pm - 8:30pm ET
Via Zoom
Wednesday, October 12, 2022
7:00pm - 8:30pm ET
Via Zoom
From beloved, award-winning poet Aimee Nezhukumatathil comes a debut work of nonfiction—a collection of essays about the natural world, and the way its inhabitants can teach, support, and inspire us.

We are reading World of Wonders in preparation for Nezhukumatathil's visit to The Umbrella on October 18 & 19, 2022 as part of The Concord Festival of Authors, when she'll be delivering a talk and reading, and leading a writing workshop. Join us for one or both virtual book club sessions to discuss this beautiful, lyrical and joyful piece of writing. To learn more about Aimee Nezhukumatathil, click here.
Copies of World of Wonders are available through the Concord Free Public Library and the Minuteman Library Network, Concord Book Shop, Milkweed Editions, and literary booksellers everywhere.
If you have any questions about where to purchase or borrow World of Wonders, please contact Megan Connor at megan@theumbrellaarts.org or Kyle Clifford at kyle@theumbrellaarts.org.

Click Here to Register for Book Club!