Rent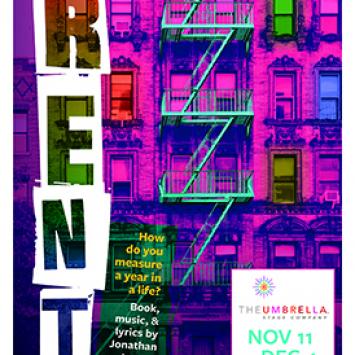 RENT
November 11 - December 4, 2022 (no show 11/24)
Book, music and lyrics by Jonathan Larson 
Directed by Julia Deter
"A wonderful opportunity to see [Rent] in an intimate setting. If you've seen it previously and it's been a while, this local production is worth another look...The stage is multi-dimensional...the entire cast is excellent. There are so many performances that left a lasting impression long after the curtain fell." -- Tom Boudrot, Theater Mirror
The Tony- and Pulitzer Prize-winning phenomenon invites us into the lives of a group of artists and friends in NYC's East Village as they struggle through the AIDS epidemic and financial hardship to follow their dreams without selling out. For almost 30 years RENT has inspired generations of audiences to choose love over fear and to live without regret. This is theater at its best – exuberant, passionate and joyous. La Vie Boheme!
Our 2022-2023 season, was created in collaboration with members of The Umbrella Stage family, including Board, Staff, Directors, Designers, and Performers. We would like to extend our deepest thanks for their time, insights, and perspectives. 
CONTENT WARNINGS: This show contains haze, strobe lights, sound effects, movement, simulated drug use, intimate contact, and challenging themes.

SPOTLIGHT ON RENT
PLAYBILL NOTES
LITERATURE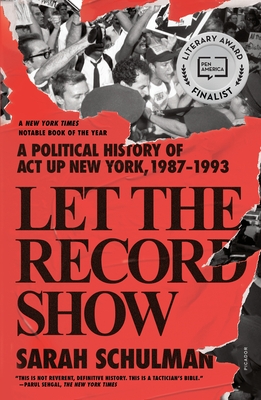 The Umbrella is proud to partner this season with our friends at The Concord Bookshop. For each show this season they'll be recommending some related titles to add to your reading list and enhance your theater-going experience. Want to start reading now? The links below will bring you directly to The Concord Bookshop website where you can order your selected title and support your local business community. Several of the titles will also be available for borrowing through our neighbors at the Concord Free Public Library and the Minuteman Libraries Network.  
FILM & TELEVISION
Revolution Rent: Now available on HBO/HBO Max, this 2021 documentary follows Broadway star Andy Señor Jr. as he endeavors to bring Rent – in which he previously starred as Angel – to Cuba, marking the country's first American-produced Broadway musical in more than 50 years. Returning to his exiled parents' homeland, Señor Jr. embarks on a personal journey, exploring his Cuban heritage and his family's complex relationship to the country they love.
Tick, Tick...Boom!: Now available on Netflix,  this moving musical drama directed by Lin-Manuel Miranda features Andrew Garfield stars as Rent creator Jonathan Larson, a promising theater composer navigating love, friendship and the pressure to create something great...before time runs out.
Cast
Temma Beaudreau as Maureen Johnson
Brian Demar Jones* as Tom Collins
Maria Norris as Joanne Jefferson
Dominic Pecikonis as Angel Dumott Schunard
Isa Sanchez as Mimi Marquez
Errol Service, Jr. as Mark Cohen
Jake Smerechniak as Roger Davis
Jared Troilo* as Benjamin Coffin III
WITH
John Breen
Vanessa Calantropo
Shani Farrell
Eleni Kontzamanys
Emily Lambert
H.C. (Len) Lee
Alex Massarotti
Kara Chu Nelson
David Rodrigues
Staff
Producer: Brian Boruta
Director/Choreographer: Julia Deter
Assistant Director/Dramaturg: Abraham Rebollo-Trujillo
Assistant Director/Associate Choreographer: Hannah Shihdanian
EDI Consultant: Kira Troilo
Intimacy Director: Kayleigh Kane 
Music Director: Jeff Kimball
Stage Manager: Nicole O'Keeffe
Assistant Stage Manager: Abi Lora
Lighting Designer: Ben Rush
Sound Designer: James Cannon
Scenic Designer: Dan Daly
Technical Director: Al Forgione
Costume Designer: Becky Butler
Sticher: Shayna Loeffler
Properties and Set Dressing: Sarajane Mullins
COVID Safety Officer: Cathie Regan
Photos by Gillian Mariner Gordon