Middleton Heights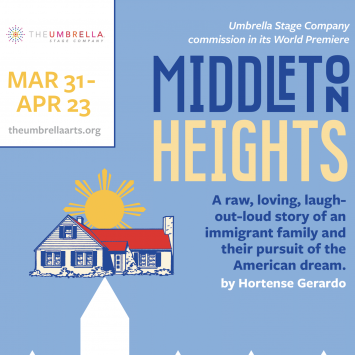 Middleton Heights
March 31 - April 23, 2023
World Premiere commissioned by The Umbrella 
By Hortense Gerardo
Directed by Michelle Aguillon 
Presented on the Black Box Stage
"Funny, heartbreaking, well-paced, and full of memorable moments. [This] play left me feeling warm, full, and hungry for more" - Linda Chin, Theater Mirror

The Umbrella Stage Company is thrilled to commission its first full-length play, created by local playwright Hortense Gerardo.
Called one of "13 fresh theater productions to see this spring," (Jacquinn Sinclair, WBUR Artery), Middleton Heights is a dark comedy that follows Meena and her Filipino family as they assimilate to life in a fictional Midwestern suburb of Cleveland, Ohio. The play traces historical events from 1967 to 2014 and the pursuit of the American Dream, refracted through the intersectional lens of the Asian American Pacific Islander immigrant experience.
In the world premiere of an original play commissioned by The Umbrella Stage Company, Hortense Gerardo's Middleton Heights unravels a wry, charming and honest tale that follows Meena and her Filipino family as they assimilate to life in a fictional Midwestern suburb of Cleveland, Ohio. The play traces historical events from 1967 to 2014, examining transformative social moments from the Hough riots to the Robert Kennedy and MLK assassinations to the protests in the aftermath of the killing of Tamir Rice, refracted through the intersectional lens of the Asian American Pacific Islander immigrant experience and the pursuit of the American Dream.
A writer, choreographer, filmmaker, and anthropologist, Gerardo is a member of the Dramatists Guild of America and The International Center for Women Playwrights, and Director of the Anthropology, Performance and Technology Program UC San Diego. From 2018-2020, she served as the Metropolitan Area Planning Council's artist-in-residence, promoting creative placemaking and community resilience through art throughout MAPC's 101 cities and towns.
This production is directed by
Michelle Aguillon
, who has helmed several popular productions for The Umbrella Stage, including this season's sold-out run of Kate Hamill's 
Dracula
, 
Fences
, 
Joy Luck Club
,
To Kill a Mockingbird
, and
True West
, which earned a DASH Award for Best Production (Play). Aguillon and Gerardo have collaborated frequently on recent projects, including last season's 
Incantation
for The Umbrella Stage @Home New Works series and 
Scensation
for the Boston Theater Marathon XXIII, among others.
Special Associated Programs
* The Umbrella is pleased to announce our new Kid-Care Show Program, a pilot program to give parents an opportunity to attend select performances while their child(ren) engage in art activities inspired by the production. This is a new pilot program aimed at providing better access to arts and culture events and creating a shared experience opportunity for families. Spaces are limited and can be reserved alongside ticket purchases.
Playbill Notes
Community Partners
Related Readings
Past Associated Programs
The Umbrella Stage Company was pleased to present a special program on October 30, 2021 exploring the Filipino American Experience through the dramatic writing and production process as part of the 2021 Concord Festival Authors. An interactive discussion with playwright Hortense Gerardo, director Michelle Aguillon, and actors Jude Torres, Liza Fermin-Granada, and Justin Budinoff presented a scene of an original play examining what it means to be a Filipino American in relation to the American Dream through the lens of a Filipino family in the suburbs of Cleveland. The event included a short scene-in-progress from the commissioned World Premiere!
DRAMA
Asian American Playwright Collective Anthologies of New Plays
Since 2018, the Boston-based Asian American Playwright Collective produced a night of new play readings of 10 minute plays in Woods Hole, MA, transitioning to a Zoom-based reading in 2020 and a fully produced show in 2021. To accompany the readings, AAPC compiled the plays into a series of anthologies, edited by Hortense Gerardo, that are available for purchase on Amazon.
LITERATURE
The Umbrella is proud to partner this season with our friends at The Concord Bookshop. For each show this season they'll be recommending some related titles to add to your reading list and enhance your theater-going experience. Want to start reading now? The links below will bring you directly to The Concord Bookshop website where you can order your selected title and support your local business community. Several of the titles will also be available for borrowing through our neighbors at the Concord Free Public Library and the Minuteman Libraries Network.  
America Is in the Heart by Carlos Bulosan, Foreward by Elaine Castillo
This semi-autobiographical novel set in 1930s Pacific Northwest recognized Bulosan as  "one of the most important twentieth-century social critics with his deeply moving account of what it was like to be criminalized in the United States as a Filipino migrant drawn to the ideals of what America symbolized and committed to social justice for all marginalized groups."America Is Not the Heart by Elaine Castillo
American Is Not the Heart is a contemporary multi-generational family saga of Filipino-Americans in the Bay Area. Kirkus gave this novel a starred review, saying "Castillo is a vivid writer, and she has a real voice: vernacular and fluid, with a take-no-prisoners edge. At the same time, she complicates her narrative by breaking out of it in a variety of places - both by deftly incorporating languages such as Tagalog and Ilocano and through the use of flashback or backstory . . . Beautifully written, emotionally complex, and deeply moving, Castillo's novel reminds us both that stories may be all we have to save us and also that this may never be enough."I Was Their American Dream by Malaka Gharib Gharib is an NPR editor who, in this memoir (graphic novel format), shows her journey as a child of immigrants (Catholic Filipino mother and a Muslim Egyptian father). Her initial goal is to assimilate into white American culture; as she matures, she discovers and embraces her own unique identity.
Cast
Steve Bermundo as U/S Dad
Justin Budinoff as Dad
Cheryl Daro* as Meena
Lisa Fermin-Granada as Mom
Jenine Florence Jacinto as Boy/Young Mom (U/S Meena/Moe)
Jude Torres as Moe
Staff
Producer - Brian Boruta
Playwright - Hortense Gerardo
Director - Michelle Aguillon
Stage Manager - Anna Hahn*
ASM - Sarah O'Neill
Lighting Designer - SeifAllah Salotto-Cristóbal
Audio Designer - James Cannon
Costume Designer - Maureen Festa
Properties/Set Dressing Designer - Sarajane Mullins
Scenic Designer and Tech Director - Al Forgione
Scenic Charge - Page Evett
COVID Safety Officer - Cathie Regan