Holidays Under The Umbrella 2021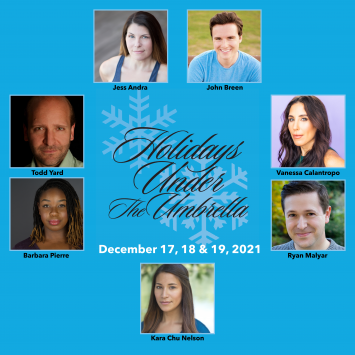 Holidays Under The Umbrella
December 17 - 19, 2021

Directed by Sarajane Morse Mullins
Volunteer to usher and see the show for free! Sign up here: Holidays Under The Umbrella

The Umbrella's beloved holiday concert returns to the mainstage after last season's virtual presentation. Familiar faces and Umbrella Stage favorites will return to sing seasonal songs and share their own holiday memories. Holidays Under The Umbrella is a family friendly concert to put everyone in the spirit of the season!
KNOW BEFORE YOU GO: For admission into the theater, all event attendees (of all ages) MUST provide proof of full vaccination by showing an original vaccination card, a photo of the card, a digital vaccine record, or proof of current negative test. Anyone exempt from/ineligible to receive the vaccine or unable to verify vaccination status must present proof of a negative PCR COVID-19 test result taken within 72 hours of the time of entry; a rapid test administered by a healthcare professional within 24 hours of the time of entry; a photograph of self-administered at-home test showing proof of date and time; or an official school email showing proof of current negative pool-testing may be provided. Rapid COVID tests are NOT available at the theater. Regardless of vaccine status, ALL patrons must wear a properly fitted CDC-approved face mask inside the building. The Umbrella will operate at limited capacity with distanced seating and upgraded MERV-13 HVAC filters. We reserve the right to reseat patrons as needed in accordance with our COVID protocols. All tickets will be held at the box office to ensure the safest, most accurate experience for all patrons. These policies are in effect as of November 17, 2021 and are subject to change.
The Umbrella's full Covid safety guidelines can be found here.
Cast
Jess Andra
John Breen
Vanessa Calantropo
Ryan Malyar
Kara Chu Nelson
Barbara Pierre
Todd Yard