Asian/American in Harvard Square and Torched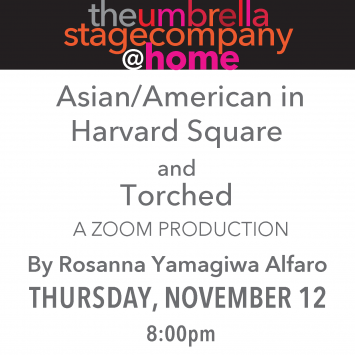 November 12, 8PM
Restricted Capacity: SOLD OUT! 
Stop back later for recording
Asian/American in Harvard Square
Written by Rosanna Yamagiwa Alfaro
Directed by Michelle Aguillon
Asian/American in Harvard Square is a series of vignettes focusing on five people who only have three things in common: they are in Harvard Square, they are Asian-American, and they all face racist microaggressions from white people, whether they are strangers, acquaintances, or old friends. Tensions build in this exploration of Asian-American lives and experiences in Cambridge, MA. 
Torched
Written by Rosanna Yamagiwa Alfaro
Directed by Michelle Aguillon
In Torched, a university dean gets dangerously carried away as she eulogizes Kathleen Chang(e), an Asian American performance artist and political activist who died of self-immolation.
About the Playwright
Rosanna's plays include Before I Leave You (Huntington Theatre Company), Behind Enemy Lines (Pan Asian Repertory, N.Y.C.), Mishima (East West Players, L.A.), Barrancas (Magic Theater, S.F.), Pablo and Cleopatra (New Theatre), Mexico City (the Boston Women on Top Festival), and Martha Mitchell  (Edinburgh Fringe Festival and Six Figures Theater, N.Y.C.).  She wrote and narrated the documentary Japanese American Women: A Sense of Place, directed by Leita Luchetti (the Smithsonian Institution and PBS Seattle).  Rosanna was a Huntington Playwriting Fellow (2010) and a MCC Artist Fellow in Playwriting (2011).  Her shorter plays have been anthologized by Baker's Plays, Heinemann, Meriwether, PlaySource, Smith and Kraus, and Charta Books.  She is a member of Asian American Playwrights Collective and MUTT, A Pack of Playwrights.  In 2020 the Cambridge Community Foundation included Rosanna in the inaugural group of twenty Cambridge Cultural Visionaries.
The Umbrella Stage Company previously sponsored Rosanna for the Boston Theater Marathon earlier this year.
The Umbrella Stage Company @ Home New Works series features short-length original works by local playwrights written to optimize virtual performance environments and digital theater experiences. 
Watch it again!
Cast
Maureen Aducci
David Anderson
Kai Chao
Emily Koruda
Tah-Janay Shayoñe
Dustin Teuber 
Karina Wen
Danielle Wehner
Staff
Written by Rosanna Yamagiwa Alfaro
Directed by Michelle Aguillon