Umbrella Sponsors New Play Reading on Zoom
April 2, 2020 by Rachel Olson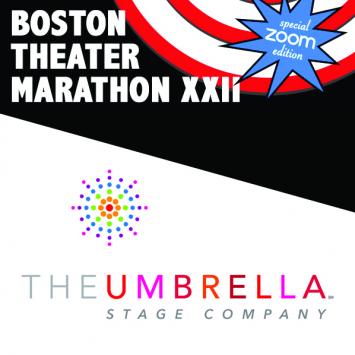 Boston Playwrights' Theatre produces the Boston Theater Marathon (BTM), an award-winning, all-day marathon of new 10-minute plays. The plays are chosen from more than 400 entries from New
England playwrights, and the 50 selected plays are produced by 50 New England theatre companies who donate their time to this event. Generously supported over the years by the Boston University Humanities Foundation and by individual donations, the BTM gifts its net proceeds to the Theatre Community Benevolent Fund, an organization which helps area theatre artists and companies in crisis.
In addition to its charitable goals, the BTM matches playwrights with theatre companies, introduces patrons to the diversity of the Boston playwriting and theatre scene, and provides a showcase for the entire theatre community.
This year, in response to the Covid-19 crisis, Boston Theater Marathon XXII will instead be conducted via the video conferencing tool Zoom between April 1-May 17. The Umbrella Stage Company is pleased to sponsor one of the plays, Turbulence, by Rosanna Yamagiwa Alfaro, to be read on April 9, which the playwright tantalizingly describes as follows:
"Drink in hand on a flight from London to Boston, the wife of a shady businessman/politician shares her worries about what might be waiting for them the moment they touch down in America."
The Cambridge-based playwright Alfaro's plays include Before I Leave You (Huntington Theatre Company), Behind Enemy Lines (Pan Asian Repertory, N.Y.C.), Mishima (East West Players, L.A.), Barrancas (Magic Theater, S.F.), and Pablo and Cleopatra (New Theatre), Mexico City (the Boston Women on Top Festival) and Martha Mitchell  (Edinburgh Fringe Festival and Six Figures Theater, N.Y.C.).  She wrote and narrated the documentary Japanese American Women: A Sense of Place, directed by Leita Luchetti, (the Smithsonian Institution and PBS Seattle).  She was a Huntington Playwriting Fellow (2010) and a MCC Artist Fellow in Playwriting (2011).  She is a member of Asian American Playwrights Collective and MUTT, A Pack of Playwrights.  In 2020 the Cambridge Community Foundation included her in the inaugural group of twenty Cambridge Cultural Visionaries.
She was recently profiled by Linda Chin in the Sampan article "Playwright Rosanna Yamagiwa Alfaro blazes own trail".