Margaret Savage: A Celebration of Color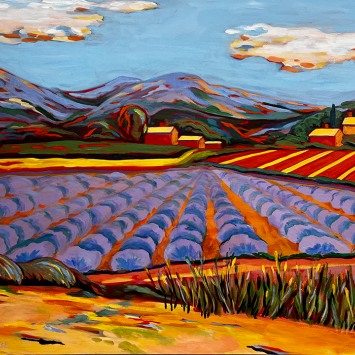 August 25 - September 30
Outside of the Box Gallery
On view on the second floor gallery of The Umbrella Arts Center, "Margaret Savage: A Celebration of Color" features paintings by Umbrella Studio Artist Margaret Savage, who has worked in these spaces from the former Emerson Umbrella's humble beginnings in the 1980s. An opening reception and celebration will be held Thursday, September 7, 4pm.
An Appreciation for Margaret Savage, by fellow Studio Artist Max Payne
Margaret Savage, one of the few remaining artists from the first days of The Umbrella Arts Center (formerly Emerson Umbrella Center for the Arts) is retiring. Of course, as all artists know, an artist never really retires, she just moves on to other creative opportunities and endeavors
During the time she has been in Studio 302, she has brought color and light and a masterful touch to the many forms of art that she practices--painting, collage, printmaking and drawing--all informed by the beauty she that she has observed in her travels and in the world that she sees around her.
She has a painter's eye for color and design, a Parisienne's love of style, and a tireless and inquisitive mind.  Her beautiful paintings have graced many shows and Open Studios, and she was one of the originators of the Winter Market at The Umbrella.
For many years she was a teacher at the DeCordova Museum School and The Umbrella. Her classes were always full.
She has always been generous with her knowledge and her gentle humor, and when asked for a critique her observations have been keen and helpful.  We will miss her presence here, and wish her well in whatever comes next.  We know for sure it will be beautiful. 
Max Payne