Margaret Savage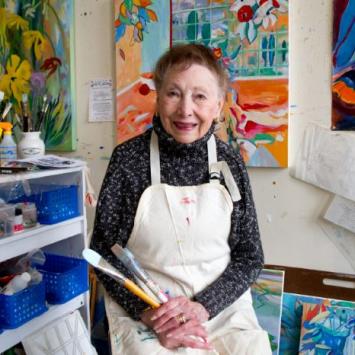 Margaret Savage owns a special place in the history of The Umbrella – she has been an essential part of this community arts center ever since its humble beginnings in the early 1980's.
Margaret's career as a painter came after years of devoting herself to family life and children. It wasn't until after her daughters were grown that she returned to school to earn the college degree that had always eluded her. Says Margaret, "I didn't feel I could really call myself an artist unless I had that degree." She received a Bachelor's of Fine Arts from the Massachusetts College of Art in 1979, and went on to teach watercolor for over 15 years at The Umbrella and the DeCordova Museum School in Lincoln, MA.
As the wife of an Air Force officer who was assigned overseas, Margaret, with her husband, Fred, lived in Paris for several years – the dream of a lifetime for a painter such as herself. Drawn to the colors of the land, the patterns of the olive trees and vineyards, and the shifting light, she would stop to set up her easel to capture the moment. "The color in the south is so incredible, particularly in comparison to the north. I often think about Van Gogh – dear Van Gogh – when he was first painting in Normandy and Brittany, where everything looked so grim. Imagine what he must have felt when he went south – he must have been blown away. You can see it in his work."
After returning to the United States to live, Margaret and her husband often returned to France to travel, visit friends, and paint in Provence. While her landscape paintings are the result of her extensive French travels, most of her still lifes are influenced by her thoughts, imagination, and experiences. " The objects I use are things in my studio that mean something to me or that have a particular shape I need for a painting. Using intervals of space to make everything work right together is like a game to me – it's an amazing challenge to stand in front of nice big white empty canvas. I can't wait to dive in."
Margaret's paintings epitomize the marriage of complex composition with explosive color, made all the more vibrant with her use of complementary colors.