Fresh Ink: Contemporary Explorations in Printmaking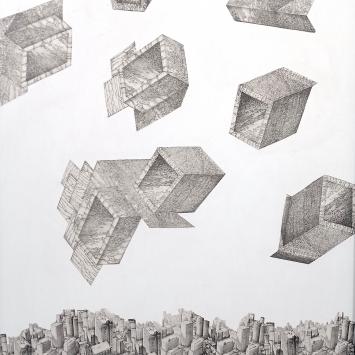 November 16 - January 4, 2024
The Umbrella Arts Center
40 Stow Street, Concord, MA
Opening Reception:
Sunday, November 19, 4-6pm
Remarks by the juror and prize winners starting at 4:45pm. Refreshments will be served.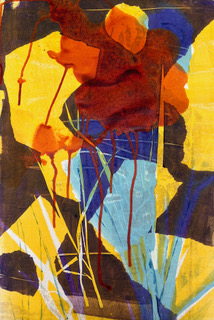 The Umbrella Arts Center is pleased to present Fresh Ink: Contemporary Explorations in Printmaking juried by Carolyn Muskat. The exhibition includes printmakers from all across New England who use a variety of techniques in unexpected ways that push the boundaries of printmaking and speak to contemporary audiences.
Prizes will be awarded.
Best in show: $1,000
Juror's choice: 5 awards at $100 each.
PRINTING WITHOUT A PRESS: LEMON ETCH LITHO WORKSHOP
On December 9 from 10am-3pm, Carolyn Muskat will lead a one-day workshop introducing basic principles of lithography techniques. Using simple kitchen materials, participants will learn how to produce small, beautifully tonal lithographs with or without a press. Limited space available. No prior printmaking experience necessary. All materials are included.
FEATURED ARTISTS
Laurie Alpert
Building Space III
Shaped Polyester Plate Lithograph
28" x 18"
$1500
The images in my prints and artists' books begin with photographs that I've taken out in the world of seemingly mundane things that I happen upon. I then manipulate them in Photoshop and transform them into hand printed Polyester Plate Lithographs, mixed media pieces or sculptural, unique books. The origin has always been inconsequential - it is the alteration process that gives the image its new life. I have now begun to break out of the rectangle and shape my pieces.
Bio
Laurie Alpert is a Printmaker and Book Artist from Brookline, Massachusetts. She has her BFA in Painting from the University of Massachusetts, Amherst, and her MFA in Painting from Massachusetts College of Art and Design. Alpert's professional affiliations include membership at the Bromfield Gallery in Boston's South End and Full Tilt Print Studio, a professional printmaking cooperative, in Dedham. She is also a member of Boston Printmakers, the Monotype Guild of New England and the New York Center for Book Arts. She is a Professor Emerita from Curry College in Milton, MA.
Sammia Atoui
Oak Tree
Woodblock, Akua ink, Supergraphic ink, Rives 185g
18"x24" 
$400
Inspired by a beautiful oak tree on the corner of Puritan Road and Little's Point in Swampscott MA, this 15 layer reduction woodblock print is full of color, texture and movement. 
Bio
Sammia Atoui is a printmaker and painter working out of Swampscott Massachusetts. Her subject matter spans portraits, flowers, and nature. Her marks are strong, physical, and lyrical.  Her viewpoint is an intentional, deliberate, and celebratory feminine perspective. Sammia relieved her BFA from RISD, her MBA from Simmons, and continued studies at Harvard and MIT. She is the owner of MiraMar Print Lab in Swampscott where she teaches classes in printmaking and drawing to all ages. 
Lisa Barthelson
aii 19, art in isolation, family debris
Monoprint with mixed media: printed collage and thread on bfk rives paper,
23" x 22"
$950
This work is from the extensive and ongoing family debris series, comprising printmaking, mixed media, sculpture and installation work. The work communicates my perspective on motherhood, childhood, consumerism vs. the environment and sustainability through the choice of repurposed materials and how they're used. I print with these materials to purposefully re-use what we already own and no longer need, giving the objects a second life, a use beyond the slow death of a landfill or incinerator. The detritus is placed on inked plexi plates to create layers of color and form, effectively memorializing the mundane & obsolete. In essence the family debris series is penance for a family using and discarding too much, and the opportunity to reconsider and reduce while creating to the mantra: waste not, want not. 
Bio
Lisa Barthelson grew up in a family of artists and has been making art since childhood. Her work is inspired by her reverence for the natural environment, and the drive for sustainability through re-imagining and re-purposing the byproducts of family living excess. Barthelson has exhibited throughout New England and New York. Her mixed media, printmaking, sculpture and installation work have been featured in curated exhibitions of contemporary art at the Fitchburg Art Museum, the Newport Art Museum and the Danforth Art Museum. The site specific sculpture: 'hangling, family debris' was purchased by the Newport Art Museum for their Permanent Collection. Commissions include site specific wall sculptures for Kronos. Inc. and Worcester State University. Artist-in-residence fellowships have been awarded by Monson Arts ME 2023, Playa OR 2018 and 2014, The Kimmel Harding Nelson Arts Center NE, 2015, Vermont Studio Center VT, 2013. Barthelson was recently awarded a Material Needs Grant by ArtsWorcester and a Finalist Artist Fellowship Grant in Drawing & Printmaking for FY22, by the Massachusetts Cultural Council. At the ArtsWorcester Biennial 2023, Barthelson was the recipient of the Evelyn Claywell Absher Award for Abstract Art, for 'aii form 3, art in isolation, family debris' awarded by juror Conor Moynihan, Assistant Curator, Prints, Drawings, and Photographs, RISD Museum.
Barthelson works from her studio in Worcester, and from her home in Rutland MA.
Alex Blaisdell
Free Spirit Pedestrians
Lithograph with Monotype
19" x 26"
$300
My work uses printmaking and variable editions to pursue a visual record of my personal relationships with unfamiliar places and how spaces in the city, the global community, and I, are connected. More specifically, I'm interested in systems of transit, such as planes, trains, streets, bridges, as symbols for connections across space. The landscapes, buildings, street corners, and interior objects that I depict allude to the remnants of lives and experiences I can't begin to know but long to understand.
Bio
Alex Blaisdell is a painter and printmaker working in Boston. He studied at the Massachusetts College of Art and Design (MassArt) in Boston where he was awarded the Studio Foundation Award of Recognition (2019), the Foundation Painting Award (2021), the George Nick Auction Award (2022), and Painting/Printmaking Departmental Honors (2022). In 2023, Alex participated in his first artist residency at Proyecto'ace in Buenos Aires, Argentina and exhibited works in Fresh Faces at Abigail Ogilvy Gallery and The 2023 Emerging Artists Exhibition at the Cambridge Art Association. In 2022, he curated the MassArt Painting Senior Thesis Exhibition and exhibited work in the New England Collective XII Exhibition at Galatea Fine Art in Boston. In 2021, his painting, State Street Landing, won "Best of Show" at the Marblehead Festival of Arts in Marblehead, Massachusetts and exhibited work in several exhibitions at MassArt.
David Bligh
Galaxy
Lithograph, woodblock, cardboard, chine colle, spray paint
20" x 18"
$600
As a printmaker I lean into experimentation, chance and ornamentation. This print is part of a series inspired by graffiti, ikebana and ornamentation.
Bio
David Bligh is an artist and printmaker whose work has been in numerous exhibitions, including The Future, Scuola Internationale di Grafica, Venice, Italy; Crossover and Composites: Hybrid Forms, Techniques & Media, UNC; The Color of Thin Air, Sculpture Fix Gallery; Two by Two: small scale ceramic sculpture biennial at Eastern Washington State; and The Feelers, Boston Center for the Arts. Other exhibit venues have included International Print Center New York, Los Angeles Municipal Art Gallery, Attleboro Arts Museum, Visual Arts Center of New Jersey; and New Talent of New England, Gallery AA/B, Boston. David has taught at Massachusetts College of Art and Design, Montserrat College of Art.
Linda Bond
Cluster Bombs Ukraine (Red)
Monoprint
15" x 15"
$650
Printmaking is a refuge and source of inspiration. During a mont- long print residency I stepped away from my installation projects and subject matter to explore new imagery with monoprints. This has been an ongoing source of inspiration and surprise. With feathers I collected during summer walks I began working with them directly on the plates. As my residency progressed I learned about cluster bombs being sent to Ukraine. Intention shifted and I saw the feathers as a foil to the violence.
Bio
Linda Bond's drawings and installations have been exhibited widely including a 2022 twenty year retrospective at Drexel University. Other exhibitions include Kean University, Clark University, Delaware State University, Brandeis University, Simmons College, the Brattleboro Museum, the Cape Cod Art Museum, B'NK'R Munich, Germany, Museo de Arte de Zapopan, Jalisco, Mexico, MFA in Boston. Her 2021 commission at Eastern State Penitentiary Historic Site remains on view. She has received awards from the Pollock-Krasner Foundation, Puffin Foundation, Chenven Foundation, Artist Resource Trust, Foundation for Contemporary Art and the Massachusetts Cultural Council. She is currently an Affiliated Scholar at Brandeis Women's Studies Research Center and her work is included in the Feminist Art Base at the Brooklyn Museum.
Susan A. Byrne
Lineage
Carborundum & Dry Point & Monotype
14" x 18"
$325
This piece is part of a series representing the Irish landscape and what it means for me - the swirling winds, crashing waves, sense of mystery and a direct line to my ancestors - providing a deep feeling of belonging or 'being of the land'.
Bio
Susan was born in Dublin, Ireland. She graduated from Dublin City University with a degree in Computer Science. She moved to the Boston area in the early 1990s to further her career and life experiences.
After leaving the corporate world in 2018 she moved to Keene, NH where, she served on the Art Committee for Keene ArtWalk and 'rewired' to focus on her printmaking practice. Throughout the years she studied at Massachusetts College of Art continuing education program, Art New England and Ballinglen Art Foundation (Ireland). She joined the Zea Mays printmaking community in 2022.
Mara Callahan
Heat Wave
Woodblock Monoprint, Ink on Japanese rice paper
36" x 24" 
$1,100
My artwork explores flora and fauna with a playful embrace of color and texture across three primary media: painting, printmaking and drawing.
I seek to capture a sense of freshness and spontaneity in my paintings and prints and enjoy the sense of discovery in unexpected results. It is a great source of inspiration for me. Above all I wish to communicate my sheer wonder at the transient beauty and mystery of the natural world. 
Helen Elizabeth Cantrell
Wolf  Blue Red
Woodcut on Masa paper
36" x 36"
$1000
Wolf and Osprey holding fish, two woodblocks handprinted from back in various colors, rubbed and pulled with my fingernails. I have seen these animals where I live in wooded/seacoast Connecticut. They were here before we were, our species is killing them in the wild, and I want their images to be present to us. To honor and understand other species is probably going to be vital to our own survival.
Bio
I was born in 1947 in Chicago. I always wanted to be an artist, so after summer art classes at the Chicago Art Institute and Kansas University, I went to Washington University School of Fine Arts in St. Louis. In 1968 I moved to New York City, where I worked as a typesetter for many years, while going to the Art Students League on weekends and at night when I could. Upon retiring, I moved to Connecticut and began making art full-time. I first learned printmaking at the Center for Contemporary Printmaking in Norwalk, and then went back to art school, graduating from the School of the Museum of Fine Arts in Boston (SMFA at Tufts) with a Diploma Studio Arts in 2004. Currently I monitor open printmaking studio sessions at the Lyme Academy of Fine Arts in Old Lyme, CT.
Susan  Cardillo
Shadow Talk 11-1
Intaglio
5.75" x 4.75"
$200
Shadow Talk 25-1
Intaglio
5 " x 6.5"
$200
Fascinating interactions between common objects and light.  The shadows become their own entities, the objects, mysteries.
Bio
Sandra Cardillo is a printmaker residing in Massachusetts.  Her work frequently combines various printmaking techniques in her search to express her environment and her place within it.
Sandra is an executive board member of The Boston Printmakers and a member of the Monoprint Guild of New England and the Society of Graphic Artists.  In addition, she has contributed to a print portfolio for The Jan Mateiko Academy of Fine Arts, Krakow, Poland and will become part of the collection of Casa de las Americas, Havana, Cuba, after an exhibit in 2022.
She has participated in exhibits throughout the New England area.  As a recipient of residencies in Vermont, Italy and Greece, she incorporates her love of travel and the experiencing of different cultures and environments into her art work.
Rose Christian
Mapping Leaves
Etching, chine colle, graphite, U.S. geologic survey map
15" x 12" framed
$150
Mapping Leaves is part of a series that explores the relationship between what grows above, and what lies beneath, with botanical imagery and maps of water, bedrock, and sediment.  
As a child growing up in a small town, I was free to explore the neighboring thickets and fields until called home for dinner with my pockets full of wonders - a snakeskin, a toad, a jawbone. As a physician-scientist I explored human tissues with microscopes, x-rays, and sound waves to find those subtle shifts in shape, color, and spatiality that signify healing or disease. This practice of close observation has shaped my visual language as an artist.  I use drawings, prints, paintings, and installations to map, explore, and connect with the more-than-human world around me. Animacy, kinship, and symbiosis are themes of my quietly detailed work. The lichen and flora that I encounter on walks are my subjects, collaborators, and teachers. Locally foraged plants contribute their pigments for work that celebrates the life forms growing overlooked in our cracked sidewalks, and not in a glamorized wilderness.  I believe the act of careful looking can lead to actual caring; my work gives a reason to look more deeply.
Christiane Corcelle
Clin d'œil
Print collage, drypoint
8" x 6"
$300
In my work I enjoy experimenting with layering techniques to convey a sense of history, while employing expressive lines to capture the essence of energy.
Bio
Corcelle's artistic creations have graced various prestigious exhibitions across the globe, enchanting audiences in the United States, China, Vietnam, Peru, Cuba, and Iceland. Embracing both private and public collections, her captivating artworks have found a cherished place in esteemed institutions like Museum of Fine Arts, the Boston Public Library, the Art Complex Museum, the Contemporary Art Center, the Vietnam Fine Arts Association in Hanoi, the Danang Fine Arts Museum, Danang, Vietnam, the China Academy of Art in Hangzhou, China, the Universidade Feevale in Novo Hamburgo, Brazil, and Las Casas de las Americas, Habana, Cuba.
Renee Covalucci
Duration: Wind and Wave Series
Multiple black relief and stencils on both sides of paper
22" x 16"
$700
I select wood grain textures to place into a landscape composition. To show or subdue the grain effect, I print on both sides of the paper, at times with opaque ink to create a resist or "batik" result. For an illusionistic, near-far effect I use the sizes, movement and positions of the grains.
Bio
Current President of The Boston Printmakers
Studied with Master Woodblock Artist, Dong Jiansheng at the Hebei Art Academy, China
MFA and BFA degrees, Boston University
Area native well versed in printmaking in MA, New England and North America
Recently awarded a  purchase prize at the 2023 North American Print Biennial
Works at home studio in Concord and has participated in numerous international exchanges.
Nancy Crasco
Domelands
Linoleum print
18" x 18"
$600 
The Anza Borrego Domelands is a protected wilderness area in Southern California where I hiked with my brother through unique land formations.
Bio
Nancy Crasco is a BFA graduate of the Rhode Island School of Design, and earned her Master's degree at Lesley University in Cambridge, MA. She has been working on fiber and paper since 1968, actively exhibiting her work nationally and internationally since 1975. Her work is often based on the intricacies of nature, using imagery attained through the use of various printing processes, including linoleum, gelatin plate, and a photocopier, in combination with stitching and embroidery.  Recently she had devoted more of her time to creating linoleum prints on paper.
Nancy has extensive teaching experience in both public and private education, and gives lectures and workshops to various groups interested in fiber art and printing processes.  She lives in Brighton, MA and is a member of the Cambridge Art Association, Mosesian Center for the Arts, Studio Art Quilters Association and the Surface Design Association.
 
Roberta Delaney
Resurrection
Lithographs, oils stick, graphite and sandpaper
14 1/4" X 11 1/4" 
$950
This collage is concerned about multiple textures. There is a lithograph showing the weave of canvas in contrast to the sandpaper.
Susan Denniston
Untitled (Lay It Down)
Monotype on Hahnemühle paper
30" x 22"
$800
I often work with decaying vintage quilt fragments.  An image from a section of the inside of a "postage stamp" quilt was transferred and offset onto the plate using inks of different viscosities.
Bio
Denniston is a printmaker, painter, and mixed media artist working in the Boston area. Aspects of loss and reinvention, erosion and renewal mark her work and are reflected in her materials and process.  Whether working with inherited and fragile cloth or powerful images of a seawall at the mercy of a rising tide, her work holds fragments of persistence and hope woven with glimpses of her personal story. 
Born and raised in Pittsburgh, PA, she graduated from Bates College and worked in the hi-tech medical software field for 20 years before leaving in 2000 to embrace her passion for art, studying at the School of the Museum of Fine Arts, Boston as well as at other schools and residencies.  She is an active member of Full Tilt Print Studio in Dedham, MA.
Her work is seen regionally and nationally and has been included in exhibits in Krakow, Havana, Venice, Finland, Norway, Vietnam, and Portugal.  She served as president of the Monotype Guild of New England, a national print organization, and currently serves as executive board member of the Boston Printmakers, a North American print organization.
Paula De Simone
Fruitful
Blockprinting Inks, Golden Open Acrylics, Mulberry Paper and Graphite
32" x 26"
$900
Fruitful is a nature abstraction drawing inspiration from the natural world where abstracted shapes and lines interact to form spatial relationships. This work was created through a multiple plate process with reductive techniques, collage elements and graphite lines.
Bio
Paula DeSimone, artist, author, and educator is a graduate of Massachusetts College of Art in Boston.  Ms. DeSimone has over 30 years of experience in arts education and has taught at such prestigious institutions as RISD - Continuing Education, the Museum of Fine Arts Boston, the Fuller Craft Museum, the Attleboro Arts Museum,The DeCordova Museum and Danforth Art School FSU.
​She is a current member of the Cambridge Art Association as well as the Monotype Guild of New England.  Ms. DeSimone has authored numerous instructional texts available worldwide.  Her work is held in distinguished hospital and corporate collections, including Children's Hospital - Boston, Newton Wellesley Hospital and U-Mass Memorial, as well as private collections internationally. She is represented by L'Attitude Gallery, Newbury St., Boson, MA, L'Attitude Website. 
International Juried Exhibitions:
Boston Printmakers 2015 North American Biennial 11/8 - 12/12
Lesley University, Lunder Art Center
1801 Massachusetts Ave., Cambridge, MA "Metamorphosis I" (below)
4th Biennial Footprint International Exhibition 2014
National Juried Exhibitions:
Fifth National Monotype Juried Exhibition 2018, Night Shade, Monotype
National Prize Show CAA 2018 "Seadrift Black & White 11, Monotype 
National Prize Show  2016, Cambridge Art Association "Transcending Color Fields"
13th National Prized Show 2014, Cambridge Art Association, Cambridge, MA
What Goes Around 2013, Attleboro Museum, Attleboro MA
MGNE 3rd National Juried Monotype & Monoprint Exhibition 2013, Wenham, MA
10th Annual Blanche Ames National Art Exhibit: Ames Mansion, Easton MA
EXPO 31 National Juried Competition 2012: B.J. Spoke Gallery, Huntington NY
Craft USA, National Triennial 2008: Silvermine Art Center, New Canaan CT
8 Visions Elements of Nature 2007: Attleboro Museum, Attleboro MA
 
Nancy Diessner
An Atmosphere of Water and Dust: 18
Multiplate photopolymer intaglio print
15" x 14.75"
$600
This series of photopolymer intaglio prints (multi-plate) originated from photographs of the surface of water while I was out sculling in the middle of a river, a river that is changing rapidly with climate disturbance. From those raw photos, I've built visual spaces that aren't limited to the thing photographed, but reference the tiniest speck on earth and the large and expansive sky and universe—not one thing in a moment in time but many things at once, connected and responding to threat and change.
Bio
Nancy Diessner's artwork emerges from her background in painting, printmaking, drawing, photography, sculpture, and digital image manipulation…and from her life as a river rat—a sculler and kayaker in love with moving swiftly along the surface of water. In her recent work, the photographs she takes while on the water are the raw material from which her intaglio prints develop. Her work focuses on the mysterious, complex, and often fraught relationship between humans, animals, and the natural environment. After 17 years as a college professor, she now teaches as a core faculty member at Zea Mays Printmaking, as well as privately. She shows at Bromfield Gallery in Boston.
 
William Evertson
Capitol Offense 1814/2021
woodblock print
44" x 32"
$3000 
Capitol Offense 1814/2021 combines imagery from the January 6th Capitol riot with an 1814 British wood engraving that celebrated the burning of Washington DC and the Capitol building. Capitol Offense 1814/2021, printed in Norwalk, CT at the Center for Contemporary Printmaking by the artist and master printer Christopher Shore.
Bio
William Evertson (b.1952) is a Connecticut-based artist and printmaker working with large-scale woodblock printing, book arts, and sculpture.  He exhibits work throughout the USA as well as internationally.   His prints have been included in the North American Print Biennial on three occasions. International exhibits have included venues in Japan, Ireland, Denmark, India, Italy, and Australia. William is represented by Childs Gallery of Boston.
BFA, Ithaca College, Sculpture concentration (1975), MFA, University of Delaware, Sculpture and Video concentration (1978),  ​MALS from Wesleyan University,  Printmaking, Computer Graphics, and Book Arts concentration.​ (2009)
Diane T. Francis
Rome
Woodblock Print and Collage
12" x 14"
$650 
The arch image is a woodblock I created from a drawing I did in Rome. I cut part of the image out and added collage materials and acrylic paint.

Selected Resume:
Education: Art Education, M.Ed. May 2003, Lesley University, Cambridge MA Massachusetts Certification in Visual Arts PreK-12 Sculpture, BFA May 1981.
University of Massachusetts at Dartmouth, Dartmouth, MA Newburyport, MA 2012: NAA 10th Annual Make an Impression, NAA Printmakers Group Show, Newburyport, MA NAA 9th Annual Make an Impression, NAA Printmakers Group Show, Newburyport, MA 2011: Solo Exhibition"Figure and Form" Laura Coombs Hill Gallery, Newburyport, MA Solo Exhibition "Tradition Printmaking" Lincoln Library, Lincoln, MA "Ballerina" Children's Book, Illustrations "Play Safe" Children's Book, Illustrations Selected Exhibitions: 2023: CT Women Artists 2023 National Exhibition, Barnes-Franklin Gallery, Farmington, CT Fresh Ink: Contemporary Explorations in Printmaking, Umbrella Arts Center, Concord, MA Cambridge Art Association "RED", Cambridge, MA Newburyport Art Association 26th Annual Regional Juried Exhibition, Newburyport, MA Zullo Gallery's 29th Annual Juried Exhibition, Medfield, MA Whistler House Museum Annual Juried Exhibition, "All Creatures Great and Small", Lowell, MA MGNE "Lasting Impressions",Kuskores Gallery, Randolph, MA (Honorable Mention) CAA Salon Show, Kathryn Schultz Gallery, Cambridge, MA NAA Fall Juried Exhibition, Newburyport, MA Lex Art "HOME" Juried Exhibition, Lexington, MA NAWA "Small Works", New York, NY NHAA "Hot Off THe Press", Portsmouth, NH New Haven Paint and Clay Club, 122 Annual Juried Art Exhibition, New Haven, CT MGNE Unique Print, Newbury Court, Concord, MA Newburyport Art Association, Winter Juried Exhibition, Honorable Mention, Newburyport Newburyport Art - Master Artist Exhibition, Newburyport, MA 2022: Boston North Printmakers, Brush Gallery, Lowell, MA Cambridge Art Association Members Prize Show, Cambridge, MA Members Newburyport Art Winter Juried Exhibition, Newburyport, MA Patchwork: Parts of Prints, Prints of Parts, Project B Gallery, Framingham, MA Newburyport Art Association Master Artists Exhibition, Newburyport, MA MGNE Unique Impressions, Zullo Gallery, Medfield, MA NAA Regional Juried Exhibition, Newburyport, MA Whistler House Museum of Art " Lowell: My Hometown", Lowell, MA Art League of Lowell, From Silly Putty to Silkscreen, Lowell, MA CAA Fall Exhibition, Cambridge, MA Zullo Gallery 28th Annual Juried Exhibition, Medfield, MA CAA RED 2022, Cambridge, MA NAA Fall Juried Exhibition, Newburyport, MA 2021: NAA Winter Juried Exhibition, Newburyport, MA 120th Annual New Haven Paint and Clay Club Juried Exhibition, New Haven, CT Montserrat College of Art, Art Education Exhibition "Inspired View", Beverly, MA National Association of Women Artists, New Members Exhibition, NY, NY Cambridge Art Association Summer 2021 Small Works, Cambridge, MA Connecticut Women Artists National Juried Exhibition, Arts Center East, Vernon, CT CAA Mary Schein Fall Exhibition, Cambridge, MA Newburyport Art Fall Juried Exhibition, Newburyport, MA 2020: Whistler House Museum of Art Juried Exhibition, Lowell, MA Concord Art Association Members Juried Exhibition, Concord, MA NAA 2020 Regional Juried Exhibition, Best of Show Printmaking, Newburyport, MA 119th Annual Juried Art Exhibition, New Haven Paint and Clay Club, New Haven, CT

Jenni Freidman
Minty Sprout, Fruity Sprout, & Honeydew Sprout
woven monotype on pescia
6" x 4 3/4" each
$250 each
These intimate woven pieces are created from older, enormous prints that have been carefully cut down into half inch strips. Looking at those older prints as seeds that were planted years ago and now are being harvested so that this new series can grow feels authentic, meaningful and exciting.
Bio
Jenni makes prints, books, drawings and all kinds of work on and of paper in her backyard studio (and sometimes on her couch). For most of her career, her work has depicted various forms found in nature. She continues to be inspired by this subject matter and has found she is also drawn to pattern, color, sweets and treats. In addition to making her own work, Jenni is always a huge fan of supporting other artists on their journeys. She has worked as a Professor, Printer, Picture Framer, Admissions Director, Education Director and is currently working as an Assistant to Artist Amy Genser.  West Hartford has been her home for the last 15 years and she resides there with her hubby, child and pup.
Elissa Freud
Cactus 1
Collograph
21.25" x 16.75"
$450
Exploration of textures and atmosphere in nature.
Bio
Printmaking has been my focus for the last 8 years. The work on paper is informed by over two decades as a ceramicist. My images focus on nature, portraits, and narratives on family and aging. Working with ink in a variety of methods and transparencies allows exploration of the depth of images on paper. To create imagery, my practice includes monoprint, monotype, collage, woodcut, linocut, drypoint, silkscreen, pencil and watercolor. I am a member of the Shepherd Maudsleigh Studio in Newton, MA.
Alex Gerasev
Explorers
Lithograph
5" x 4"
$280
My work takes many different forms but it always tells a story–or at least hints at one. I depict humans, animals, the environment and the ways we interact with one another. I revisit what was and imagine what could be. Some stories touch on my immigrant experience and focus on the idea of a journey or being an outsider, evoking feelings of nostalgia, longing and alienation. Other work invites the viewer into a world that is beautiful, strange, and imbued with hope and joy. Always, there is a sense of the fantastic and a fuzzy line between life and dreams.
Bio
Alex Gerasev is an illustrator, painter, printmaker, animator and muralist. His work is an interpretation of historical and current events, and addresses the ideas of displacement, alienation, instability, and the forces that cause them. Gerasev creates images that evoke feelings of memory and loss and touch on human vulnerability.

Gerasev's work is held in private and public collections throughout the US and Europe, including the Boston Public Library, Boston Athenæum, Columbia University, Iraq National Library, Marriott Hotel, St. Mark's School, The Pushkin Museum, and Deutsche Immobilien Fonds AG.
Gerasev grew up in St. Petersburg, Russia and studied at the Repin Academy of Fine Arts. He now resides in the Boston area and teaches illustration at the Massachusetts College of Art and Design.
Jane Goldman
Urban Garden
Watercolor monotype
22" x 30"
$2500 
"Urban Garden" is from my global warming series. " Eco-anxiety" aims to disarm the viewer through dark humor. Using silent screen comedians as Everyman, we experience weather catastrophes in slow motion. These works show that we are almost at the tipping point, but not yet. "Urban Garden" illustrates the "apocaloptimistic" point of view: the would-be gardener, flower pot at his side, is ready to dig in and help transform his world."
Bio
Jane Goldman was born in Dallas, Texas in 1951, and is the co-owner/director of Mixit Print Studio in Somerville, Massachusetts. A nationally recognized painter and printmaker, she has taught at Massachusetts College of Art, the University of California at Los Angeles, Rice University, and Hartford Art School.
Goldman designed three terrazzo installations for the Massachusetts Port Authority at Boston's Logan Airport, on the theme of a New England aquatic journey. The design flows over 35,000 square feet of terrazzo floor.
Goldman has exhibited widely in the United States and abroad since 1975, with solo exhibitions in private galleries in New York City, Boston, Washington, D. C.; Dallas, Madison, Wisconsin; and Seattle.
Goldman's work is included in fifty+ public and corporate collections in the US and abroad.
Lorie Hamermesh
Impulse
Viscosity Mono Type  
30" x 22"
NFS 
An impulse is a wish or urge, particularly a sudden one prompting action.  Even though we often try to control our impulses, their power is not diminished.
Selected Resume:
One Person Exhibitions
Gallery NAGA, Boston MA 2021 Desire/Shame
Gallery NAGA, Boston MA 2004 "Enfold"
Gallery NAGA, Boston MA 1997 "Veiled Passions"
Gallery NAGA, Boston MA 1994 "Changing Light"
Gallery NAGA, Boston MA 1992 "Recent Work"
Gallery NAGA, Boston MA 1990 "Recent Work"
Gallery NAGA, Boston MA 1988 "Lorie Hamermesh"
Selected Group Exhibitions
Gallery NAGA, Boston MA 2021 "Night Visions: Nocturnal Musings by NAGA Artists"
Gallery NAGA, Boston MA 2020 "Virtual Summer Camp: New Work by NAGA Artists"
Tufts University, Aidekman Arts Center 2018 "Violence Transformed: Stand Together"
Harriet Tubman House, Boston MA 2018 "The Artists Voice: Tell Your Story"
DeCordova Museum and Sculpture Park, Lincoln MA 2005 "Pretty Sweet: The Sentimental Image In Contemporary Art"
DeCordova Museum and Sculpture Park, Lincoln MA 2000 "Celebrating Contemporary Art in New England: Recent Acquisitions"
Trinity Church, Boston MA2005 "Trinity Inspires"
Brattleboro Museum & Art Center Brattleboro VT 2000 "Wingate Press: Twenty Years of Master Prints"
New England School of Art and Design at Suffolk University, Boston MA 1999-2000 "Sleeping Beauty"
Copley Place, Boston MA 1999 "Cardigan Project"
New Art Center in Newton, Newtonville MA 1999 "What Jack Built"
Starr Gallery, Leventhal-Sidman JCC, Newton MA 1998 "Women Whose Lives Span the Century"
Miller/Block Fine Art, Boston MA 1995 "Art of Women Helping Women"
Four Seasons Hotel, Boston MA 1995 "Art in Bristol" Curator: Liz Harris
Grossman Gallery, School of the Museum of Fine Arts, Boston MA 1994 "Woman's Caucus for Art Boston Chapter," Juror: Deborah Muirhead
Miller/Block Fine Art, Boston MA 1992 "Gifts of Compassion"
Fitchburg Art Museum, Fitchburg MA 1991 "The Mind's Eye: Fantasy, Dream, and the Imagination"
Gail Hansen
Crossroads
Silkscreen
10" x 10" unframed
$300 
Multicolored, Multilayered silkscreen
Bio
How much can one learn about an artist by looking at her work?  A review of Gail Hansen's latest pieces reveals a great deal about this artist's life and passions.
Her favorite painting experiences occur outside because that is where all her senses are acutely at play. As she describes it "I let the inspiration take fire and enjoy the movement of my brush, the buttery texture of the oil paint, the vibration of red next to green." Outdoors, Gail gathers notes to communicate the sense of a place.  In her studio, she then uses photo reference and her studies to produce larger paintings on canvas.
A great influence in Gail's life was her annual visit to the family farm on the Atlantic Ocean.  Her current preferred palette is subdued and soft like the moisture-laden East Coast landscape.  The feel of misty air and the ebb and flow of ocean waves often make it into her work.  
Gail Hansen's personal journey as an artist began after college.  Born in Kansas City, Gail later attended Syracuse University.  She began her college career as a math major, but ended up studying textile design with her sights set on living and working in New York City. However, the Big Apple was never to be. Instead she headed west and set up her first studio in Denver in 1972 where she worked in batik for the next 10 years.
In 1977, Hansen followed her interest in travel and adventure and embarked on a nine-month backpacking trip through Africa.  This sensory loaded odyssey inspired her batiks in the years that followed. Her African-inspired batiks were highly acclaimed in regional shows and won three "Best of Show" awards.
During the 1980's Gail became a mother but still maintained an active studio.  At this time she shifted her focus from batik to watercolor.
In 2008 Gail made the most impactful change in her artwork, moving from watercolor to oils.  She felt the new medium gave her the expressive flexibility for which she had longed.
Over 30 years of study and practice with many prominant artists have given Gail a solid foundation in the techniques of painting,  but she will tell you the oils themselves have taught her the most.  On her "daily excursion of exploration and discovery," as she describes it, Gail is constantly moving forward in her quest to find the most meaningful expression in oils.  Her style is loose and impressionistic, allowing the viewer to complete the painting with their own ideas and imagination.
Teaching has been a natural byproduct of  her lifelong interest in learning.  She has enjoyed introducing students to the joys of painting.  In the 1990's she helped create an art center in Whitefish where she taught adults and children for many years.
Gail currently divides her time between her Montana studio and out on the open road. 
Mary Hart
Discomforter
Silk, quilt batting, wood stand
48"w x 63"l x 24"h
$4,000
I made the photopolymer plates for this piece in January 2020, without a clear idea of what it would become. When I began to print the plates in June 2020, Covid had happened and everything in my world shifted. Worry about my family and work kept me up at night. To visualize this time I designed an alternative quilt, my "Discomforter."  It is printed on Pongee silk and handsewn together. My grandfather brought the silk back from China in the 1940's after a stint as a war correspondent there. It was a gift for my grandmother who was born and raised in China. The silk carries the continuity of my family history. Sewing it by hand calmed and steadied me during an anxious time. On this quilt the two types of images from ink spills and ink drawings interweave and overlap, bringing comfort and chaos in equal measure, hence the title, "Discomforter."
Bio
My visual language, my fascination with insects, plants. rocks and ordinary objects was formed by childhood experiences growing up in New England. My concerns as a painter and printmaker now, are driven by the transformations I see in nature and culture. I still have the same sense of wonder for natural forms, but I carry a deep anxiety as well.
I received my BA from Dartmouth College, then studied at the Byam Shaw School of Art in London as a Reynolds Scholar. In 1994 I earned my MFA at the Milton Avery Graduate School of the Arts at Bard College where I was the recipient of the Elaine de Kooning scholarship in painting. I have been a resident at Yaddo, Monson Arts, Hewnoaks and the Vermont Studio Center and have received grants from the Maine Arts Commission and the Artist's Resource Trust. My work is in the collections of the Portland Museum of Art, Simmons College, UNE, and the University of Maine Museum of Art, and has been exhibited at numerous venues throughout the Northeast. I have taught art in Maine for over 30 years, kindergarten through college, and am currently a visiting professor of Printmaking at Bowdoin College. I am a member of Peregrine Press and Zea Mays Printmaking. My home and studio are in Portland, Maine.
Lonnie Harvey
Water Dance
Oi monotype on Rives BFK paper
28"x  19.75 (framed)
$800
I've always been fascinated by shapes and patterns in nature, particularly with water. The soothing movement of waves and reflections of light on and below the surface is mesmerizing. "Water Dance" is one of a series of monotypes inspired by Matisse's cut-out period. This series employs a process of designing and cutting stencils out of Frisket film, adhering the stencils to the plate, inking, then removing them to reveal the negative shapes.  The play of positive-negative shapes on a plate is a process that resonates with me, an exploration of shapes and forms that goes beyond the initial print and carries into the "ghost" images with the second and often third prints from the same plate.  Layering image upon image with a separate color for each plate and running the plate through the press several times, creating multi layers within a work, maintains a related lyrical symmetry, fluidity of form and a vibrancy of color within the series.
Bio
Lonnie has been creating monoprints for over thirty years. She studied art at the Minneapolis College of Art and Design and the University of Wisconsin-Madison.  After moving to the Boston area in 1990, she took classes at the DeCordova Museum School where she discovered her love for monoprints.
As a printmaker, process is important in Lonnie's work, and she uses a variety of techniques.  Her one-of-a-kind prints contain scenes reflected by her surroundings: landscapes, still lifes, and organic forms that are simple, yet contain complexities of color, shapes, light and texture.  Patterns and shapes in nature play a big role in her work and much of her inspiration comes from walks in the woods or driving from place to place. She approaches each work as if putting together a jigsaw puzzle; each piece is considered and moved around until it finally finds a home in a pleasing and complete composition that is both visually exciting and not always predictable. She constructs each plate separately, layering image upon image, running the plate through the press several times until the result is cohesive and satisfying.  This kind of experimentation allows each print to develop individually in a unique way, each speaking a language all its own.  This is the joy of the monoprint, and of printmaking itself.
Judy Bergman Hochberg
Wasque Walk #1
Polymer plate photogravure etching
19" x 27" (framed)
$500 
This photogravure etching was created from my photograph taken on Chappaquiddick Island.
Bio
Originally from New York City, I settled in the Boston area after receiving my B.F.A. and M.F.A. degrees in painting from Boston University. I developed a love of printmaking early in my artistic career and was a founding member and past president of Full Tilt Print Studio (formerly EES Arts), the printmaking cooperative now located in Dedham, MA. I coordinated the publication of the studio's eight print portfolios.
I have worked in several different print media, including etching, collagraph, woodcut and monotype. I am also a photographer and the author and illustrator of a children's picture book, titled Little Cat Lost. My recent work reflects my concentration in the area of digital photography and polymer plate photogravure etching. My photograph, Old Havana Courtyard, was awarded an honorable mention in the Landscapes and Architecture Category in the 2020 Art of Photography Show by the Prairie Village Art Council. My print, Habanero, won first prize in printmaking at the Plymouth Center for the Arts 53rd Annual Juried Art Show in October, 2020.
My work is in the permanent collections of the Art Complex Museum in Duxbury, MA, the Boston Athenaeum, the Boston Public Library, Fidelity Investments, the Fogg Art Museum, Wheaton College, and the Worcester Art Museum. I am a member of the Boston Printmakers, Photographic Resource Center and the South Shore Camera Club.
Jennifer Ingram
"I would rather have roses on my table than diamonds around my neck" - Emma Goldman
Woodblock print on paper, using press
16" x 20"
$120
The title of the print is a quote from Emma Goldman, political activist.
Lynne Johnson
Beneath the Melting Glacier
Media: etching, collagraph, hand coloring
30" xv22"
$850
Being concerned about our climate change I have noted the horrible yet starkly beautiful disappearance of Icelandic glaciers. At home I have worried about the lack of bees, butterflies and birds and have hoped that what I plant in my gardens helps them to thrive. In addition to what grows above the soil I have thought about the soil and the roots it nourishes and the amazing amount of forms they can take.
Bio
I have been an active artist for many years, both while I was teaching and since that time. Though I was a painting major at both Mass Art and for my masters at Pratt, I have worked mainly in printmaking and in paper and fabric construction. I have shown in many exhibitions through out the USA and recently at the Da Nang Museum of Fine Arts, being a member of the Boston Printmakers.
Boriana Kantcheva
Seeds
Etching, aquatint, monotype and gouache on paper
20" x 20"
$650
The landscape with its multiple elements like mountains, trees, animals, rocks, seeds, nests, moss, birds, and even cellular structures have been a part of my artistic language for a while. I love the flat, bright colors of the gouache and the intricate quality of line etching. Even my aesthetic is dual in nature. On one hand, I am often attracted to open, light spaces reminiscent of landscapes, and then juxtapose them with densely detailed work and organic structures. I appreciate the beauty of the natural world, but I am also aware of its fragility.
Bio
Boriana Kantcheva, originally from Bulgaria, has lived and worked in the Boston area for over 20 years. She has received a BFA from Massachusetts College of Art and an MFA from School of the Museum of Fine Arts and Tufts University joint degree program. She has worked as an assistant teacher at the Carpenter Center for Visual and Environmental Studies where she has received several Harvard University Certificates of Distinction in Teaching awards. She has managed Chandler Gallery for almost 10 years and has taught numerous classes at Maud Morgan Arts Center. Currently, she is the Director of Visual Arts at the Mosesian Center for the Arts, Watertown. Boriana's work can be seen 13 Forest Gallery.  
Mary Kostman
Ukraine
Monotype with acrylic and Akua ink
18" x 12"
$800
My work draws from my experience in the expressive arts and the healing arts and has spanned painting, printmaking, photography and textile design.  The interplay of movement, gesture, and color is evident in my abstract expressionist paintings and monotypes.  
Printmaking allows me to introduce disparate elements and combine them to create cohesive meaning, sometimes beautiful, sometimes jarring.  The physical experience of turning the wheel on the press engages my body in the process, something that is important to me as it reconnects me to my background in dance.
"Ukraine" is an expression of my emotional response to the war in Ukraine.
Bio
Mary Kostman is an abstract expressionist painter and assemblage artist who delights in leading workshops for people to discover their innate creativity. Her work draws from her experience in the expressive arts (dance and art therapy, storytelling) and the healing arts (tai chi, Feldenkrais, polarity therapy, yoga, meditation). Her art is a source of healing and self-renewal.
She began her art career as a photographer in 1965 and then concentrated on textile art in the seventies through the mid-eighties. Her current work includes watercolor, acrylic, ink drawings, printmaking and assemblage. She has led workshops for adults and children exploring perception and communication, has directed a community art center, and was a key member in developing the first conceptual art gallery in Montreal. She exhibits in the United States, Canada and Israel. She leads workshops in creativity (Paint Your Dance™ and Paint Your Essence™) for both adults and children. Her studio is at Saxonville Studios in Framingham, MA.
Kostman is a member of the Cambridge Art Association, the Concord Art Association, the Arts and Business Council of Greater Boston, and the Monotype Guild of New England. In 1995 she was the local coordinator of "Jewish Women Uncensored", a national juried exhibition of the Jewish Women Artists Network, a sub-caucus of the WCA.
In 2001, she received Honorable Mention in the Cambridge Art Association National Prize Show for an ink drawing, "Gesture 4101". The show was juried by Maxwell Anderson, Director of the Whitney Museum, New York.
In 2003 she received a grant for a one month residency at the Vermont Studio Center.
In 2006 she received the Juror's Prize for a monotype, "Connections", in the show, The Way We Live, juried by Howard Yezerski, Howard Yezerski Gallery, Boston, for the Cambridge Art Association.

In 2016 she received an award for her monotype, "Cross Eyed", from Susan Nalband of 555 Gallery in Boston, at Concord Art.

In 2021 she received an award for her monotype on braille, "Red, White and Blue" from Lisa Crossman at Concord Art.
Laura Louise Lester
Between Worlds
Monoprint collage on paper
14" x 12"
$525
In the natural world when you turn over a leaf or examine a flower closeup, you can see the intricate patterns that create its structure.  In my printmaking world, using crocheted wire as a design matrix, a different world of patterns appear that create the structure for my monoprints. Somewhere between these two worlds is the inspiration to turn an idea into art.
Bio
Laura Louise Lester  is an artist working in abstract painting, fiber art, printmaking and collage.  Lester's work references cityscapes, landscapes, and studies of interior spaces.  A student of Elizabeth DaCosta Ahern for over 18 years,  Lester continues the thread of excitement for vibrant abstract works, movement and the nature of form.
Travel and time spent in the Caribbean, Europe, and North America, has influenced Lester's art as she continues to explore the drawings and sketches from her travel journals.
Born in Boston, Massachusetts she later moved to Florida to attend the University of Miami. Later she became an art teacher for Dade County Community College. After relocating back to Boston, Lester began a 20 year career as Director of Marketing and New Products for Polymerics, Inc. / Tulip Paint.
Lester's work is exhibited in galleries and juried exhibitions and in private collections.  She currently lives and works in the Boston area where she creates in her studios as well as on locations. 
Carolyn Letvin
Swan River #7
Oil paint monotype
8" x 8"
$300
This PLEIN AIR oil paint monotype was transferred to damp paper using the GC Palm Press.
Bio
Carolyn Letvin, a resident of Marlboro, Massachusetts, has exhibited in the New England area since 1990. She is an accomplished landscape and interior painter, and also creates stylized sheep imagery. She has won many awards through the years, including the Top Award at the 18th Annual Faber Birren National Color Award Show, an Honorary Mention/Sakura Award from the United Pastelists of America/Oil Pastel Association in 2001, a second place in the 2014 Blanche Ames National Juried Exhibition, and the prestigious Nancy T. Baldwin Drawing Award from Concord Art's 2017 Members Juried 2 Exhibition. She demos and teaches her plein air printmaking technique using oil paint and the GC Palm Press with she has manufactured and sells. Currently, her work can be seen at Galatea Fine Art in Boston, MA, Gallery Twist in Lexington, MA, Hudson Art & Framing in Hudson, MA, and Lauren Clark Fine Art in Great Barrington, MA. 
Robert Maloney
Monstrocity (Copper)
Woodblock print on paper with metallic copper ink
35.5" x 35.5"F
$2000
A recurring theme in my work is the visualization of a forgotten history that is no longer present. I reveal the residual traces of objects, individuals or places by showing the scaffolding, framework or footprint of what was. In recent work I bridge the gaps between printmaking and sculpture by using hydrocal plaster to make casts of my hand carved woodblocks. 
Bio
Robert received his BFA and MFA from Massachusetts College of Art and is an Associate Professor in the Illustration department at Massart. Robert received a 2022 Mass Cultural Council fellowship in Printmaking and has participated in two Illuminus Boston public art events. He has contributed to several Big Ink woodcut print sessions and in 2017 his permanent public art project repaired the missing signage on the chimney of the historic Haffenreffer brewery in Jamaica Plain.
Marilyn Mase
Suspend
Monoprint
12" x 12"
$450
Elements are poised in mid-movement, held in a suspension, similar to thought, actions and reconsiderations as if they may change direction. 
Bio
Marilyn Mase is a printmaker and painter. Most of her imagery is derived from drawing directly from landscape and cityscapes. Although the abstract work may not appear representational there usually is a representational beginning.
Louis Meola
Plasma Line
Plasma Cutter on Steel 
14 x 20" 
$345
I use printmaking as a method to share the evidence created on materials and objects either looked over or left behind. The lines that are created in metal from either dry point or etching have fascinated me since I started printmaking. After watching students cut and weld, I was curious as to how these marks would translate as a print. The finished product is a long and visceral line representing the many cuts that are made through this practice.
Bio
Louis Meola is a Boston based artist working mainly in print and installation with the use of reclaimed objects. He earned his BFA with a focus in printmaking at Emmanuel College in 2015 and then later his MFA at SMFA at Tufts University. Louis has exhibited his work across New England and has shown at the Museum of Fine Arts here in Boston. He works as SMFA's Print, Paper, and Graphic Arts Studio manager and teaches Continuing Education at SMFA and the Cambridge Center for Adult Education.
Ky Ober
All Here
Silk and carborundum collagraph
16" X 23.5"
$800
Developing a collagraph by creating highlights with medium on silk and then adding the darks of the carborundum allows for a rich range and variation.
Bio
Through the years of teaching at the School of the Museum of Fine Arts, through my involvement on the Board of the Boston Printmakers and through work at the cooperative Full Tilt Print Studio, I have felt supported by a lively group of artists and printmakers . The generous impulses of printmakers to share space, exchange ideas and swap prints makes for a vibrant and stimulating community.
Patricia Palmer
sagas
Mixed media mono print with vinyl
22" x 19"
$700
In this series from the summer of 2023, I created 300 monoprints over a period of three weeks. Using found and altered stencils sourced from factories, farms, and the home, I explore my family's legacy and its impact on my identity. These stencils relate to the influence of my family's immigrant history and epigenetic factors of illness, health, and well-being. For this work, I purposely chose an expeditious, immediate process, as I was thinking about the pace of conversation and how the materials interacted as if they were part of an intimate exchange in a game of telephone. Each print shifted and changed the meaning ever so slightly. The images formed from the printed stencils and matrices, sometimes combined with chine collé, vinyl, collage, and mixed-media elements, create new conversations that flatten time and space while hopefully expanding possibilities for dialogue.
Bio
Patricia Palmer is an artist and arts educator based in Cambridge, MA, and works out of Miller Street Studios in Somerville. Patricia explores language and meaning in her art-making practice. Her mixed media works and monoprints focus on the body and mind and the rhythms and patterns that lead to awareness of their connection as a source of intuition and knowledge. Drawings, paintings, collages, prints, sculptures, and digital works explore a personal vocabulary of abstract imagery associated with the themes of relationships, communication, and systems. In her work as an educator, Patricia is interested in environments and instructional approaches that help people learn how to think, especially in and through the visual arts. She is dedicated to improving arts education in K-12 schools and currently teaches art teachers at the School of the Museum of Fine Arts/Tufts.
Kathleen Reming
Woman and Veils Series #3
Monotype with collage elements
21" x 17"
$600
I like to begin with a big idea and then let the process led me to solutions.  My work is primarily printmaking but I will stitch, draw and add mixed media elements as my work unfolds. This past year I have been working on on a large series of monotypes using textiles handed down to me from my mother and grandmother. Printing my sister's first Communion veil has connected me to my memories of growing up Catholic and how woman and veils has many connections to other cultures and religions. The idea of veils in the Catholic Church, beliefs we were taught, questioning these beliefs and considering other faiths and their use of veils has generated a large body of work. A simple object that leads to a more complex idea. The very act of printing these objects invites contemporary dialogue that crosses into many cultures and connections to woman.
Bio
I am a mixed media artist who uses printmaking as my primary process for creating. I come to my work free of preconceived outcomes and open myself up to the possibilities that the process will lead me to solutions. I will often begin in one place and end up somewhere else. It is this process and experimentation that fuels my creativity. Sometimes my prints will stand on their own but as each print influences the other I will add drawing, stitching, collage and 3D elements which results in a large series of work. To balance the intensity of this process I enjoy collage work.  I work in a similar manner as I do with my printmaking but the work unfolds more quickly and allows me to balance my creative energy.
Ralph Robinson
"Katmai Splash" 
Photogravure over inkjet printed on shiramine washi paper using Charbonnel ink and archival pigment 
11"  x 14"  
$750 
During expeditions to remote wilderness areas, I have experienced nature's power to inspire reverence for the environment. Returning with thousands of photographs of wildlife, I have brought those images into various methods and styles of printmaking to further expand and enhance their physical form. The images represent my relationship with nature and serve as a catalyst for conversations." 
Bio
Ralph Robinson currently resides in Cambridge, Massachusetts. The artist recently received an MFA from the School of the Museum of Fine Arts at Tufts. He makes work about the importance of preserving natural spaces and remaining wilderness areas. His sense of urgency about the plight of our planet has driven him to use his art to inform and encourage others to act now, before it becomes too late. Using his photography as a foundation, he has increasingly brought his images into woodblock, photo etching, and screen printing as a way to further explore these ideas. 
Adrian Rodriguez
Frankie at the Beach
Linoleum Print on Rag Paper
22" x 28"
$350
In this absurd narrative relief print, Frankenstein's Monster is attempting to enjoy a beautiful summer day at the beach. The intention is to examine the juxtaposition of the grotesque, the absurd and the New England suburban ideal.
Bio
Adrian Rodriguez is a printmaker based out of New England. His work makes use of dark humor, innuendo and "inside" jokes to critique and understand human and non-human relationships. 
Anne Russell
Tool Play 5
Monotype: soy-based ink on rag paper
16"  x 12"
$400
I love the fact that trace printing records the direct touch of any object, not just traditional marking tools like pencils, pens or brushes.  It encourages experimentation and play.
The image "Tool Play 5" is part of a series that focused on the world of the print studio.  Spaces and objects there were studied and drawn and reinterpreted and layered repeatedly, and even used directly to make their unique impressions on the print.
The so-called negative-trace image is the ink that is left on the plate after the initial trace print is done.  Printing this plate onto a new sheet of paper reveals delicate lines and tones in the dark field of ink, sometimes with a more mysterious or ghostly feeling.
Bio
Anne Russell is a printmaker and mixed-media artist. She is a juried artist member of Boston Printmakers and the Cambridge Art Association, and general member of Concord Art Association and the Monotype Guild of New England.  Her work is in the permanent collections of Boston Public Library, Massachusetts General Hospital, and Brigham and Women's Hospital, Boston, MA.  Recent exhibits include "Hot Off the Press," Robert Levy Gallery, Portsmouth, NH; "23rd Annual Frances N. Roddy Open Competition,"  Concord Art Association, Concord, MA; "New England Collective XII," Galatea Gallery, Boston, MA;  "National Prize Show," Cambridge Art Assoc, Cambridge, MA; "March in the Annex," (3-person show) Fountain Street Fine Arts, Boston, MA.  Anne studied at MIT and the School of the Museum of Fine Arts, and with the artist Joel Janowitz. She lives and works in Somerville, MA.
Susan Schmidt and 10 Collaborators 
The Edge of the Ocean
Collaborative Artists' Book, various print media & drawing
24 x 50 fully extended, 8.5 x 8.5 closed
Variable edition of 12
NFS
A collaborative artist's book created by ten artists and a poet. Based on the poem: "The Edge of the Ocean" written by Susan Roney-O'Brien. Artists are Liz Chalfin, Susan Denniston, Phyllis Ewen, Claudia Fieo, Randy Garber, Susan Schmidt, Julia Shepley, Stephanie Stigliano, Elena Stone, and Julia Talcott. The poem and images address our place in a world of natural beauty and mystery. The poem "The Edge of the Ocean," spoke to each of us about the strengths, vulnerabilities and wonder of this time in our lives as older women.
The artists and poet met virtually to collaborate on each stage of the bookmaking process. In response to the ideas in the poem we created prints and drawings; first sharing sketchbooks, and working proofs over a six-month period. The accordion-like structure can be set up in different sculptural forms. It allows for multiple interactions of lines from the poem with different images, as it unfolds and reveals itself. Similarly, our group experienced multiple interactions with each other over the course of the project.
Selected Resume:
2023 "The Edge of the Ocean" exhibition of collaborative artists book and related work, a project initiated by Susan Schmidt, Sanford Gallery, Zea Mays Print Studio, Florence, MA "The Edge of the Ocean" is included in a group exhibition: "Art & Poetic Text" Cultural Center of Cape Cod, south Yarmouth, MA "Legacy of Leadership" group exhibition of prints of members of the Board of Boston Printmakers Boston University "FREEDOM Project" group show organized by Malgorzatta Oakes , traveling to multiple Venues including Eugeniusz Geppert Academy of Art & Design, Wrocław, Poland and the Book Art Museum, Łódź, Poland. 2022 "Afterimage:2022 Visual Arts Faculty" Cantor art Gallery, College of the Holy Cross "CONNECT: Small Prints by Members of the Boston Printmakers" group show traveling to, Providence Art Club, 2021, Providence RI Museum of Printing, 2022, Haverhill, MA https://www.bostonprintmakers.org/members-shows/connect/ 2021 Summer Members Exhibition and Members Directory Show, group shows, Brickbottom Gallery, Somerville, MA 2020 "Joys Sorrows and Concerns" Solo Exhibition, Cantor Gallery, College of the Holy Cross Worcester, MA 'Coneciones/ Connections' Boston Printmakers group exhibition, Taller de Gráfica, Havanna, Cuba Group exhibition, Cove Street Arts, Portland, ME
Annie Silverman
Canopy Dwellers
Multiple plate woodcut print with shaped, drypoint plates and collaged, natural history imagery from the 1800's.
25" x 20"
$1,200
Canopy Dwellers is  a lush botanical and avian environment. I am interested in botanical illustration, especially from India in the mid 19th Century, as well as Natural History imagery also  from that time  period which was created before photography. The birds in this print were laser copies from 19th century illustrations, printed onto Japanese paper, cut out with scissors and painted with drawing ink.
Bio
Annie Silverman is the  proprietor of ABRAZOS PRESS, a teaching and professional print studio in Somerville, MA.  For over 20 years she taught at Mass College of Art and Design. Annie has had artist residencies in graphic studios in Denmark and Ireland where she has also taught workshops.  Her artist books and prints are exhibited and collected nationally and internationally, and are in the collections of The Boston Athenaeum, the Boston Public Library and the De Cordova Museum. She has exhibited prints in the last 2 Boston Printmakers North American Biennial Exhibitions, and will once again has a print in the upcoming Biennial Exhibition at Boston University  in October 2023. 
In 2022 Annie published A WOODBLOCK INDEX: 22 years of Woodblock prints in a limited edition of 200 copies.
Nomi Silverman
I Had a Home Once, Syria; I Live in Berlin
2 part artists book; lithographs, woodcuts, silkscreen, offset prints
14" x 10' when opened (or less depends)
$5000
This book tells the true story of a young Syrian man, who I met in Istanbul,  forced to leave Syria, and who eventually found his way to Berlin. Book 1 is the destruction of Syria, with quotes that contrast present day Syria overlaid on some of the prints that tells of his youth. Book 2 is his forced exodus to Berlin.
Bio
Nomi Silverman's work is in many collections, including the Metropolitan Museum of Art, the Fine Arts Museums of San Francisco, The Slater Memorial Museum, the Hunterdon Museum of Art, The Housatonic Museum of Art, The William Benton Museum of Art, and many others. She has had numerous solo shows across the country including The Housatonic Museum of Art, the Fairfield Arts Center, Silvermine Arts Center and the Center for Contemporary Printmaking. She has been included in many international exhibits including Romania, the Taiwan Biennial, and upcoming, 3rd Global Print in Duoro, and The Douro Biennial. She has been the recipient of numerous grants and residencies including two Puffin Foundation Ltd Grants, two Connecticut Commission on the Arts grants and a fellowship from Duke University, as well as being a finalist for a MacDowell Residency. Her work has been reviewed in the Pressing Matters Magazine, the LA Times, the New York Times, the Advocate/Greenwich Time and the Philadelphia Weekly. Her work has also been included in Strokes of Genius 3 (North Light Books) and an article in Venu Magazine. She is in numerous national and international collections.
Ania Gilmore, Gunta Kaža, Małgorzata Oakes, Stephanie Stigliano
Four Women for Freedom
Artist Book, Ania Gilmore binding technique; Strathmore 400 series heavyweight, Astrobrights® Colored Paper Re-Entry Red, Collagraph, Dry Point, Dry Transfer, Monotype, Linocut, Lithograph, Painting, Photocopy Transfer, Relief Print, & Stencil, Silkscreen, Cotton Thread, Akua Intaglio Inks, Speedball Water Based Block Printing Inks, Cranfield Relief Printing Inks, Binder Ring
29 pages of  9.5" x 5" (Open: 22 x 22 in)
$850
"Collaborative work by Ania Gilmore, Gunta Kaža, Małgorzata Oakes, Stephanie Stigliano created for the traveling exhibition FREEDOM Project that talks about ongoing global conflicts and issues related to human rights, violence, aggression, war, social and racial injustice. 

Ania Gilmore: "In order to bring us back together, we need to recognize what tears us apart; 
a collection of words written by people from all over the world answering the question: 
What divides Humanity today?"   

Gunta Kaža: "Freedom is messy, it is prickly, especially when one person's freedom dominates 
and impinges on others."  

Malgorzata Oakes: "FREEDOM Project is my contribution to speak out about the significant issue regarding lack of freedom that touches many lives around the globe. It is important we continue 
to be resilient to strive for a better future."  Stephanie Stigliano: "As I feel increasingly desperate in a hostile world, these prints represent 
my hope that nature will ultimately prevail."
Bio
The prints and artist books of Stephanie Stigliano are included in the collections of the Fogg Museum and the Houghton Library of Harvard University, the Boston Museum of Fine Arts, the National Museum for Women in the Arts, and the Book Art Museum of Łodz, Poland. In Krakow, Poland, she contributed to a print portfolio at The Jan Matejko Academy of Fine Arts. Her artist's books were included in Correspondence: The 9th International Book Art Festival, which traveled throughout Poland, and Al-Mutanabbi Street Starts Here, which traveled globally. She exhibited her prints at Íslensk Grafík, Reykjavik, Iceland. In 2022, her prints and books were exhibited at the Bedford Library in Cut and Paste; Cool, Calm, and Collected at Gallery Twist; and at the Arnold Arboretum in The Art of Nature/ The Nature of Art. In 2023, Stigliano contributed prints and an artist book to The Freedom Project which is traveling between the USA and Poland. Her books were part of Building Books, exhibited at University of Southern Maine in Portland; and Art and Poetic Text at the Cultural Center of Cape Cod in Yarmouth, Mass. At the Edge of the Ocean, a collaboration among Stigliano, nine other artists and one poet, was recently exhibited at Zea Mays Printmaking in Florence, Mass. Four Women for Freedom, her collaboration with three other artists, will be exhibited at the 30th anniversary of the Book Arts Museum in Łodz, Poland and become a part of the museum's permanent collection. She is a professor at Boston College where she teaches Making Prints/Making Books. A longtime member of The Boston Printmakers, she has served on the board, and as editor of The Quarterly and Member News. She is a co-founder of New England Book Artists.
Susan Jaworski Stranc
And so...Every year It Comes
Reduction Linoleum, caligo inks
9" x 12"
$600
I began to experiment with printing interchangeable Styrofoam plates (grocery store meat trays) because I was looking for a method to compose more dynamic compositions for my color reductive linoleum prints. With a few shapes cut from Styrofoam, I could rearrange these compositional shapes multiple times during printing process. Later I enhanced the surface with the addition of oil pastels. This method of working created dynamic compositions to choose from when selecting  a final version to make into a reductive print edition.
Bio
I am a printmaker, specializing in the creation of reduction linoleum prints.  After each successive printing of a color, the surface of the block is reduced while at the same time the print surface is built up with muti-colored layers.  Born from one block of linoleum, my relief prints have the color nuances and rich textural surfaces of an oil painting.
Although Picasso coined this method of working, a 'suicide print, I rather think of this process as emulating the journey of life.  While creating these prints, I am never able to revisit past stages/states because proofing and editioning simultaneously.  I can only proceed forward with acceptance of all the good and not so good choices which wee mediated and acted upon with the hope and joy of completion.
 
Gilead Tadmor
Portrait of a Man
Monotype with intaglio on a Tetra Pek substrate
13 x 10" 
$250 
Portrait of a man, based on an ancient mugshot; a Tetra Pek (milk carton) was used as a drypoint intaglio printing plate; it was placed on top of an ink-rolled combination of corrugated carton pieces and printed on etching paper using an etching press.
Bio
Born in Israel, I am a retired engineering and mathematics professor. The son of the prominent Israeli artist and art educator, Zvi Tadmor, I studied art with my artist father. I maintain homes and studios in  Haifa, Israel, and in Cambridge, MA, USA. My art includes sculpting and relief making in paper (papier-mâché), painting, drawing, collage and printmaking. Motivated by my interest in the human condition, my art is almost exclusively focused on human and human like subjects. I am a member-artist of the Cambridge Art Association, the Boston Printmakers and Gallery 263. I have shown his work in group and one man shows, in the US, Israel and Europe.
Julia Talcott
Fallout
Modular woodcut monotype installation
Each 1'x1' square is $350
with a sliding amount per square based on amount purchased.
Fallout  is a modular installation project of 1'x1' woodcut monotypes created from a limited number of woodcut matrixes.  By varying the color and using stencils I ran each square through the press multiple times, often using multiple matrixes.  I made choices about color and composition on the press while printing. Surprises happened, good and bad.
This installation changes every time I show it.  The infinite choice and possibilities mirror conditions in my life.  I am interested in the language of symbols as they exist in my unconscious; what is their meaning in a cycle of balance, menace, chaos, tension and release?
Bio
Julia Talcott is a printmaker, painter and illustrator and teacher.  She currently teaches relief printmaking techniques at her studio and at the Arsenal Center for the Arts in Watertown, MA.  Creator of the 1996 Christmas stamp for the US postal service, she has received 4 certificates of design excellence from Print Magazine, and has been featured in both Electronic Publishing and Electronic Step by Step.A member of the Boston printmakers, she has shown her work in various group shows both in the Boston area and nationally.  Her work is in private, museum and corporate collections. 
Adrian Tió
Posada and the Penitents (The Devil's in the Details)
Woodcut on Masa Paper
24" x 36"
$325
Printmaking offers a visual format that can communicate to a broader, at times, bilingual audience. Works such as Posada and the Penitents serves as an homage to the great Mexican printer incorporated with images sourced from my own family history. As a Latino with a Caribbean heritage, these works help expand and enrich my mainstream American identity while navigating the dichotomy of these two worlds.
Bio
The artist was born 1951 in Fort Wayne, Indiana, to parents who had emigrated from the Caribbean Island of Puerto Rico. Tió received his fine arts training from Temple University (B.A. 1974), the University of Cincinnati (M.F.A. 1979), and studied at the Tyler School of Art in Rome, Italy (1975-76). The artist has exhibited nationally as well as regionally in drawing, painting, and printmaking for over 40 years, and has conducted workshops on mural painting, papermaking and the book arts. Tió has received recognition for his work through exhibition awards and creative research grants from Arts Midwest/NEA, Indiana Arts Commission, Indiana State University Arts Endowment, Ohio Arts Council, New Forms Regional Grant Program, Arts Commission of Greater Toledo, and Bowling Green State University. Residing in Mattapoisett, MA, Tió, a retired Professor of Fine Arts, maintains a studio at Hatch Street Studios in New Bedford.
Bob Tomolillo
Go Figure
Lithography
40" x 36"
$2800
Arranged repurposed image made from previous editioned hand drawn lithographs on limestone.
Ideas that begin my art making evolve from emotional responses to situations that generate a particular irony." "I use the artistic process to contemplate and express the world around me, and will not hesitate to follow an idea into a different medium or style. Analyzing the elements in my lithographs allows me to ponder a catalog of shapes, forms, and narratives. "Go Figure" is a print composition made from fifteen previously printed lithographs, repurposed and arranged into a large scale composition.
Bio
Born Cambridge 1952, BFA UMass MFA Syracuse
Kevin Whitman
Morningstar
Relief monoprint
22" x 17"
$900
Whether it's a patch of uniquely textured skin or the subtle nuances of the curve of a wrist, I am infinitely fascinated by the elements of the human body that often go unnoticed. My work draws from these and like observations of the human body and manipulates them, distorts them and reconstructs them into forms and compositions that are foreign, and yet at times seem so recognizable. With these reimagined observations in juxtaposition with the unique textures and the materiality afforded through the medium of print, my work seeks to re-interpret the way we see and perceive the human body, inside and out.
Bio
Kevin Whitman received his BFA from Massachusetts College of Art and Design with a focus in printmaking. He currently lives and works in the Boston area. His work centers on themes of distortion and the perception of the human form. He is a past recipient of the Genevieve McMillan-Reba Stewart Traveling Fellowship.
Kathleen Wynn
Seen/Unseen
Collage on monotype
15.5" x 11"
$600
Collage on monotype using cut pieces of prints and hand drawing.
Bio
Member of Fill Tilt Print Studio
Board Member/Boston Printmakers
Juried Shows:
•    Boston Printmakers 2023 North America Print Biennial, Oct. 2023
•    Gallery Twist, "Pairings", Lexington, MA, Sept. 2023
•    New Art Corridor @ Trio, "Small Works", Newton MA, Dec. 2022
•    Upstream Gallery, "Drawn from Life 3," Hastings-on-Hudson, New York, Aug. 2021
•    Color | Ink Studio, BIG INK Print Exhibition, Hazel Park, MI, June 2021
•    Upstream Gallery, "Drawn from Life 2", Hastings-on-Hudson New York, Aug. 2020
•    Vancouver Art Space, "Once Upon a Time (the art of fantasy)", Vancouver, WA, Sept. 2019
•    Boston Psychoanalytic Institute, Images of Psychoanalysis: "The Inward Gaze", Newton MA, Sept. 2019
•    Upstream Gallery, "Drawn from Life", Hastings-on-Hudson, Sept. 2019
Curated Shows:
•    Monotype Guild of New England, "Press & Release" Henniker, NH, Nov. 2019 Honorable Mention
Dorothea Van Camp
Teeter
Mokulito (wood lithography) and monoprint on BFK Rives
31" x 24.5" (framed)
$1300 framed
The imagery for the ShePeril series was "discovered' when I noticed my overlapping transparencies laying on the table in preparation to expose screens. They were suggesting all kinds of figures or animal beings so I began shooting snapshots with my phone as I reconfigured the transparencies on my table. I am using the snapshots as source material for the entire series.
To make the Mokulito plates for these images, I printed my screens with lithography tusche, alkyld/oil based paint or acrylic medium, then added drawing with litho crayon, spray paint and rubbing ink. I am finding the combination of the organic wood of the plate and less stable lithography matrix counters my precise vector files in a satisfying way.
Bio
Dorothea Van Camp has a BFA from Rhode Island School of Design, and attended the University Of Cincinnati College of Design, Architecture, Art and Planning, graduate studies in printmaking. 

She has shown extensively in the northeast with work currently included in The Boston Printmakers North American Biennial, Boston, MA, and most recently at 13 Forest Gallery, Arlington, MA, Hallspace Gallery, Dorchester, MA, and Montserrat College of Art, Carol Schlosberg Alumni Gallery, Beverly, MA. 
A review of her latest show Breach by Cate McQuaid of the Boston Globe infers:
"In Dorothea Van Camp's painting/screenprint hybrids at HallSpace, upholstery and wallpaper patterns heave, twist, and flutter in unnervingly indeterminate spaces. The designs resound with household familiarity, but the way she pushes them insists on tension and change. She evokes rites of passage and the life cycle they usher us through.
These paintings hold a lot; in grief, hope and in hope, grief. The sheer propulsiveness of some of the patterns keeps the works from feeling sodden or sentimental, removing them from placid domestic interiors like the tornado carrying Dorothy off to Oz — while at the same time delivering us into the true, aching drama of life at home. One plant dies and another flowers. We are wrecked; we are rejuvenated. Life goes on." Where the wallpaper patterns become sheer drama, by Cate McQuaid
Art review, The Boston Globe, June 25, 2021 
Van Camp's work  is included in numerous collections, including; State Street Bank, Federal Reserve Bank, Bank of America, Wellesley College, and Mellon Bank.
Malgorzata ZurakowskaG
Global WarNing
Mezzotint
Plate: 7.5" x 10.5"; Paper 13" x 16.5"
NFS
In my work, I strive to visually express the impossible, the mystery of infinite expansion of the primordial Light saturating all Being. Inspiration for my works comes from a variety of sources, from ancient esoteric texts to the cutting-edge cosmology and quantum mechanics, as both ancient tradition and modern science converge in the human never-ending quest to understand the mysterious nature of Light.
Bio
Malgorzata (Margot) Zurakowska had over 30 solo exhibitions in Belgium, Canada, Germany, Iceland, Norway, Poland, Switzerland and USA. She won numerous international awards and medals including: Premio Biella Per L'Incisione, Italy; Norwegian Print Biennial; International Print Biennial, Krakow (multiple); International Triennial "Small Forms" Lodz, Poland (multiple); Print Biennial, Miami, USA.
She participated in over 100 group exhibitions around the world, including "Salon d'Automne" Paris; "Chefs-d'Oeuvres de L'Estampe du XX-eme Siecle", Bibliotheque National, Paris; Museum Fridericianum, Kassel, Germany; Sylvan Cole Gallery, New York, NY; Accademia di Belle Arti, Bologna, Italy.
Her mezzotints are in museums throughout the world, including MFA, Boston MA, Bibliotheque Nationale, France; National Museum, Poland; Trondelag Museum of Art, Norway; The Canada Council Art Bank, Canada.
Zurakowska MFA is elected member of the Royal Canadian Academy of Arts and is Professor and Chair of Illustration Department at Massachusetts College of Art & Design, Boston MA. She is also a member of the Boston Printmakers Board. She resides in Lexington MA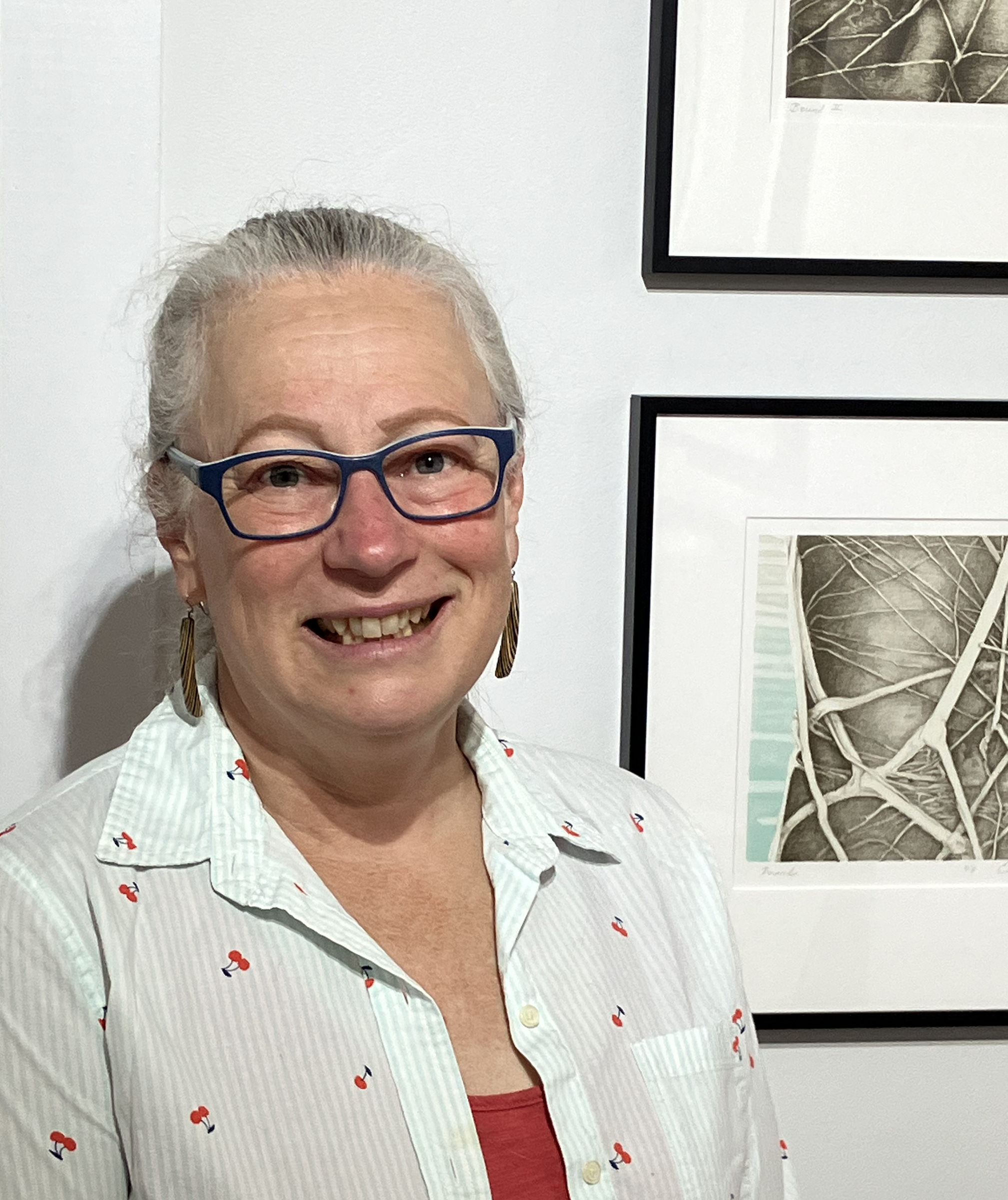 Juror: Carolyn Muskat is a Master Printmaker, who owns and operates
  Muskat Studios, a professional printmaking studio in Somerville, MA, where
  she creates her own work and collaborates with artists to produce original
  fine art print
Thumbnail Image credit: Go Figure, Robert Tomolillo
Workshop Image credit: Wrapped I, Carolyn Muskat
Print Credit: Ukraine, Mary Kostman