MARK MAKERS: Cameraless Images Open June 16!
The Umbrella Arts in Concord presents Mark Makers: Cameraless Images, an exhibition of photographic art that is not photography, combining new work by Nina Earley, Cynthia Katz, and Carol Krauss.  Mark Makers was selected through a competitive juried process for its caliber and creativity.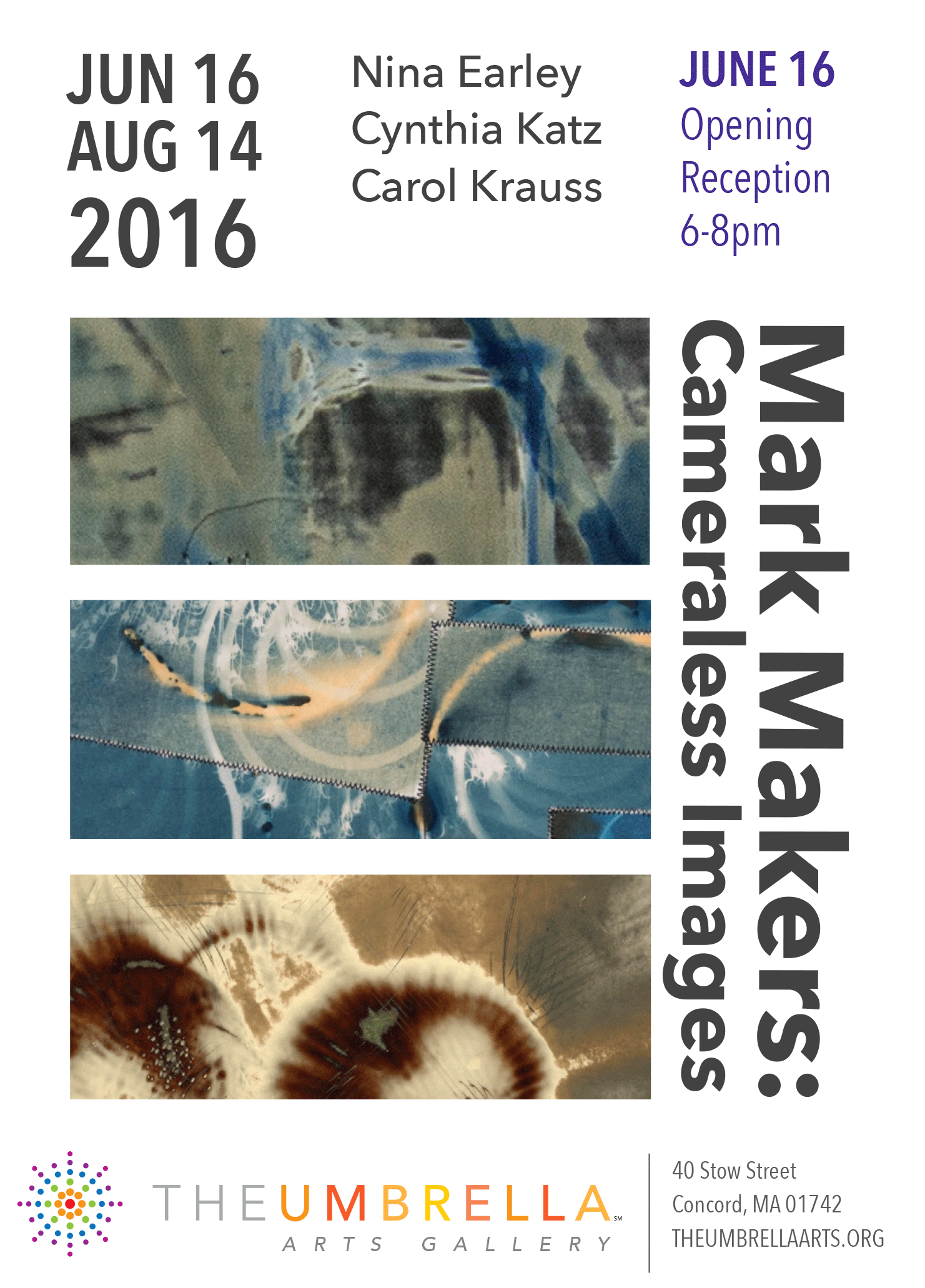 All three artists are trained in traditional photography, but then diverged from the traditional along three different paths.  Nina Earley, former initial Artist-in-Residence at The Umbrella, utilizes a variety of media to create place-based abstract images. Cynthia Katz uses 19th century cyanotype techniques as the basis for her stitched and sewn collages.  Carol Krauss experiments with silver gelatin materials by adding an element of heat to her prints, and a layer of cyanotype to some.  All three create images without a camera.  All three create images without film or negative.  All three create images with an element of surprise using playful experimentation and/or deliberate abuse of light-based photographic materials.
Nina Earley works in a variety of media, creating this new series by combining silver gelatin prints, hand-drawn and waxed paper negatives, cyanotype, and thread stitching. She combines these elements to create layered line drawings that include memories of specific places and responsive marks that turn into new maps of imagined spaces.  Without anchors and names the viewer is left with a feeling of remembrance and place, allowed to find his or her own stories in the created spaces.
Cynthia Katz's cyanotypes, or blue prints, give homage to photography's nascent days when the garden was also a common source for imagery. Drawing on these themes, Katz mixes her favorite chemical recipe and then turns to the garden for inspiration.  Gardening and blue printing share a process-oriented approach that is slow and timely, ethereal and spiritual, and ultimately, ephemeral.  Happy surprises and the promise held by chance keep her at it, and failure simply propels her toward next year's possibilities. Each summer's garden is different; the same holds true for each cyanotype session.
Following her longstanding recycling habit, she also plays with the accumulated cyanotypes by cutting, stitching, and layering to find new images out of old.  She delights in the process of transforming old elements into new images, not unlike the experience of planting seeds each spring to mark the start of another garden season.   
Carol Krauss' path began with photograms, an early 20th century process, but she soon discovered the accident of heat on silver gelatin papers.  Originally trained as a highly exacting Zone System black and white photographer, she reacts to the structured rules by trying to test the limits of the materials, chemicals, and processes.  Her results flow from a process that is a combination of light, chemicals, heat and paper.  She scrapes, scratches, steams, melts, and otherwise abuses the paper using deliberate primal strokes and common household equipment to mark into the medium.  For inspiration while printing, she reflects back to both the early 20th century works of Man Ray, Hermann Rorschach, and Mark Rothko, and the more contemporary work of Adam Fuss, Marco Breuer, and Lotte Jacobi to create new possibilities.
Intentional gestural marks combine with unplanned combinations of chemistry, light and heat to form the layers that comprise the pieces.  As each artist worked, she shared her successes and common threads began to erupt, resulting in an exhibition of works in conversation.
The Umbrella is located at 40 Stow Street in Concord Center.   Mark Makers: Cameraless Images runs from June 16th through August 14th.  The Opening Reception is June 16th  from 6-8pm, free and open to the public.