What Goes Around, Comes Around on Ben Eberle's Potter's Wheel
May 13, 2022 by Pam Ellertson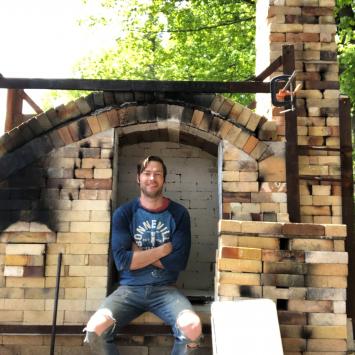 Master class ceramics artist and teacher Ben Eberle will lead a two-day workshop at The Umbrella Arts Center this weekend. In doing so he is returning to the place that literally shaped his life and career back when he threw his first pot in an Umbrella art studio as a young teen.
"I didn't even know what a potter's wheel was," said Eberle of his first experience with ceramics. As an eighth-grade student at the Fenn School in 1993, he traveled with the rest of his class of all boys to The Umbrella to fulfill an art elective. He remembers the thrill of being immediately successful with the pottery technique known as "pulling the wall up," which is one of the first steps a potter takes when creating a vessel from a lump of spinning clay. It starts with the artist pressing down on the center of the clay, creating a void that eventually a dozen daffodils may fill if the end product is a vase.  The tricky part comes when the potter simultaneously applies pressure to the exterior of the clay gently guiding, or pulling, it upwards to form the walls of the piece. Eberle said typically it takes a novice, especially a youth, 20 or 30 attempts to get it right whereas, "It made sense to me right away." 
In addition to the hands-on aspect of that first class, "We got to go on a little tour and when I got to see the gas kiln with its burners and stuff I thought, 'This is crazy!' I loved the whole technical side of it almost as much as the making of it, so it was all-encompassing."
In fact, today, at 41, with over twenty-five years' experience of combined teaching and artistic output resulting in "thousands and thousands of pots," Eberle also considers kiln consultation as "my specialty, and most of my training deals with forced draft gas kilns, their burner systems, materials, design, and construction."
"Our ideal is to instill a life-long love of ceramics," said Zachary Mickelson, The Umbrella Ceramics Studio manager, "but it's rare, even with the serious-minded, to see the jump from amateur or hobbyist to professional. It speaks to what we are trying to do here."
For the weekend's workshop Eberle said he hopes to foster an atmosphere that focuses more on process and experimentation rather than the product.
"Some adult students want everything clean and neat then there's the hot mess student…I had this guy Howie once; he didn't want to keep any pots—he was completely free. He scrapped everything he did in the reclaim bin. If I have students that get over the object, release themselves from the product, then that's golden. If they can embrace the process and see what the material allows in that process, that's the sweet spot."
Eberle's mentor, Toshiko Takaezu, one of the world's finest ceramic artists who, according to the New York Times elevated ceramics "from the production of functional vessels to a fine art" prized artistic authenticity and risk-taking above all else.
"She taught us all to be individual and be unafraid to stand out even if that means a lot of failure through experimenting. If you screw up, just put it (the clay) back in the water…That's very liberating," said Eberle.
The first day of the workshop students will watch Eberle's technique throwing mugs, plates, teapots and small bowls in addition to participating in discussions on sources of inspiration. On Sunday, Eberle will pull out his blow torch drying the surface of different objects just enough in order to emboss them with some of the wood-block palettes made from found objects like wood flooring and trim pieces that he's been working with for decades.
"You can wrap a square block onto a round cylinder and you get curves, you get form, and if you are lucky, you get texture. What starts as flat, becomes organic."
When Mickelson contacted Eberle months ago about doing the workshop he had no idea of the artist's history with The Umbrella.  Said Mickelson, "It was serendipity."
"I am just truly humbled by the opportunity…you just don't get to come back to where it all started every day," said Eberle.