Volunteer Spotlight Vinita
November 5, 2019 by Pam Ellertson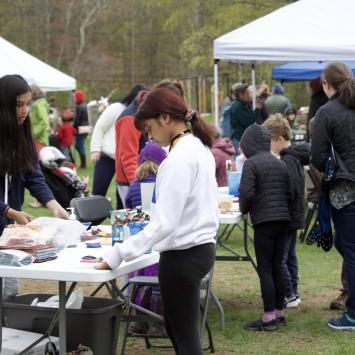 For Vinita Mahanti, volunteering at The Umbrella wasn't just an opportunity to work despite being too young to get a job, it also offered her the chance to give back to the community through a subject she was passionate about: art.
Fifteen year old Vinita began volunteering at The Umbrella two years ago when she was still in middle school. As someone with an interest in community service, the idea that she could help others without expecting anything in return spoke to her. Vinita began by volunteering at a food fair and, after enjoying that experience immensely, she turned to helping out at the Earth Day fair and various art tables. "It's really fun [volunteering at the art tables] because the kids who do it seem really passionate about it," says Vinita. "And what they make is really creative. It's cool seeing kids do it for fun." Outside of the various fairs and tables, Vinita has also ushered a number of theater performances, which she greatly enjoys due to the small size and personal nature of the shows.
For Vinita, the best part about volunteering at The Umbrella is the people, who she says are all very nice. Interacting with fellow volunteers, center staff, students, and families has been largely beneficial to her people skills, specifically her communication and organization skills. She also believes that volunteering has improved her focus and efficiency.
The Umbrella is the perfect place for Vinita to volunteer because of her interest in the arts, specifically drawing, pencil, ink, and paint. Not only have her own art skills improved since she started volunteering, but she also gets inspiration from other artists at the center. At one art show, she met a woman who painted water-side scenes of Cape Cod. Vinita was so moved by the artist's work, which she described as being idealistic and almost other-worldly, that she bought a few of her prints. But that artist wasn't the only one who inspired Vinita. "There are so many other artists," Vinita explains. "That's just one example. There are so many cool artists here doing creative things because they enjoy it, and it's their passion. And that's inspiring to me."
When asked why she thinks volunteering is important, Vinita replied, "Because it's a different thing to do something that doesn't directly benefit you and to just give back. I think that's very important. It feels really nice to put energy and effort and not get anything back and just do it for the sake of good nature. I think it makes us better people." Outside of her time at The Umbrella, Vinita explores her passion for music through volunteering at Nara Park concerts.
Despite being busy with various volunteer activities, Vinita still finds time to bike, spend quality time with her friends, play the drums, and write in her spare time. Writing, in particular, helps Vinita to pause and reflect on her day.
In the future, Vinita hopes to explore environmental advocacy and conservation through art more. In particular, she would like to potentially explore pursuing a career in architecture, with a focus on environmentally conscious cities. She has already begun working towards this goal through taking 3D modelling courses at school to gain experience with solid works, auto desks, and the necessary software for the field.