Volunteer Spotlight: Rachel Zou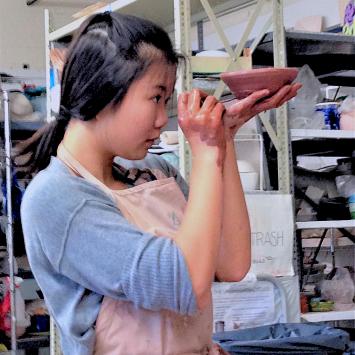 Written by Monica Chen

Once a week, Rachel Zou comes in and serves as a teaching assistant, setting up materials, making sure the kids are set up with everything they need for the class or party, and keeping the atmosphere fun and engaging for the students and teachers alike.
"Rachel has helped me in the ceramics studio at The Umbrella for the past year, and from the start she has always been a kind, patient, and motivated volunteer," states Alexa. "Teaching nine kids at once how to use the potter's wheel can be a very challenging task, but Rachel has always gone above and beyond with not only making my job easier but also in ensuring that the kids have a fun and enjoyable time learning!"
Volunteers play a crucial role in helping The Umbrella run smoothly and provide arts education that encourages creativity, artistic expression, and a sense of collaboration within the community. One thing that drew Rachel to The Umbrella was the wide range of arts classes and activities that it provides. Rachel herself enjoys painting, drawing, ceramics, and engineering. She also feels very strongly about volunteering and serving the community. "I think it's just really important to help out the community," she states. "I especially love working with kids because, from a young experience, I wasn't treated that well because I was bullied a lot, so I think helping children is really important because you don't know what they go through."
It is clear that Rachel has learned and grown from overcoming some difficult experiences. Her passion for volunteering and helping children is evident in her interactions with students during classes. Alexa, in detailing how Rachel works with the students, states, "Rachel is so helpful and her strengths especially show through when any student in particular is feeling frustrated with their work. She makes a point to swoop in and engage the student and resolve any issues he or she may be having."
Outside of volunteering at The Umbrella, Rachel also enjoys dancing for Angel Dance Company and working at the Lexington Math Club as a teacher's assistant. Next year, Rachel plans to join the cheerleading team at CCHS because she feels it will be a great way to combine her love of dance and gymnastics. In the future, she hopes to continue to use her art skills by pursuing a career in engineering, which she has already been taking steps towards by taking engineering classes in high school to receive an engineering certificate. As she thinks more about college, she is looking into schools with good engineering and robotics departments.
Rachel clearly has a very bright future and The Umbrella is grateful for the time and effort she has put into fostering a welcoming, kind, and creative atmosphere during her time as a volunteer.