Volunteer Spotlight: Noah Covell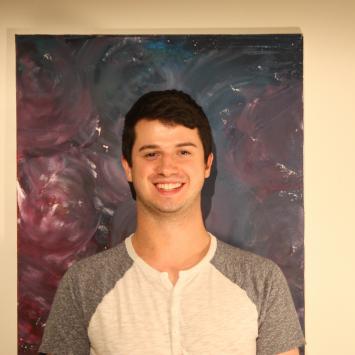 Written by Karen Carlson, Campus Director, Bay Path University- Concord MA
Noah Covell has been a dedicated volunteer at The Umbrella for the past 2 years. He has a passion for the arts and appreciates the skills and creativity that he sees in the many Umbrella artists that he interacts with while working at The Umbrella. Noah volunteers primarily on weekends and evenings by taking photographs of various events and you might have seen some of his photos in The Umbrella newsletter.
Prior to coming to The Umbrella, Noah's photographic work did not include a lot of portrait work, in fact he had to purchase a long-range lens just so he could take close up photos from afar. Noah explained that he enjoys photographing events and his role as the "fly on-the-wall" photographer, allows him to "capture the energy of communication" by remaining on the outskirts of the communication interaction so he doesn't disturb the moment. This is one of his many talents, taking unobtrusive photos.
As a recent graduate of UMASS Amherst, Noah, majored in German, which I think was influenced by his love for German cars.  When Noah is not out shooting pictures or painting abstract acrylic works of art, you will find him at the Larz Anderson Museum (America's oldest car collection) in Brookline MA.  He is an early-model car enthusiast so The Larz Anderson Museum is a special place for him to spend his free time.
When I asked Noah to describe his volunteer experience at The Umbrella, he said, "It has been fun".  He explained it allowed him to develop new skills and spend time with a creative community of artists and patrons of the arts. Noah described The Umbrella as a positive, upbeat work environment and recommends it as a great place to volunteer. He said, "People are happy here because they are doing what they really want to do."