Volunteer Spotlight: Kristen Rivard and Julia Zipoli
April 24, 2020 by Rachel Olson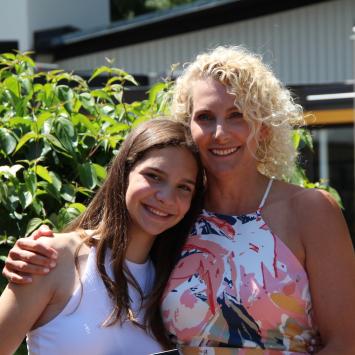 Can you explain your volunteer work?
Every month since October 2019, my mom and I collect flyers from The Umbrella Arts Center and distribute them at businesses throughout West Concord. The flyers advertise the events and programs being offered at The Umbrella. 
How did you get started?
We are members of the National Charity League (NCL), which is an organization for mothers and daughters interested in philanthropy. Volunteering for The Umbrella was one of the many local volunteer opportunities offered through NCL. With our busy schedules and need for flexibility, volunteering for the Umbrella was a unique opportunity for us to earn our volunteer hours and to help The Umbrella too.  
What keeps you coming back?
We continue to volunteer for The Umbrella Arts Center because we believe in their mission. The Umbrella "enriches lives and builds a vibrant community through the arts". We enjoy attending visual arts presentations and arts education programs. We are grateful that we are able to do this without leaving our own community. Volunteering posting flyers to help increase interest and attendance for The Umbrella is a small way we can support The Umbrella.
What is/was your profession?
My mom, Kristen Rivard, is an Adult Nurse Practitioner and Women's Health Care Nurse Practitioner, currently working in both dermatology and reproductive health care. She is also a guest speaker at local independent schools teaching sexual health and wellness to adolescents. She was the Nashoba Brooks School Parents Association Vice President in 2017-2018 and the President in 2018-2019. She is active in the National Charity League and in Christmas in the City. 
I am currently a sophomore at Concord Carlisle High School and on the varsity rowing team at CRI in Boston. I am involved in the National Charity League, in Christmas in the City and at Holy Family Parish in Concord. 
What is your life like in Concord? Family? Lifelong resident or recent arrival?
My family moved from Acton to Concord almost three years ago. I attended Nashoba Brooks School in Concord from grade 5 through grade 8 and graduated in 2018. I have a younger sister, Lauren, a younger brother, Zach, and a dog named Maize.