Volunteer Spotlight: Dan Kemp
June 24, 2020 by Anonymous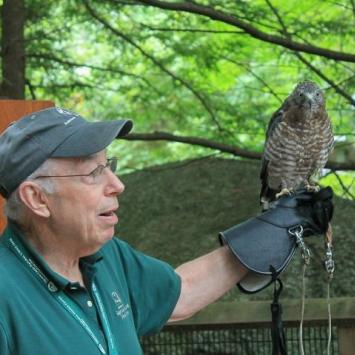 By Josey Murray

Dan Kemp is a naturalist, writer, documentary filmmaker, photographer, and lifelong learner. His volunteer work at Umbrella Arts Center gives us only a glimpse into his varied talents and
passions. The Arts & Environment Program has allowed him to use his skills as a writer, explore a new interest in documentary filmmaking, and engage in an enduring interest in the natural
world.
Dan started volunteering at the Umbrella Arts Center in 2015, primarily applying his writing skills to the Arts & Environment Program. For the past five years, he has enjoyed the community he found there and has been on the planning committee for the Earth Day celebrations. 
Dan came to this volunteer work after a career in software development. He insists the computer programming, designing systems, and writing manuals about designing systems that he did were always creative pursuits. He explained, "I need to build things." After spending another eight years with a software product company he started with friends, he decided to go back to school. Influenced by a lifelong attraction to nature, Dan attended Antioch University New England and earned an M.S. in environmental studies. While there, he worked as the editor of their literary nature magazine. 
Since completing his Master's, he has been spending half the year in New Hampshire. He does some animal talks at a local nature center there. He built an interpretative nature trail and a wooden canoe. 
In the Arts & Environment Program, he has been the one to go to if you need anything written, but recently he's taken on a new role. While auditing a course at Wellesley College on documentary filmmaking, he instantly knew he wanted to try it out. In the past few months, he has been working on a video about Concord drinking water and wastewater systems. During the lockdown caused by COVID-19, he has spent most of his time editing film. 
I asked Dan what he thinks about the intersection of environmental advocacy, appreciation of the natural world, and art. Although he is skeptical that environmental art can change attitudes about environmental protection among people on the far end of the political spectrum, he thinks it important that this type of art allows the artist to engage deeply with nature and forces the audience to look more closely at our world. 
Dan is looking forward to completing a larger video project for the Arts & Environment Program. As of right now, he is cleaning up his yard, learning to cook, and reading many books at once. His need to learn hasn't been diminished even by our current situation, which some like me have determined is a good excuse to binge bad reality TV on Netflix. He just finished Michael Pollan's How to Change your Mind, about psychedelics. He's reading a mystery novel written by a graduate-school classmate, another book about the history of science, and another called Why Buddhism is True. 
I had the opportunity to get to know Dan over a Zoom call. His curious and contemplative spirit came through in his stories of his career as a software developer, recent environmental studies master's student, and how auditing a Wellesley College course ignited a new passion. We bonded over his being an auditor of Wellesley College classes and my being a recent alumnus of the school. His energy is more vibrant than some of the burnt-out students I knew at Wellesley, including me. I can only hope that my curiosity and eagerness grow over time so that I, too, at his age, can have diverse hobbies and passions, and such unhindered energy.
The Concord Water Story from Dan Kemp on Vimeo.