Volunteer Spotlight: Cooper Philips
July 12, 2020 by Anonymous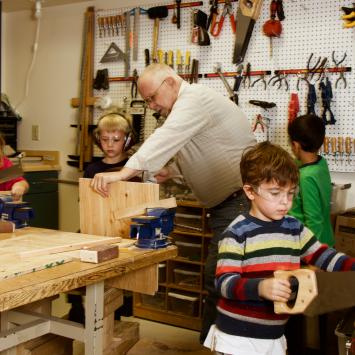 By Josey Murray
Cooper is modest man who couldn't imagine why volunteer coordinator, Kathy Warren, would want a profile done on him. Kathy Warren recruited Cooper over two and a half years ago when he was looking for something to get involved in after retiring. Cooper spent the last ten years of his career "overseeing the installation of fiber optic networks at air force bases," which necessitated lots of traveling. 
Kathy and Cooper are neighbors and I imagine their conversation about volunteering happened over a white picket fence where their yards meet, but maybe I'm romanticizing. 
He's spent the last two and a half years volunteering for the center, assisting in woodworking classes to children aged six through eight and helping with the winter market in whatever capacity is necessary. Birdhouses, wooden dolls, gumball machines. These are the types of projects he worked on with students. His work with young children shows he's mastered the art of patience along with the ability to craft wooden novelties, but his real interest in teaching this age group is due to their rosier perspective. 
He's also assisted in children's art birthday parties at the center, where the kids do arts and crafts and eat cake and ice cream under his watch. He loves to watch a child's face light up when they realize that they have built something of their own. His favorite part about volunteering is meeting the artists and talking with them about their different techniques
When he's not spending time at the arts center, he volunteers at an assisted living community. He assembled a "men's chat" that gives older men a place to talk, tell their stories, and spend time with others.
Cooper is eager to get back to his normal routine of volunteering at the arts center and at the assisted living community. For now, with the limitations caused by coronavirus, he's walking two to ten miles a day on a local trail in Acton and spending time with his cat, Bella. 
If all of these activities don't seem to fill Cooper's time, he has various other hobbies and interests. His late wife used to say that he never saw a book he didn't like. He loves westerns. He recently read a history of John Brown, a gunsmith. Cooper used to shoot competitively. He's also done some leather working and furniture building. In his words, he's done "a little bit of a lot." 
Cooper deserves this spotlight as much as any other volunteer, but his inability to believe such speaks to his character. Humble, patient, and calm. I felt his presence as caring and calm even over the phone. He has to be in order to be able to assist in woodworking classes to children. I couldn't imagine the task. It was a joy speaking with him and hearing about what he does for the Umbrella Arts Center community as well as what inspires him daily.