Volunteer Spotlight
October 22, 2019 by Pam Ellertson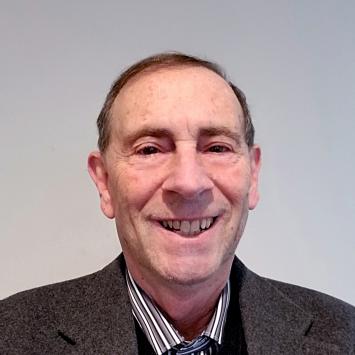 David Rosen
Written by Monica Chen
"I was attracted to the Umbrella because I wanted to help support its mission to build a vibrant community, and showcase and advance the arts," says David Rosen, who has volunteered with The Umbrella for the past three years. "I believe the arts have a unique ability to bring together diverse constituencies and enrich individual lives."
David is a former journalist who has served as the chief communications officer at five colleges and universities. While he devoted most of his professional life to communications and marketing, he has been interested in creative expression since he was young, when he started taking piano lessons and dabbling in black and white photography with a darkroom in his house. Since retiring from Emerson College in 2012, he has dedicated much of his free time to promoting the arts and free expression. That is why, when he found a volunteer posting for a photographer at The Umbrella on an online board in 2016, he felt that it was the perfect match. In particular, David was impressed by the scope and quality of the artists' work, the dedication of the staff and volunteers, and the generous support of the community members.
David, whose artistic style has always been journalistic, especially enjoys taking candid pictures that tell stories about people and events. During his time at The Umbrella, he has photographed many summer camps and classes for children, the Tiny Houses event, three Artrageous fundraisers, adult pottery classes, two Empty Bowls events, several Open Studios events, several gallery showings, two Winter Market events, and more. He has also taken documentary photos of the old building and fall vines, which was a particularly meaningful project for him. For David, those pictures hold a lot of sentimentality and nostalgia, especially for all the artists at The Umbrella, but they also contain a lot of hope and excitement for the future and for the new building.
Because of his deep connection to the mission of The Umbrella, David believes the center does a lot to bring the community together through the arts. "I think the arts really enrich everyone's lives," shares David. "It gives insight and pleasure and enjoyment. It makes people put their phones down and see something live and real. Arts help young children in other academic backgrounds, helps them focus and see things in different ways." The Umbrella plays a large role in this, which is why David is glad to see the center attract so many students, teachers, artists, and volunteers.
And David's volunteering doesn't just stop at The Umbrella. He is also on the board of directors and executive committee of the New England First Amendment Coalition. The organization focuses on free speech, freedom of press, and open government. His role involves editing press releases and monthly newsletters, as well as handling other marketing tasks. He also volunteers at the Sunday Live Blues, taking photos and videos of blues and other musicians to promote live music. Music plays a big role in David's life, as he began playing piano professionally when he was in high school and continued working with bands on weekends for 30 years. In his limited free time outside of his volunteer work, he also does commercial photography, including events like parties, graduations and small weddings, as well as portraits. And he enjoys spending time in his daughter's garden, fixing up her lawn and taking care of the plants.