Volunteer Appreciation Week - April 18-24
April 21, 2021 by Rachel Olson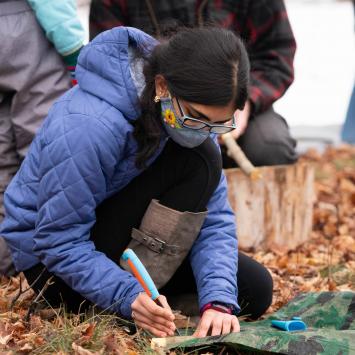 As a bustling nonprofit organization with many public programming areas, The Umbrella Arts Center depends heavily on the generosity of volunteers to help deliver performances, public art installations, classes and workshops, community celebrations and more all throughout the year. Volunteers fill so many roles -- from documenting events to setting up equipment, ushering shows to working with kids, helping with promotions to planning festivities and even serving on our Board of Directors -- we couldn't do all that we do without them!
For Volunteer Appreciation Week this year, we invited volunteer writer Chandreyi Datta to reach out to some of the other dedicated volunteers who help The Umbrella stay on mission to "enrich lives and build a vibrant and inclusive community through the arts." Thanks to them and to all the other generous folks who supported us in this challenging year!
Umme Habiba
I started volunteering at the Umbrella, in 2018 as a high school freshman. I am absolutely in love with the people running it and associated with it. I witnessed the place get renovated and become more vibrant and amazing. Participating in the events here and operating as part of the organizing teams has been an enriching experience for me.  I greatly value the exposure and learning experience The Umbrella has given me. 
I would like to mention one special project—the production of Hundred Days—where I worked as a volunteer. The experience was fabulous and I liked the show greatly. The Umbrella offers a creative and fun environment that inspires you and teaches you a lot.  Hence, I never miss an opportunity to work with them as a volunteer.

Vaishnavi Murthy
I started volunteering last year before the COVID crisis hit and the lockdown started. After things settled a little, we slowly worked our way back to the usual routine of organizing events. We followed all the appropriate safety measures and organized all the events in the open, like the Ninjas in Nature Festival and the Christmas Ornaments-making festival.
I thoroughly enjoyed my responsibilities—signing people in, supervising the events, and helping the participating kids make crafts.
I love The Umbrella for inspiring youngsters and encouraging the practice arts, especially out in nature.
Ron Mann
I've been doing photography for The Umbrella for a little over a year now. While I spent most of my career in software engineering, I began my professional life as a musician. 
I realize many talented artists in society lack the necessary patronage because the practice of art is yet to be regarded as an essential one.
Far too little attention is paid to the beauty of life rather than the difficulties of overcoming its challenges.  I, therefore, have spent more than a passing amount of time, professionally and otherwise, doing what I can to foster the practice of art. Offering my service as a volunteer in support of our community's local arts organization seemed a natural fit.
I am associated with The Umbrella as a volunteer photographer to capture precious moments from their wonderful programs, and I thoroughly enjoy my assignments.
Over the years, I have developed a stronger bond with this organization and have become more than a volunteer contributor. I am very proud to be a part of The Umbrella family and I am always there to cheer for the long and glorious journey ahead of it!

Christine Diaz
I am a volunteer writer for The Umbrella.  Writing is my passion and I enjoy my association with The Umbrella greatly. I admire them for their efforts to popularize and encourage the practice of arts in society, which is very important in this day and age.

The other thing I love is that it welcomes and involves people from all walks of life, irrespective of their age and profession.
I thoroughly enjoy every opportunity I get to serve this organization with my writing and presentation skills.
 
Left: Vaishnavi Murthy volunteers during February's Winter Ninja Festival, taken by volunteer photographer Sydney Ciardi.
Right: Umme Habiba has volunteered in multiple roles at The Umbrella, from working with kids in our Ceramics Studio to helping out on productions by our professional Umbrella Stage Company.