A visit to Kat O'Connor's Watercolor Class
November 29, 2017 by Admin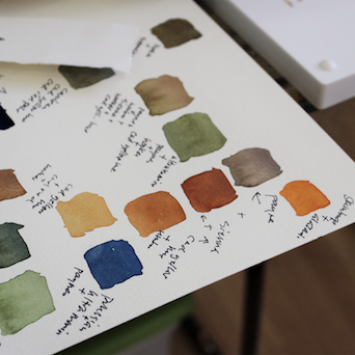 By Himani Parekh
The tables were arranged in a sort of oval and I was standing smack in the middle, peering curiously and a little shyly at their work. Around me the students of Kat O'Connor's Technical Watercolor I Class were sketching, painting, mixing colors, and socializing, their voices converging and overlapping into a gentle hubbub that floated in the warm, bright space. A happy sound. A happy space.
"We don't bite," a woman assured me, "but we might crack some jokes!"
I smiled, relaxed a little. This was a welcoming place.
It was a little tricky to find, since The Umbrella's art classes are currently in The Umbrella Annex, located at 57 Old Road Nine Acre Corner, next to the CareOne center in Concord..
The space itself is lovely. Large windows high up, warm white walls pour light into the airy classroom, glowing up the air and the honey golden floor. Perhaps the air inspired levity and humor in the painters, or perhaps their happiness and openness simply complemented their space.
Each of the students worked on a different project. Their subjects explored thematic ideas that Kat had assigned to them, pushing each of them to grow according to their individual strengths, weaknesses, and levels of experience. Some were working on natural subjects, such as mountains and woods, others on more man-made ones, like paper bags and closets. Some had been painting watercolor for years, others for months.
Susan Workum, who has been painting with watercolor for 15 years, showed me her sketches for "nondescript things around the house," her particular theme. She had done three quick studies in watercolor.
Sarah Campbell, on the other hand, who only started working with watercolor in September, and was doing a "master painting," recreating an expressively rendered portrait of a man by early 20th century American portraitist John Singer Sargent.
Gene McCarthy, who has also been painting for 15 years, was exploring "something peaceful and quiet." His composition featured light filtering through trees in a tranquil woods scene. "It's a good challenge," he said, mixing colors for his trees and leaves and light.
He and the woman sitting next to him spoke of the class and of the teacher. They commented that Kat O'Connor "doesn't impose" as some art teachers might; she doesn't influence the students to mimic her style but rather encourages them to explore their own. The students also feel encouraged to really bring themselves to the process so that "everyone's stuff looks like themselves." They averred that Kat was both a good painter and a good teacher.
Kat O'Connor's teacher skills were evident in her interactions with the students. She encouraged them to challenge themselves, provided feedback, and supported them to grow at their own pace, advising one student to not "put too much pressure on yourself to make things perfect; let things happen."
The class consisted of two hours of working on projects and assignments and an hour of critique. The students were funny, warm, and friendly, and Kat was an engaged and approachable teacher, challenging her students to grow and explore their abilities as watercolor painters. Whether you are looking for something new to try or for a place to continue growing as a watercolor painter, Kat O'Connor's class at the The Umbrella is a great opportunity.