VIEW FROM THE FIELDS : THE "ART & AGRICULTURE PROJECT"
September 15, 2016 by Admin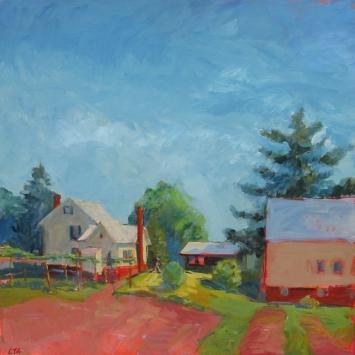 By Happy Goethert and Emily Wheeler
We are members of Concord's Agriculture Committee and aspiring artistsand farmers. Last year, Happy proposed inviting community members to visit Concord farms and create artwork based on what they saw and experienced—not just in the high season of summer, but through four successive seasons. That time is needed to learn the farming cycle, to witness how the work changes, and to get to know all the people who run the farm.

The farmers embraced the idea, as did The Umbrella's Arts & Environment Program. The Umbrella issued a Call for Art for a yearlong project, beginning in the spring, which paired a selected artist with a Concord farm. Eleven artists, working in a variety of mediums, will exhibit their work inspired by four full seasons on Concord farms at The Umbrella this fall from September 22 to November 13, 2016.

There is also a parallel non-juried Art and Agriculture program, where community artists focused on a single season and produced art exhibited soon after the season ended. Local Concord restaurant 80 Thoreau hosted the "Spring" exhibition of photographs and paintings inspired by Barretts Mill Farm, Hutchins Farm, Pete and Jen's Backyard Birds, Marshall, and Rotondo Farm.  The other three seasons—Summer, Fall, and Winter—were on display in succession at Concord's Department of Planning and Land Management building located at 141 Keyes Road.

The aim of "Four Seasons on Concord Farms" is to raise awareness of farming through an extended interaction between artists and farmers that is recreated in a form for everyone to experience. Surrounded by as much working farmland as we are in Concord, we might imagine this is how it has always been and how it always will be. The Art and Agriculture project refreshes our view of the "common place" and gives us the chance to see it with new eyes.

More than just open space, a farm is a palette of color, light, pattern, and an ever-changing subject matter. Farmers work with their medium daily, and while they may not always purposefully make things 'picture perfect' they are aware of the beauty of nature at their fingertips. Artists who have purposefully trained themselves in color, form, and composition have the opportunity to bring out the artistry that lies before us on Concord farms.

Artists tell us how touched they've been by the farmers, their stories, their values, and the land. We look forward to seeing and appreciating how their experiences translate onto paper, canvas, photograph, and sculptural form. We're grateful for this yearlong collaboration of farmers and artists in revealing the dynamism, the vulnerabilities, the particularities, and the sheer wonder of four seasons on Concord farms.