Updates from Artcubator Resident Julia Csekö
March 31, 2021 by Rachel Olson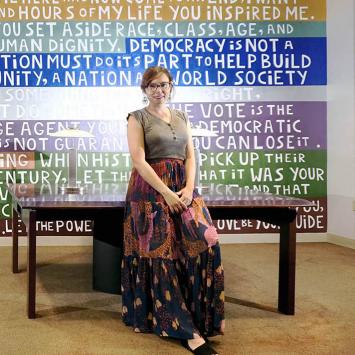 Current Umbrella Artcubator resident Julia Csekö is excited to share some updates about her work, both with The Umbrella and with other art organizations.
The Somerville Arts Council has selected Csekö as a Somerville Arts Council Fellow for 2021! This fellowship, awarded to individual artists in a variety of disciplines, provides support for selected artists to continue their work, including a community benefit component where artists contribute to the Somerville community with their art. Csekö will be announcing her community benefit program soon.
The Somerville Museum has also selected Csekö as Somerville Museum 2021/2022 Community Curator. She will be planning a show that will open in 2023.
Furthermore, Emerson College has now acquired Csekö's mural, "A Coney Island of the Mind." This canvas mural features quotes from the late Congessman and civil rights activist John Lewis's essay, "Together, You Can Redeem the Soul of Our Nation." Emerson College commissioned the mural in response to white supremicist and anti-Semitic graffiti found on campus near the end of the Spring 2020 semester, and first featured it in Emerson's Piano Row last September.
Lastly, we at The Umbrella are thrilled to have have extended her residency to support her work. We look forward to seeing what she creates next!