Umbrella Studio Artist Wins First Prize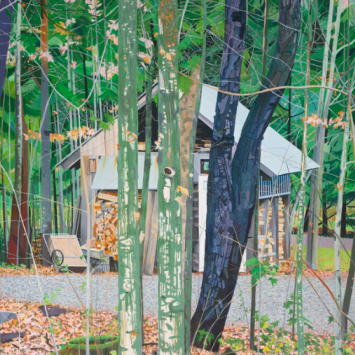 Congratulations to Umbrella Studio Artist Louise Arnold whose oil painting Woodshed II earned First Prize in the Cambridge Art Association 2023 National Prize Show! This show is juried by former editor of ARTnews, Robin Cembalest, and features artists from around the country. 
Arnold's oil paintings depict the local landscapes in and around New England. About her piece, she states, "Woodshed II explores the effect on the view and viewer, which was created by combining painterly representation with flat abstraction. In autumn, when the foliage falls, the scrim of trees in front of this woodshed visually capture and dissect it. Creating an overall flattening effect, an interwoven pattern of layered abstract shapes that read as tree, shed, tree."
Cambridge Art Association will host a National Prize Show Artist Talk via Zoom on June 21 at 7pm featuring Umbrella Studio Artist Louise Arnold and fellow 2023 winners Virginia Cramer, Leslie Donahue, Joan Green, Nasiri Guzman, Yaming Jiang, & Asjha Malcolm. Register for Zoom link here.
This show is on view through July 7 at Kathryn Schultz Gallery and University Place Gallery. Learn more.