The Umbrella goes to 193 Winthrop Ave, New Haven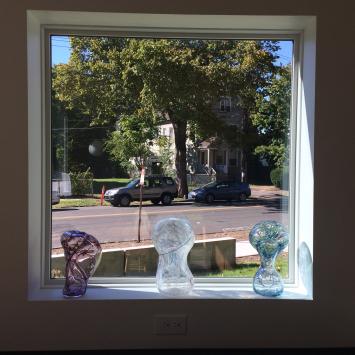 The Yale School of Architecture's First Year Building Project and NeighborWorks New Horizons have teamed up with Artspace and Guest Curator Elinor Slomba to present temporary and permanent artworks throughout the rooms and grounds of the newly constructed house at 193 Winthrop Ave in New Haven, CT. This space is open to the public during City-Wide Open Studios Transported Weekend, October 17 and 18, 12-6pm. This event is free and open to the public.
The following seven artists, whose work is currently on display in The Umbrella Gallery as part of the BIG Art; Tiny House exhibit, will be going across state lines to participate in New Haven's City-Wide Open Studios. The Umbrella is excited for this opportunity to engage with the New Haven art community.
Other artists in the exhibit include Liz Antle-O'Donnell, Sarita Covington, Giada Crispiels, Company Cypher, Steve Garceau, Ann T. Green, Mark Monk, José Oyola, Phoenx, and Dr. Ivan Tirado.  On Sunday Oct 18 at 2pm, Artist, educator, and performer Sarita Covington will lead a community workshop and conversation on the dynamics of temporary site-based interventions at 193 Winthrop Ave.
Says guest curator Elinor Slomba, "Visitors will view installations set up in all parts of the house. It is a privilege to help this space pass through the liminal state of being unoccupied and prepare - through art - for its first residents." Helen Kauder, Executive Director of Artspace, remarks "I am pleased that the project has grown to be so rich in possibilities. I hope it's something Artspace and Yale can collaborate on every year."