Umbrella Exhibition Envisions Solutions to Climate Crisis
June 27, 2022 by Rachel Olson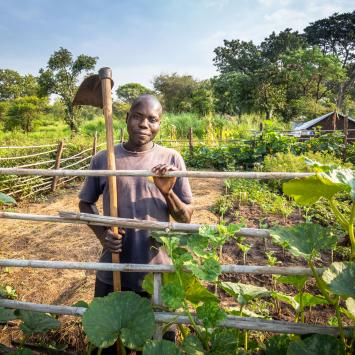 Visual Arts and Environment Programs Collaborate with Social Documentary Network for Powerful Global Storytelling
The Umbrella Arts & Environment and The Umbrella Visual Arts programs, in partnership with the Concord, MA-based Social Documentary Network/ZEKE Magazine, present an exciting new exhibition (July 5–31, 2022) of world-class documentary photography emphasizing long-term sustainable solutions to the climate crisis.
The exhibition is inspired by ZEKE Magazine's Spring 2022 issue featuring projects by Kiliii Yuyan, Giacomo d'Orlando, Sarah Fretwell, and veteran climate journalist Antonia Juhasz, including the Indigenous People's Burn Network in the western United States; Nemo's Garden in Italy — the world's first underwater greenhouse; and the African Women Rising's Permagarden Program in Uganda. These photographers are joined in this expanded exhibition by Carolyn Monastra, Roberto Nistri, Lauren Owens Lambert, Mark Phillips and Chris Trinh.
Free and open to the public, the exhibition is curated by Glenn Ruga from Concord, MA, and the first in a series of pilot programs exploring new kinds of Umbrella Arts & Environment programming, says program director Madeline Miller, who plans additional climate-themed collaborations with The Umbrella Visual Arts program, including a larger mixed media gallery exhibition, the annual Art Ramble in historic Hapgood Wright Town Forest, and support for a one-year studio artist residency for an artist whose work emphasizes climate change.
In partnership with the Concord-based Thoreau Society, a free public reception will be held on Friday, July 8, from 6-7:30pm, with remarks by Glenn Ruga, Madeline Miller, participating photographer Lauren Owens Lambert, and Michael Frederick, executive director of the Thoreau Society.
Following the reception The Thoreau Society will present an evening of music, stories, and readings by musician and climate activist Jesse Paris Smith on The Umbrella mainstage. Tickets are available at https://secure.thoreausociety.org/annual-gathering/special-events/ .
ABOUT ZEKE MAGAZINE
ZEKE Magazine presents global documentary photography on topics as diverse as the war in Syria, the European migration crisis, the Bangladesh garment industry, and other issues of global concern. It is published semi-annually by the Social Documentary Network (SDN), a global community of documentary photographers, editors, curators, NGOs, students and journalists that has produced educational programs, lecture series, award programs, and more than 3,500 exhibits by thousands of photographers from across the globe. See https://www.zekemagazine.com